Sochi may host Anand-Carlsen championship contest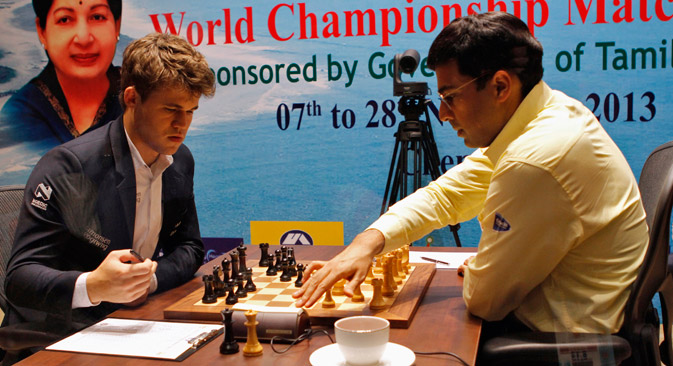 Anand (r) said that he was satisfied with his preparation for the rematch with Carlsen (l), for which he qualified by winning the Candidates tournament in Russia this year. Source: Reuters
The host of the 2014 Winter Olympics and Russia's first Formula 1 race has emerged as a hot favourite to stage the World Championship of Chess.
The epic rematch between Indian chess grandmaster Vishwanathan Anand and Norway's Magnus Carlsen is likely to be held in the Russian city of Sochi.
"We do have a firm offer from Sochi and the contract is there, everything is there," Anand told Indian daily the Bangalore Mirror.
These comments come in wake of Garry Kasparov's comments that there were no sponsors for the contest. Anand dismissed the comments from the Russian chess legend as "last minute campaigning" in a bid to head the World Chess Federation. Incidentally, Kasparov lost the election to compatriot Kirsan Ilyumzhinov.
Anand told the Bangalore Mirror that he was satisfied with his preparation for the rematch with Carlsen, for which he qualified by winning the Candidates tournament in Russia this year. The Norwegian sensation defeated Anand in the southern Indian city of Chennai last year. Anand told the paper that his approach towards Carlsen would be different this time. "It goes without saying… Well, I don't see much sense in doing that (elaborate). I will demonstrate it at the board," he told the paper. "I have some ideas and I have tried to fix them, but to be honest I don't want to discuss last time again. Things just went wrong. Let's leave it at that."
The Indian grandmaster added that he was satisfied with his preparation. "I am quite happy with my training," he told the paper. "It was tough planning my training schedule with all the uncertainty. But now that things are getting clearer, my training schedule is going quite well," Anand added that he was happy with his break and would use two up-coming tournaments as preparation. "I would play in Bilbau in September and then will play some Rapids in October. I hope to be ready for the World Championship after playing in Bilbao and Rapids," he told the paper.
Anand, a five-time world champion, last won the championship in Moscow's Tretyakov Gallery in 2012 when he defeated Israel's Boris Gelfand. Both players were invited for tea by Russian President Vladimir Putin.
Russia has played a role in the development of the Indian chess legend's game. As a child, Anand refined his chess skills at the Tal Club, which was run by the Soviet House of Culture in the city that was then known as Madras. The Indian Grandmaster has attributed a part of his success to this childhood training in the cultural centre as well as to his visits to Moscow since the mid-1980s for games and interactions with the Russian chess fraternity.
All rights reserved by Rossiyskaya Gazeta.