It is a sultry summer's evening on a Russian country estate, and the sun's rays are caressing the birch groves and raspberry bushes. Peasants are returning from a day's work in the fields, lazy dogs are curled up on the porch, and the old house is creaking as the evening draws in. This is the setting of many classic Russian novels. Many Russian authors – Goncharov, Turgenev, and Tolstoy among them – were noblemen and landowners who retreated to their estates for summer to rest and write. The theme of summer is present in many Russian classics as well as modern fiction, and the sunlit landscapes often serve as a backdrop for love stories, drama and self-reflection.
The twilit Russian soul: Goncharov and Turgenev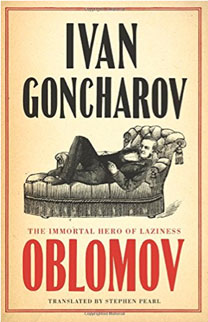 'Oblomov. The immoral hero of laziness' by Ivan Goncharov. Alma Classics, 2014
Ilya Ilyich Oblomov spends his time "thinking" and living off the increasingly unprofitable estate he inherited. He takes nearly a hundred pages to get out of bed and, when he does, he feels it's time for a snack. It takes him another hundred pages to take off his dressing gown and fall in love. Lying down was "simply his normal state," imbued with a "lethargy that was not without its own grace." However, the bulky book is far from being a dull description of a Russian nobleman's daily life or a Joycean stream of consciousness. Leave it for a while to return later, or absorb it in a single read, and you'll get a deep impression of the struggling soul in an idle body.
"Anyone who wants to understand the inscrutable Russian soul should start by reading Oblomov," wrote Tatyana Tolstaya in her foreword to the US edition. A new edition of this translation by Stephen Pearl is available this year in the UK with the subtitle "Immortal Hero of Laziness" (Alma Classics, 2014).
The narrator of Ivan Turgenev's "Asya," a subtle and complex love story written in 1858 and translated into English by Richard Freeborn, falls for an unpredictable girl while traveling in Germany. Attracted by her charm and intrigued by her history, his feelings are interwoven with the surroundings in fine Romantic style. Vineyards, the smell of lime blossom, pine resin and "frowning cliffs" become part of his emotional journey. Many of Turgenev's stories take place in a liminal twilight, with the sun forever setting. "Evening, at first fiery, then lucid and crimson, then pale and darkling," gives way to nights of wine and music, ripe for retrospection.
Romance at the century gap: Chekhov and Bunin
Several different English-language collections of stories by Anton Chekhov, playwright of the "Cherry Orchard," include the masterpiece "Lady with the Little Dog," the ultimate holiday romance. In the collection "About Love and Other Stories" (translated by Rosamund Bartlett, Oxford World's Classics, 2004), Chekhov explores the vagaries of human contact, particularly in the halting ellipses of Anna Sergeyevna, (the lady with the dog), as she tries to talk to her new lover, Gurov: "I so wanted to live … I was consumed with curiosity …"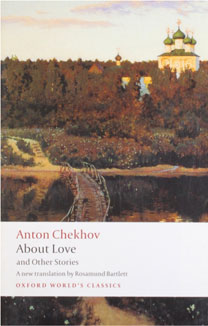 'About Love and Other Stories.' Oxford World's Classics, 2008
Gurov feels himself "rejuvenated by the complete idleness and those kisses in the middle of the day […] by the heat and the smell of the sea." The attempt to describe the ungovernable fluctuations of desire prefigures the passion of DH Lawrence or the introspection of Virginia Woolf.
Ivan Bunin is one of the most under-appreciated Russian writers, despite being the first Russian to win the Nobel Prize for Literature, in 1933. Like Chekhov, he conjures up the poignant intensity of a married woman's holiday romance. The characters in his 1925 short story "Sunstroke" meet on a ship and disembark together for a tumultuous liaison.
There are numerous collections of Bunin's stories available, including the classic Penguin collection "The Gentleman from San Francisco and Other Stories," and his elegant, evocative "Dark Avenues" is available as a single volume (Oneworld Classics, 2008).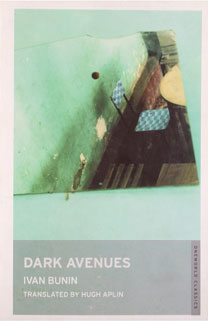 'Dark Avenues' by Ivan Bunin. Oneworld Classics, 2008
The stories in "Dark Avenues" revolve around love in many – mostly doomed – scenarios, but these tales are pleasurable rather than painful, disturbing, not depressing. The landscape itself becomes a shaping force in these emotional journeys.
The couple in "The Caucasus" (translated by Sophie Lund) is planning an escape from Moscow to Sochi. "I'll be with you in the mountain jungles, beside the tropical sea," he tells her. Their coastal retreat is full of palms and cypresses, pomegranate and magnolia; in the distance "snow-capped mountains shone with a whiteness old as time." The story blazes with images of light: sunsets and fireflies, stars and clear rivers whose "brilliance seethed and splintered" in the moonlight.
Masters of memory: Tsypkin and Makine
In 1981, late Soviet writer Leonid Tsypkin, who was - like Anton Chekhov - a doctor by profession, recreated an elegiac journey by train in the footsteps of his hero Dostoevsky.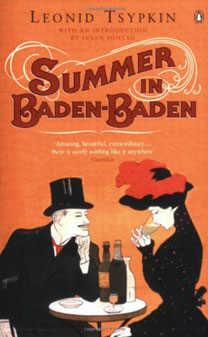 'Summer in Baden-Baden' by Leonid Tsypkin. Penguin, 2006
Using his connections in the scientific world, Tsypkin managed to travel to Europe and go to the places which Dostoevsky himself visited – all of this at the time when very few people were allowed to leave the USSR, even for work purposes. The result of this pilgrimage is an extraordinary literary adventure, "Summer in Baden-Baden" (Penguin, 2006, translated by Roger and Angela Keys), in which Tsypkin shakes up past and present into a powerful, postmodern cocktail. As he follows Dostoevsky through Russia and Germany, Tsypkin imagines the tormented writer's final years.
Goncharov appears in Leonid Tsypkin's fiction, "just as sluggish and bloated a gentleman as his creation, Oblomov," with eyes like a boiled fish and the "smell of bureaucracy." Turgenev fares even worse as an over-privileged, condescending hypocrite with a Turkish dressing gown and "coldly gleaming lorgnette." These glimpses of other characters are rarities, though, in an intense novel where the focus is on the difficult tenderness of the relationship between the tortured Dostoevsky and Anna, his young wife.
Andrei Makine is a master of the Proustian art of memory. In "Dreams of My Russian Summers" (Arcade publishing, 2011), a young narrator, living in France like the author himself, recalls the Russian villages of his youth in poignant and evocative detail. His French grandmother Charlotte's stories are a link between two eras: "her past life remained intensely present to her, as if lived only yesterday."
She becomes an embodiment of the small Siberian town where she lived, with its "sleepy vistas." As in much of Makine's work, the miasma of war and the bitter smoke of exile cloud and complicate the simplicity of nostalgia. In this powerful novel, originally entitled "Le Testament Français," he explores the attraction of "the dry air of the steppe, whose silent transparency distilled the past," as well as more painful memories.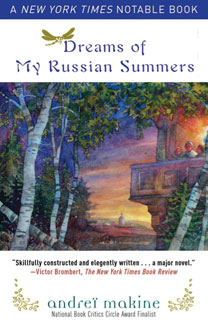 'Dreams of My Russian Summers' by Andrei Makine. Arcade publishing, 2011
The dislocation of living in two totally different cultures is summed up by the linguistic double vision of the narrator's two languages: "when I pronounced the Russian word царь a cruel tyrant rose up before me; while the word "tsar" in French was redolent of … glittering chandeliers, of the radiance of women's bare shoulders, of mingled perfumes …"
The narrator struggles, like Makine himself, with his dual identities to achieve a calm, "both bitter and serene." Once again, journeys by train and "the landscapes of days gone by" throw into relief the present and "this glade lit by the setting sun like a river of amber." Finding his own novels in a bookshop, sandwiched between Lermontov and Nabokov, risks inspiring him with "giddy megalomania" as he becomes a physical part of the Russian literary tradition, although he writes in French. For stories of psychological complexity and linguistic subtlety, it is a tradition that continues to inspire writers and readers around the world.
All rights reserved by Rossiyskaya Gazeta.