B.K.S. Iyengar was the pioneer of yoga revival in Russia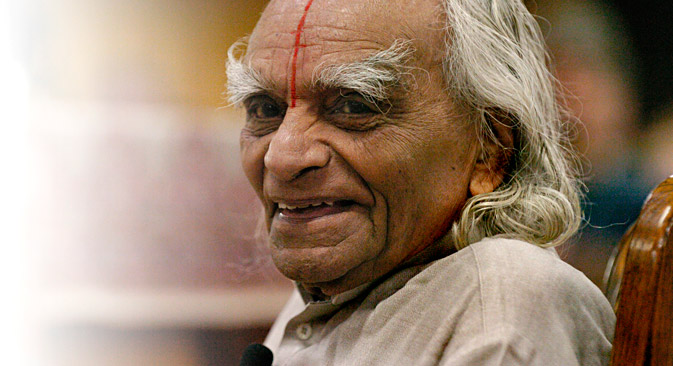 B.K.S. Iyengar passed away at the age of 96. Source: Getty Images / Fotobank
The yoga guru, whose centres are very popular in Russia, visited the country twice and even taught Dmitri Medvedev some asanas.
The news of yoga guru B.K.S. Iyengar's passing away this morning was met with shock among his followers in Russia. There are about 50 Iyengar Yoga centres in Russia, but the most famous one teaching Guruji's methods is in Moscow's Old Arbat.
Alina Kravchenko, a former school teacher now based in St Petersburg had the opportunity to meet Iyengar or Guruji, as he was respectfully and affectionately called by his students. "I met him in 1989, when he first came to Moscow," she says. "He changed my life completely and I feel younger now than I did 25 years ago."
Guruji had many devotees in Russia. Viktor Boyko, a construction engineer from Sevastopol, fell for yoga at the age of 16 and when he was 24 (in 1971) he translated a book by Guru Iyengar into Russia and began to practise it.
Guruji was a pioneer of the revival of yoga in Russia and visited the country even before the fall of the Soviet Union in 1989. Because of yoga's origins in Hindu vedic beliefs, the Soviet authorities looked upon the system with suspicion (as they did with anything affiliated to a religion). Official attitudes began to soften in the 1980s, thanks to the several academics and scientists.
The 1980s was a time there was a renewed interest in Russia for studying non-traditional healing methods. PhD psychology student Elena Olegovna Fedotova was at the forefront of such studies. The Soviet Ministry of Health sent her to India to study changed states of consciousness. She spent time in several ashrams and yoga schools of yoga and met Guruji, whom she invited to Moscow for the USSR'S first National Conference on Yoga. Fedotova received Guruji at the airport. As widely reported and detailed here, on that morning it was raining, but when Iyengar came out, she threw herself onto her knees in a traditional posture, and actually ended up right in the middle of a puddle, much to the surprise of airport staff. After the conference, the USSR Yoga Association was formed, and subsequently Iyengar yoga centres came up in the country.
Twenty years later, Guruji visited Moscow and spent a week in the country. He conducted special workshops on all yogic asanas (poses) followed by classes on pranayama (breathing exercise) under the auspices of Yoga Journal Russia. He also met then-Russian President Dmitri Medvedev and taught him some asanas. Medvedev has said in the past that he regularly practises yoga.
All rights reserved by Rossiyskaya Gazeta.