Russia forced to cancel some events for the UK-Russia Year of Culture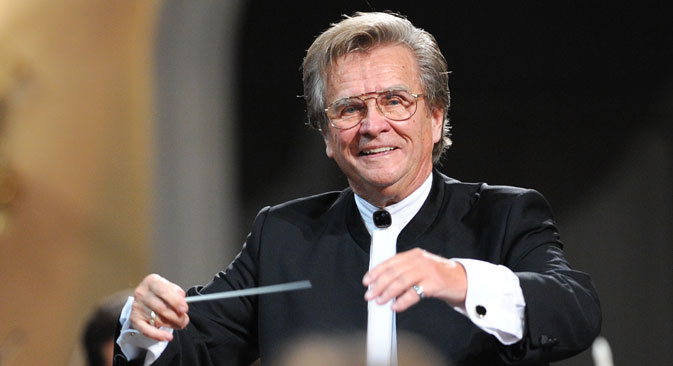 Tchaikovsky Symphony Orchestra under the conduction of Vladimir Fedoseyev opened the Year of Culture at Royal Festival Hall in February. Source: ITAR-TASS
Konstantin Kosachev, head of Rossotrudnichestvo, the Russian cultural relations body, said that "any sanctions are wrong and short-sighted," especially when they "begin to have an impact on the humanitarian sphere and contacts between people."
Russia will have to cancel some activities during the UK-Russia Year of Culture, said the head of the Federal Agency for CIS Affairs, Compatriots Living Abroad and International Humanitarian Cooperation (Rossotrudnichestvo) Konstantin Kosachev.
He told a Business Breakfast in the editorial offices of Rossiyskaya Gazeta that as part of the current UK-Russia Year of Culture "we had some plans to hold resonant events – the Constellation of Russia Festival, Students' Forum, and Children's Forum, which we very successfully carried out last year in the Netherlands, and the year before in Germany, and the years before that – in Italy, Spain and France."
"In the UK, these activities will likely not take place, but this is beyond the competence of Rossotrudnichestvo," added Mr. Kosachev.
"Any sanctions are wrong and short-sighted," he said. "And they are even more vicious when they begin to have an impact on the humanitarian sphere and contacts between people."
In this regard, Rossotrudnichestvo drew attention to the calls by some politicians in Poland to cancel the Poland-Russia Year of Culture in 2015.
"If the Poland-Russia Year of Culture is cancelled by political or bureaucratic decisions as an interstate programme," he said. "Then, if I were in charge of the Ministry of Culture, which makes such decisions, I would only increase the number of Russian activities, cultural events, tours, and exhibitions – everything that is related to cultural exchanges with this important and close, to us, country."
Mr. Kosachev said that for now, overseas offices of Rossotrudnichestvo have not felt the direct impact of these sanctions.
"Russian scientific and cultural centres operate around the world without any restrictions. Interest in their activities is growing everywhere, because interest in Russia is growing, and in the Russian language," he said.
The manifestation of this interest, in his opinion, has nothing to do with the recent events in Ukraine, as this trend has been observed during the past few years.
"In many countries, where the study of the Russian language in the Soviet years was imposed on the people, there was a sharp pullback as soon as there was a change in the governments," he recalled. For example, in Poland, the study of Russian in high schools in the early 1990s went to the 14-15th place. Now it has bounced back to third place after Polish and English, continued the head of Rossotrudnichestvo, while in Bulgaria, according to Bulgarian statistical agencies, Russian has even surpassed English in the number of foreign language learners.
"So there are strong objective trends that politics, and especially unseemly politics, cannot destroy," said Mr. Kosachev. "This is also felt in the activities of Rossotrudnichestvo abroad, which in the current conditions, we are not planning to decrease, but on the contrary, we plan to strongly grow these activities as much as possible."
First published in Russian in ITAR-TASS.
Read more about UK-Russia Year of Culture on RBTH Special Section The Kompass
All rights reserved by Rossiyskaya Gazeta.