India may host BRICS football championship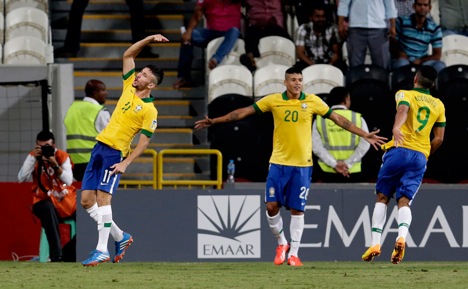 The Brazilian under-17 team would be the favoured to win the tournament. Source: AP
The tournament is likely to involve the under-19 or under-17 teams of the five-nation grouping. The idea was discussed at last month's summit in Brazil.
India is planning to host a BRICS football tournament, several Indian media outlets reported this week. The tournament would be part of the grouping's initiative to encourage greater cultural cooperation between the members.
"Our Prime Minister recently attended the BRICS Summit in Brazil. They have sent a proposal to organise a football tournament among the BRICS nations," All India Football Federation (AIFF) general secretary Kushal Das told reporters in Kolkata, according to the Free Press Journal "Blueprint is not yet ready but the organisers are keen to hold the first edition in India," Das added indicating that India could host the event next year.
"The BRICS nations want India to host the inaugural tournament," Das was quoted by Times of India as saying. "The issue is whether we have a team good enough to compete against the likes of Brazil at the senior level. So we are contemplating making it a U-17 or U-19 tournament."
Brazil is keen for India to host the tournament, as it looks to enhance its soft power in India. Several media reports indicate that the Brazilian ambassador in India is following up with the AIFF to ensure the idea of the tournament gets off the ground.
India, which reached the semi-finals of the 1956 Melbourne Olympics and was one of Asia's top football nations until the 1960s, is ranked 150th in the FIFA global rankings. Former players blame the deterioration on mismanagement and politicisation of the AIFF, a trend that has plagued all sports in India.
Football is rapidly gaining popularity among India's middle class, with European club football having a large fan following in urban India. The country will host the 2017 FIFA Under-17 World Cup, as world football's governing body looks to develop the sport in what is an enormous market.
The Soviet Union regularly sent its best football team to India to participate in friendlies and tournaments. The Soviet football team that won the gold at the Melbourne Olympics visited India in 1955 and featured Lev Yashin, Igor Netto, Nikita Simonyan and Boris Tatushin, all legends. The second Soviet team to win a gold at the Olympics also visited India in 1988 for a series of matches.
All rights reserved by Rossiyskaya Gazeta.