Successful wrestlers take limelight away from judokas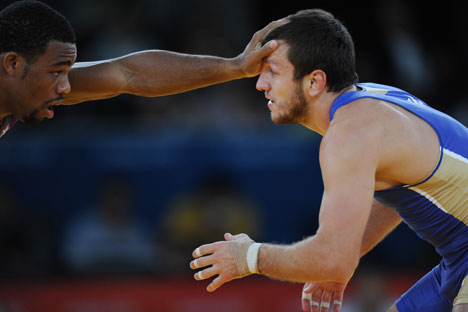 From right: Russia's Denis Tsargush and Jordan Burroughs of the United States compete at the Olympic Games in London. Source: RIA Novosti / Vladimir Baranov
While Russia's wrestlers are on an upward trajectory, boosted by a powerful start to the world championships in Uzbekistan, the judo team has struggled to meet expectations in international competition.
After playing a leading role last year in saving wrestling as an Olympic sport, Russia is now busy showing the world just how much it had to lose.
Top of the table with five gold medals after the first three days of the World Wrestling Championships in Tashkent, Uzbekistan, Russia has the opposition in a clinch. However, those medals would be worth a little less if not for a concerted campaign by some unlikely allies.
Wrestling may be a sport whose rules have changed little since the ancient Olympic Games, but it came perilously close to being given the smackdown by the International Olympic Committee last year.
The grapplers of the world were left reeling when the IOC dropped their sport from the Olympic roster and forced it to reapply, but it beat out opponents such as squash and baseball to reclaim its place. The campaign to save wrestling included an unusual alliance as Russia, the United States and Iran teamed up.
Had wrestling been dropped, Russia risked a precipitous drop in its Olympic status – the country produces far more talented grapplers than squash players. However, with wrestling's Olympic status now safe until at least 2024, Russian wrestlers are laying down a marker for the 2016 Rio de Janeiro Games.
All of Russia's wins so far at this week's world championships have come in the men's freestyle, sweeping the gold medals in all five categories between 65 kg and 97 kg.
Winners include two-time former world champion Denis Tsargush, taking his first world gold since 2010 in a sign he could make amends for a disappointing Olympic bronze at London 2012. Meanwhile, there was also gold for up-and-coming Russian Abdulrashid Sadulaev, who at 20 caps an astonishing breakout year that also included gold at the European championships and two other major competitions.
The news of Russian success is likely to be pleasant reading for President Vladimir Putin, who personally intervened in the sport's campaign to retain its Olympic status. According to him, the sport provides an "amazing show" but had been let down by a lack of modern TV presentation and PR campaigns.
From Putin's perspective, Russia's wrestling gold rush may also make up for a disappointing showing by the country's judo team two weeks ago, when Russia hosted the world championships for the first time since 1983. Judo is very much Putin's sport – the Russian president picked it up at the age of 12 and his former sparring partners remain among some of his closest confidantes and political allies. Indeed, the logo for the world championships in Chelyabinsk was taken from a picture on the cover of the president's book Let's Learn Judo with Vladimir Putin.
Having an influential political patron is good news for any sport, especially for Russian judo, which until recently had been a marginal sport in Russia. The Putin years brought an influx of funding, allowing Russia to hire esteemed Italian coach Ezio Gamba, and the medals soon flooded in as Russia topped the Olympic judo medal table for the first time in London two years ago.
In Chelyabinsk, however, Russia's judokas took a step back. Finishing without a single gold medal, but with three silver medals and six bronzes, the Russians often made it to the semi-finals but then struggled against top-class opponents. One possible reason could be recent rule changes that have aimed to return judo to a more traditional Japanese style, further from the European tradition favored by Putin and Gamba.
The Italian, however, insisted that the performance was "a great result, even without a gold" because it underlined the potential in the team. The Italian has been in charge of the Russian team since 2008 and prides himself on having met the parents of every judoka under his charge, whether that means traveling to war-torn regions of the Russian North Caucasus or remote Siberian towns.
Whether the Russian judo team's lack of gold medals is a momentary blip, as Gamba contends, or a sign of decline, it seems Russia will remain a power in the sport for a while yet. Meanwhile, its success on the wrestling mat was never in doubt, even if the sport's Olympic status was.
Russian wrestling and judo may seem to be on opposite trajectories for the moment, but the country's prowess in combat sports remains strong. Come the 2016 Olympics, expect gold medals.
All rights reserved by Rossiyskaya Gazeta.