The Soviet breakfast of champions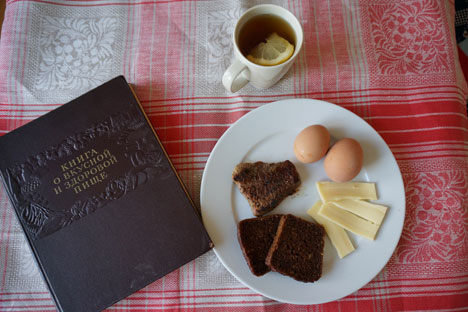 Brown bread, a slice of cheese, and boiled eggs - this is a breakfast made with the Soviet Book of Healthy and Tasty Food. Source: Anna Kharzeeva
A Soviet breakfast was supposed to be heavy on protein - if you could get any.
My first Soviet meal really does sound easy and not too time consuming – just like the party line said it should be. All you need to do is get some meat or fish, fry it, boil a couple of eggs, slice off a piece of bread and cheese and make some tea, coffee or get a glass of milk.
Still more time-consuming is the instruction to "get yogurt out of fridge," which is the level of sophistication I'm ready for on a workday morning.
In reality the fun begins with "just getting some meat" – even now getting decent meat, especially beef, is not an easy task. There is almost no decent meat produced in Russia: most of the good stuff is imported.
From what I understand, the problem is that Stalin got rid of all the beef cattle and decided that dairy cows could be used for both milk and meat – the result being very tough beef that almost always needs tenderizing. Sometimes even slow cooking doesn't help – let alone getting a cut decent enough to fry a steak.
The Book of Healthy and Tasty Food's recommendation: "Morning breakfast has to above all be filling: It can consist fried or boiled meat or fish, eggs, cheese, bread, tea, coffee or milk." Source: Press Photo. Click to enlarge the page
There are seven grocery stores within 10-minutes' walking distance from my house, and as far as I know not one has decent meat. Well, except for one that has excellent imported meat in exchange for an arm and a leg. I like the idea of keeping my limbs, and lucky for me I prefer poultry anyway.
But this is nothing compared to what my grandmother had to say about getting meat in the Soviet times: "Butchers used to be the richest people in the country. Having the acquaintance of a butcher was priceless.
Butchers used to sell all the meat to 'their people' before it hit the shelves – in fact, it was just bones you could find in the shops. My colleague's mother-in-law was a grocery shop manager, and we used to go to her shop to get meat. But even the shop manager depended on the butcher's mood – even she couldn't be guaranteed a good cut."
This made the carbs and protein breakfast completely inaccessible for the average person. Going to the trouble of finding decent meat would have been worth it for a special occasion – much like me going to the best market in town for a leg of lamb – but certainly not for your everyday breakfast.
Fish was more accessible, and there was a selection of red and black caviar - but my great-grandmother, a single mother who lost her husband in World War II and juggled three jobs, the primary one as a schoolteacher, couldn't afford the expensive types of fish, and certainly not the caviar.
It sounds like the "perfect Soviet breakfast" was about as realistic or accessible as a leading role at the Bolshoi after a couple of dance classes. My grandmother says that they ate a lot of porridge - my grandfather loved semolina porridge with cherry jam - and lots of bread (again, with jam or salami) and sometimes eggs.
I think I prefer that over tough beef for breakfast, too.
All rights reserved by Rossiyskaya Gazeta.