A tribute to Russia's favorite condiment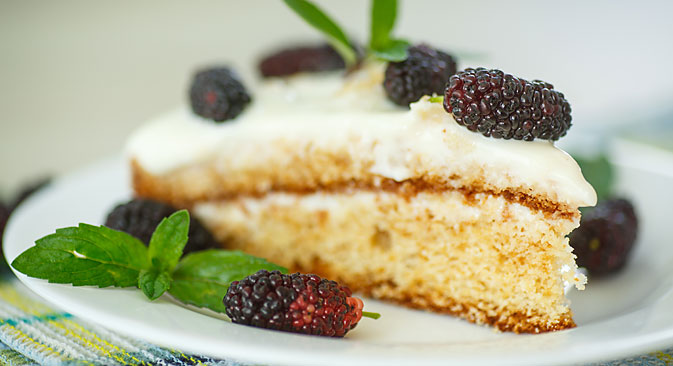 Top your smetannik with fresh berries or fruit. Source: Lori / Legion Media
Make sure you buy extra sour cream if you're preparing to make smetannik.
This cake is a tribute to smetana, or sour cream. I'm not surprised there is a cake named after the dairy product as it's very well loved in Russia – soups, pancakes, bread, salads are eaten with it all year long.
And this cake has it both in the dough and in the cream – it's not one for the detox week, but it can be made quite quickly if you're lazy and cut corners like I do, and is a great use for any spare sour cream you might have taking up space in the fridge.
Traditionally you're supposed to bake three layers of dough and then cut each into two pieces and then add cream in between each. I find this a little time-consuming, so I only bake two layers and cut each in half so I have four layers instead of six.
Typical smetannik also has chocolate glaze on top, but I prefer fresh berries or fruit – it makes it a little less sweet and a little healthier.
I also like to make it with my grandmother's dough recipe. This recipe doesn't have sour cream in it, but still turns out very nice and a little less heavy.
Smetannik
Ingredients
5 eggs; 1 cup sugar; 1 cup flour; Pinch of salt.
Dough without sour cream:
1. Whisk the eggs with sugar and a pinch of salt.
2. Slowly add flour.
3. Separate dough into 2 parts, add cocoa into one.
3. Preheat oven to 360 Farenheit, bake the cake for about 40 minutes, at the end open the oven slightly to let hot air out.
4. Cut each part of the cake into 2 parts.
Dough with sour cream:
Ingredients
3 eggs; 1.5 cups sugar; 1.5 cups sour cream; 1.5 cups flour; 1.5 teaspoon baking soda; 1 tsp Vanilla extract.
1. Beat eggs with sugar.
2. Add sour cream and flour, mix well.
3. Add soda and vanilla extract.
4. Separate dough into 2 parts, add cocoa into one.
Ingredients
700ml sour cream, 15 percent; Powdered sugar to taste; 1-2 teaspoons lemon juice.
5. Preheat oven to 360 F. Bake the cake for about 40 minutes. At the end open the oven slightly to let some hot air out.
For sour cream filling:
Whisk all ingredients till well combined, check for sugar.
All rights reserved by Rossiyskaya Gazeta.