Set to serve: An Indo-Russian mixed doubles badminton team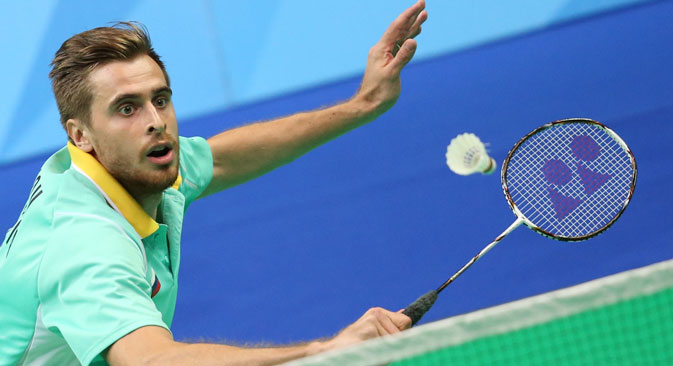 Vladimir Ivanov. Source: Grigoriy Sokolov / RIA Novosti
Ashwini Ponnappa and Vladimir Ivanov, who have teamed up for mixed doubles events, talk to RIR about their badminton partnership and the upcoming Denmark Open.
Indian women's doubles badminton player Ashwini Ponnappa and Russian multi-format men's player Vladimir Ivanov have partnered for mixed doubles events sanctioned by the Badminton World Federation. They would be seen in action together at the upcoming Denmark Open Super Series.
Both Ponnappa and Ivanov have established credibility in women's and men's doubles events, respectively. Ponnappa is the current Commonwealth Games silver medalist in women's doubles. Ivanov has been riding on a winning streak in men's doubles along with his partner Ivan Sozonov. They are the reigning European Champions.
However an ideal mixed doubles partnership has eluded them till now. Given their shared aspiration to do well in the mixed doubles format, this partnership could be their best shot. "My career began with singles matches and then I also started playing doubles," Ivanov says. "It's really hard to compete in both the formats simultaneously at the top most level. I am good enough at doubles, but I haven't had a strong mixed doubles partner for the international circuit. Now I have this chance and I hope this partnership will be good for my career. It could also help me balance my efforts towards singles and doubles categories."
Ashwini Ponnappa (right). Source: AP
Ponnappa also believes that their ambitions can be aligned. "I want to focus on mixed doubles some more. I was looking for someone outside the country," she says. "I had seen Ivanov play at the Indian Badminton League and I think he did really well. He was also looking for a mixed doubles partner."
Ivanov caught the fancy of badminton followers during the inaugural edition of the Indian Badminton League (IBL). He achieved an upset by defeating the Indian star P Kashyap in men's singles and also contributed some significant doubles wins for his team.
This Indo-Russian team has got the nod of the governing authorities of both the countries. "In badminton, the associations play an active role and help their players a lot," Ponnappa says. "That is why it was important for us that the Indian and Russian badminton associations approve of our team. Fortunately and thankfully we've got their support."
In this sport, players mostly travel as national teams. Unlike tennis, it is hard to find a precedent of international pairing in badminton. The only other such team is that of Petya Nedelcheva of Bulgaria and Imogene Bankier of Scotland who participated at the World Championships earlier this year. With prominent players such as Ponnappa and Ivanov teaming up, international collaborations will surely gain popularity. It would also create participation opportunities for players from those countries where badminton is not played extensively.
The foremost challenge in this arrangement is that of geographic distance. Ponnappa and Ivanov are ready to deal with it. "We haven't played together as yet," Ivanov reveals. "It is difficult to draw any conclusion at the moment. But I think it will work out for us. I've watched her play and I can say that we have a similar approach in mixed doubles. The key here is to be clear about what each player has to do in each game."
Ponnappa is also positive about their teamwork. "We are both experienced in playing doubles. I believe that it won't be a major problem for us to coordinate with each other. We'll have a few days to practice before the Denmark Open and we'll take it from there. I am sure our strategy will evolve with every game," she says.
Both the players assert that the upcoming tournament wouldn't be just a trial run. They plan to compete together in the French Super Series and the Bitburger Open events that follow the Denmark Open.
Ivanov has already established synergistic association with Indian badminton players owing to his experience at the IBL. "It is an exciting and charged atmosphere during the games and also among the teammates. This experience is really close to my heart," he says. "This psychological comfort is important in our profession, that's why besides expectations about winning in mixed doubles, I think our partnership will lead to an even stronger connect with the Indian players and fans." Ivanov, who had to depend on a translator when he first arrived in India, now feels a certain affinity with the Indian badminton fraternity.
This Indo-Russian badminton partnership can be a game changer not just for Ponnappa and Ivanov, but also for the sport itself, provided that they manage to serve an ace.
All rights reserved by Rossiyskaya Gazeta.