Legendary stage director Yuri Lyubimov dies at 97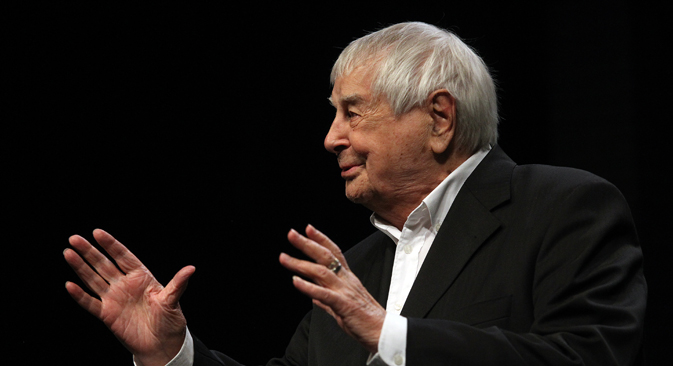 Yuri Lyubimov, one of the most noteworthy theatrical figures in Russia, has died on Oct.5. Source: Olesya Kurpyaeva / RIA Novosti
On October 5, a few days after his 97th birthday, Yuri Lyubimov passed away in Moscow, peacefully in his sleep, three days after being admitted to hospital. He was an outstanding stage director who transformed a provincial drama theater into the famous Taganka Theatre. Lyubimov triumphantly staged plays at La Scala, the Grand Opera, Covent Garden, and other theaters of world renown.
Lyubimov was a stage director of incredible importance for Russia. He was not a theatrical reformer like Stanislavsky or Meyerhold, but when he took charge of Moscow's Taganka Drama and Comedy Theater in 1964, he and his actors recreated the Russian avant-garde theater of the 1920s – a theatrical art that had been banned during Stalin's time.
Opposition theater in the Brezhnev era
At Taganka he ushered in a new theatrical era with the staging of Bertolt Brecht's "The Good Person of Szechwan." From then on, year after year, Lyubimov staged sharply political, rebellious, unusual plays that were often experimental in form.
The public queued around the block to see his plays, and tickets sold out several months in advance. Amid the ideologically calibrated productions in Moscow theaters, Lyubimov's plays were an island of freedom behind the Iron Curtain.
Famous movie actors performed at the theater. Vladimir Vysotsky, the actor and singer-songwriter, whose popularity in the Soviet Union in the 1970s and 1980s can only be compared with that of the Beatles in the West, strode the Taganka's stage. Lyubimov's theater was Moscow's most for many years.
Exile and return
Lyubimov's independence and openness eventually set him on a collision course with Soviet authorities, culminating in being exiled from the USSR in 1984. He was long opposed to Soviet censorship, which proved stronger than him.
A series of scandals rocked Lyubimov at the beginning of the 1980s – first several of his plays were banned, and then he criticized the Soviet government from London in an interview with The Times. As a result, he was stripped of his Soviet citizenship in absentia.
Nonetheless, Lyubimov continued to work and stage plays abroad – in Israel, the United States, the UK, France, Italy, Germany, Sweden, and Switzerland. He staged operas at La Scala, Covent Garden, and the Grand Opera. His London staging of "Crime and Punishment" received several prestigious theatrical awards.
New theater in Russia
In 1988, Lyubimov was allowed to return to the Soviet Union, where he continued directing plays at the Taganka theater. The hype surrounding the theater died down at the beginning of the 1990s, and Taganka went through hard times.
Several famous actors, including Vysotsky, were no longer alive, and in 1993 the troupe split up and some actors went to a new theater – the Commonwealth of Actors of Taganka. But Lyubimov kept staging plays and, most importantly, he never lowered the creative bar.
Everything at the theater changed: its repertoire, its aesthetic, the level of maturity its plays. Only Taganka's main director, Yuri Lyubimov, remained unchanged. It seemed things would continue that way until a conflict arose between him and the troupe in 2011, resulting in Lyubimov's departure. Many thought he had retired, but he continued to stage productions at the Vakhtangov Theater and the Bolshoi Theater - where last year he staged "Prince Igor".
When a person is alive, you don't sense his stature, but as soon as Lyubimov died there was a media explosion. It is rare when so much is written about such great characters as Lyubimov in top Russian publications.
Everyone is expressing their condolences, from the president to leading stage directors and actors. It's as if they have suddenly seen what an enormous hole he has left in his wake and how much he meant for Russian theater.
Yuri Lyubimov's funeral is due to take place Wednesday at the Vakhtangov Theater.
The author is a theater critic.
All rights reserved by Rossiyskaya Gazeta.