The Scottish roots of renowned Russian poet Lermontov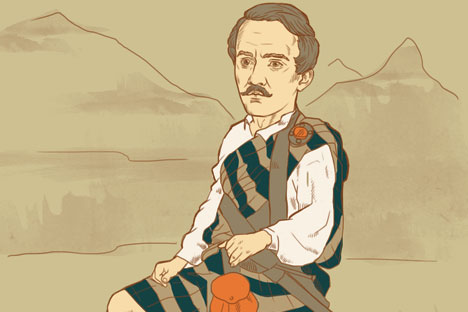 On Oct. 15, 1814 the writer Mikhail Lermontov was born in Moscow. Two centuries later, a bronze memorial to Lermontov by a Muscovite sculptor was unveiled in the Scottish market town of Earlston. The new monument was part of an international festival to celebrate the writer's 200th birthday.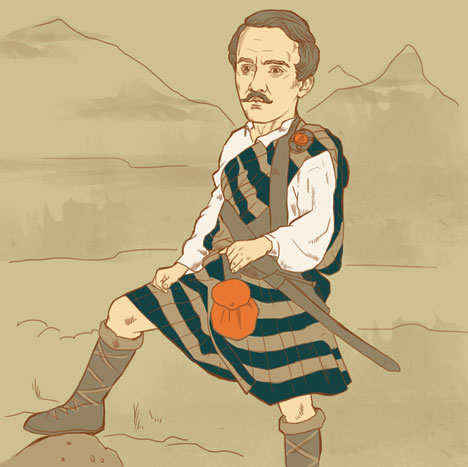 Click to enlarge the image. Drawing by Natalia Mikhaylenko
Thomas the Rhymer
Lermontov's direct ancestor, George Learmont, was a Scotsman, who settled in Russia. Brian Wilton, director of the Scottish Tartans Authority wrote that the Lermontov family typified: "the adventurous, high-achieving Scots who left home in search of fame and fortune." Learmont was an "early adventurer who left Fife in 1613 to fight for Tsar Mikhail Romanov and founded the famous Lermontov dynasty."
One of Learmont's oldest and most mysterious forebears was a 13th century bard called "Thomas the Rhymer", also known by the surname Learmonth. He came from the town of Earlston, then a hamlet known as Ercildune. According to ancient ballads, Thomas the Rhymer met the Queen of Elfland in the Eildon Hills and she gave him the gift of prophecy. Intriguingly, Lermontov, as well as inheriting poetic genes from his semi-legendary ancestor, also seemed to prophesy the Russian revolution; one poem foretells a year when "The Russian crown shall fall" and "the food of many shall be blood and death."
Representing the Russian Lermontovs, festival organiser Maria Koroleva hopes the new bronze bust will eventually "rest upon a plinth of stone taken from the Eildon hills, thus Lermontov and his ancestor would meet." Koroleva is a senior lecturer at Moscow State University and Russia's only expert on Scottish Gaelic. Her "main partner and helper and family" in the project was Gwen Hardie, a Scottish Learmonth and Chairperson of Earlston's "Friends of Thomas the Rhymer Group". Hardie told RBTH: "Our group are delighted to have been involved in bringing the memorial of Mikhail Lermontov to the home of his ancestor".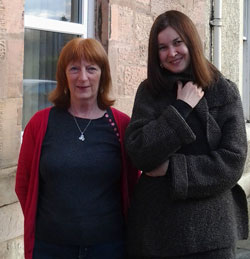 Gwen Hardie (L) and Maria Koroleva. Source: Personal archive
"Lermontov's desire to "fly like a raven" to the land of his forefathers was epitomised in his poem "Yearning", and we feel that we have fulfilled, albeit symbolically, that desire," says Hardie, who composed her own poem for the occasion. She adds: "as a poet myself, I can relate to the passion and sentiments expressed. His solemnity and foresight at such a young age is unprecedented, and, had he lived, his creative talent would have known no bounds."
Poetic voices
Lermontov died aged just 26 in a duel, but had already become famous for his poetry. He was aware of his Scottish roots and, in the poem "Yearning", he imagines flying west to Scotland where, in Thomas Beavitt's version:
"On ancient walls ancestral shields hang /
Above a broadsword rusty and lang."
Beavitt is a Scottish translator and singer and co-founder of the bicultural Sco-Rus organisation, which originally planned the festival. He resigned as a director earlier this year, when the group faced funding problems, but he performed a bilingual, musical work called The Bard is Not Dead! at concerts in Scotland and Russia as part of the celebrations. "It is based on an adaptation of the mediaeval romance of Thomas the Rhymer," he told RBTH, "together with translations of a selection of Lermontov's poems."
Beavitt says people responded very positively to Lermontov's "deep emotional intensity". He also recalls a conversation about Lermontov's novel "A Hero of Our Time" with a Member of the Scottish Parliament, Jean Urquhart, proprietor of a bookshop in Ullapool, where "she always stocks a translation of this book."
Until this year Lermontov was mainly known in Scotland as a novelist, Beavitt says: "My experience of translating and singing Lermontov shows, however, that his poetic voice is very strong and clear in translation; this means that his work is highly accessible to 21st century audiences, including in the West." Koroleva found that "many people I met in Scotland are aware of Lermontov and his Scottish connection. I even met one who named his son Michael after Lermontov."
Russia and Scotland
The mountains of the Caucasus, which inspired Lermontov, are reminiscent of the rugged, Scottish highlands. Peter France wrote in his introduction to a new anthology After Lermontov: Translations for the Bicentenary that the poet's "vision of Scotland was fed by literary sources – Ossian and Walter Scott – and this vision may in turn have influenced the way he saw … the Caucasus."
The festival included a conference in the southern Scottish town of Moffat. Among the assembled authors and academics, was Evgeny Vodolazkin a writer and cultural historian. His novel Laurus, about the life of a medieval saint, caused a stir recently in Russian literary circles. Conference organiser Alan Thomson said Vodolazkin's presentation was the highlight.
Thomson also told RBTH that the recent trilingual anthology would "undoubtedly bring new readers to Lermontov". Prominent Scottish poets and translators have produced "compelling" work and the "poems in Scots have a particular resonance." France, the anthology's co-editor hopes the new book will "give Lermontov a more prominent place in Scottish literary culture."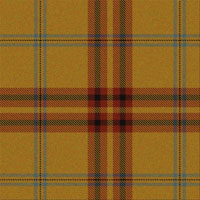 "Lermontov 200" tartan
This year's festival faced numerous challenges, including revisions to the memorial. Koroleva designed an official, mustard-coloured "Lermontov 200" tartan, but ran out of time to weave the actual fabric for this year's events. "Gwen and I are planning to go on with the monument," says Koroleva, who has suggested another Lermontov festival next October to unveil a full statue. Hardie told RBTH she hoped Earlston's memorial would "mark the beginning of future cultural links between the two countries."
All rights reserved by Rossiyskaya Gazeta.