Startling theatre set designs by Russian avant-garde artists that include Kazimir Malevich, famed for his Black Square canvas, Alexander Rodchenko and Vladimir Tatlin, many never before seen in London, are on show at a new V&A exhibition opening October 18.
Russian Avant-Garde Theatre: War, Revolution and Design, 1913 – 1933, which includes around 150 exhibits lent by Moscow's A.A Bakhrushin State Central Theatre, spans the most turbulent and exciting period in the history of Russian art.
"The theatre and costume designs in the exhibition reveal the type of productions that were being staged in Russian theatres at this time," says Kate Bailey, the exhibition's curator.
"They reflect how experimental artists and directors working in the field of stage design were pioneering in spirit and innovative in concepts relating to time, movement, space, colour, light and the body. The narratives of the plays allowed the artists to express their utopian visions of a new society."
Tumultuous decades of revolution and terror
The tumultuous two decades of revolution, terror, poverty and famine were also a time of the great hope and progress in Russian art.
The show helps answer key questions about Russia at a time of historic change.
"Creativity is an extraordinary thing and often the most progressive ideas come out of a period of personal or social struggle," Bailey adds.
"At this time the artists were producing works with a sense of creative urgency, perhaps aware of their own mortality and responding both to the horrors of war and uncertainty and changes in modern society."
Malevich himself knew this, Bailey says, quoting the artist who wrote: 'the impending alarm of war is forcing me to work intensively since the days are numbered.' (Matiushin, June 1915, vol 1 p.67).
"The period of turmoil and revolution also encouraged the artists to think differently and positively about what the future could be like, new art for a new society."
The outpouring of creativity unleashed by the Bolshevik Revolution is something common to many swift changes in societies that have long been under repressive regimes.
The first sprouts of the Russian avant-garde appeared long before the revolution. In 1910, a group of progressive artists including Mikhail Larionov, Natalia Goncharova, and Alexandra Exter founded Jack (or Knave) of Diamonds. The first exhibition of the group was considered "a slap in the face of public taste", and yet it was these works that laid the foundations of the new movement by uniting the latest developments in Western art, such as cubism and futurism, with Russian folk art.
What united these versatile artists was a desire to apply art to everyday life and objects of daily use, or later, in the case of the Constructivists, even to go so far as to abandon art all together and move to more pragmatic forms of design.
Rethinking artistic purpose and process
The years immediately after the revolution were a period of intense creativity and re-thinking of the purpose of artistic purpose and process.
In 1921 Rodchenko along with his life-long partner Varvara Stepanova and other artists formed the First Working Group of Constructivists who declared renunciation of conventional art forms and practices and called for artists to enter the factory.
Adherence to the Constructivist idea of the union of art and life led Rodchenko to proclaim the end of painting and to take up alternative mediums in the service of society. He embarked on a broad exploration of many fields of design, as well as collage and photography. He designed posters, kiosks, book and magazine covers, theatre sets, and porcelain. Tatlin, the father of Constructivism, took the call to move from laboratory experiments to practical activity even further when he attempted to organise a design workshop at the New Lessner Factory in 1920s.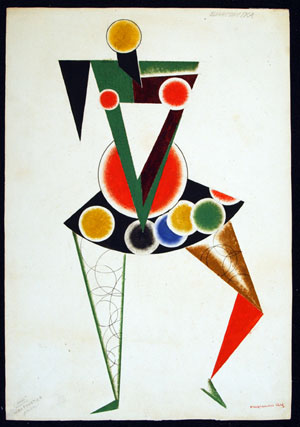 Alexander Rodchenko, Costume design for We, 1919-1920. Source: A. A. Bakhrushin State Central Theatre Museum
Moscow and Saint Petersburg were not the only centres of creativity at this time. In Vitebsk, Malevich assumed the directorship of the local Popular Art School, replacing Marc Chagall in that position.
Two extraordinary decades
The works shown in the exhibition illustrate two extraordinary decades in Russian history during which all areas of art and culture underwent profound transformations. The displays include Malevich's set and costume designs for futurist opera Victory over the Sun in which his Black Square prominently featured for the first time; Rodchenko's costume sets for Vladimir Mayakovsky's satirical play The Bedbug (1929), and the 1920 Proletcult Theatre production We that was eventually banned by the authorities. Other works include costume design for alien beings for the 1924 Soviet science fiction film Aelita: Queen of Mars designed by Alexandra Exter, as well as Sergei Eisenstein's stage designs for Macbeth (1920).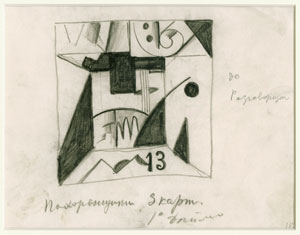 Kazimir Malevich, Set design for Victory Over the Sun, 1913. Source: St. Petersburg State Museum of Theatre and Music
The spirit of change is alive in the V&A show.
As Dmitry Rodionov, director of the Bakhrushin Museum says, "At the core of Russian avant-garde theatre is transformation of style and characters and a search for new creative solutions for stage sets. The socio-political changes and sudden rupture in the lives of millions of people during this period were matched by new forms of art never before seen."
Russian Avant-Garde Theatre: War, Revolution and Design, 1913 – 1933 runs 18 October to 25 January 2015, www.vam.ac.uk
Read more on The Kompass, RBTH special section on the UK-Russia Year of Culture
All rights reserved by Rossiyskaya Gazeta.