Borsch – A Ukrainian dish no Russian will turn down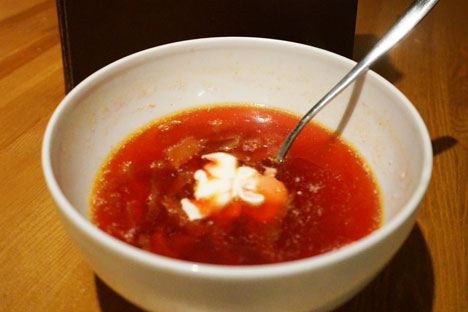 The beet soup associated in the minds of nearly all foreigners with Russia is offered in two forms in the Book of Healthy and Tasty Food – borsch and Ukrainian borsch.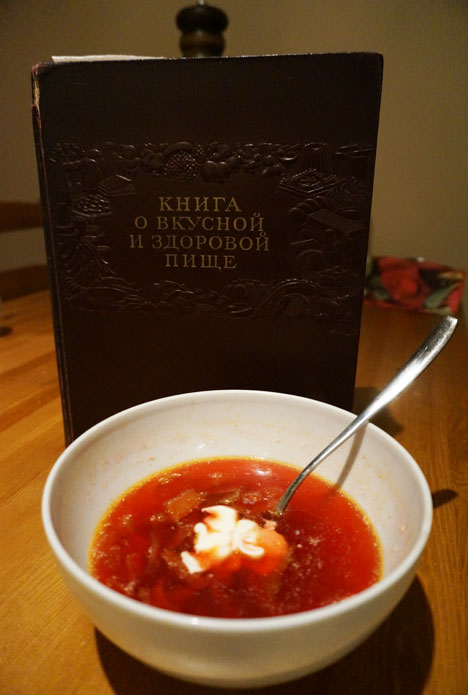 A meal from granny's cooking book. Source: Anna Kharzeeva
After cooking a classic last week – grechka, I decided to follow up with another all-time favorite: borsch. The timing for this soup is great, as it mostly requires root vegetables. Since the food sanctions began to take effect, I've found the quality of other types of vegetables deteriorating. So there couldn't be a better time to go back to my roots (ha, ha).
There's something else that's interesting about borsch, especially in the current situation – although known as an iconic Russian dish and widely consumed and loved in Russia, it's actually Ukrainian. The Book has two versions of the recipe: "borsch" and "Ukrainian borsch" – the latter distinguished by the inclusion of lard and garlic. Lard is an ingredient Russians didn't care to bring into our cuisine. I don't think that makes me too sad though!
As the Soviet Union welcomed new republics, it got acquainted with their cuisines and then popularized them across the country. I think it would be fair to say that Uzbekistan and Georgia were the main contributors (outside of Russia) to the Soviet diet. Uzbekistan added its 'plov' (rice and meat dish) and Georgia – shashliki (meat kebabs) and kharcho soup. Because every cafeteria in the country served the same selection of meals (just about), these meals became known to all the Soviet citizens, although in their "Russified" versions.
My grandmother says: "I liked kharcho, so when I went to Georgia I ordered it at a restaurant. But when I took one spoonful, it felt like my mouth was on fire – I couldn't swallow it. When the waiter realized what the problem was he said: "ahhh, from Moscow! Then go to the Intourist cafeteria – they have some Moscow-style kharcho without the pepper."
"Russifying" meals is still very big in Moscow, especially with regard to Asian food – our palettes are not used to hot spices. Foreigners always smile condescendingly when told to "beware, the dish is spicy," as they know it'll only have a slight kick to it.
The version of borsch I grew up with definitely wasn't Ukrainian, although my great-grandmother came from Kiev. My grandmother always put all the ingredients fresh, not pre-fried, as is commonly done in Russia, which made her borsch quite different from all the other ones out there. To me there were always two types of borsch: the home one I liked, and all the other ones I didn't, as they were too greasy.
The recipe from The Book turned out close to my grandmother's, although of course not as good! It's definitely much closer to the homemade borsch I'm used to than what you might find in a restaurant.
I went past a Ukrainian restaurant recently and an employee out front handed me a flyer with both the Russian and Ukrainian flags on it, inviting people to be friends and eat borsch. Perhaps they were afraid people would stop going to Ukrainian restaurants, given the current political situation. But even if Russians do stop going to Ukrainian restaurants, I'm sure nothing can put Russians off borsch, and I for one am very grateful to Ukraine for it.
Borsch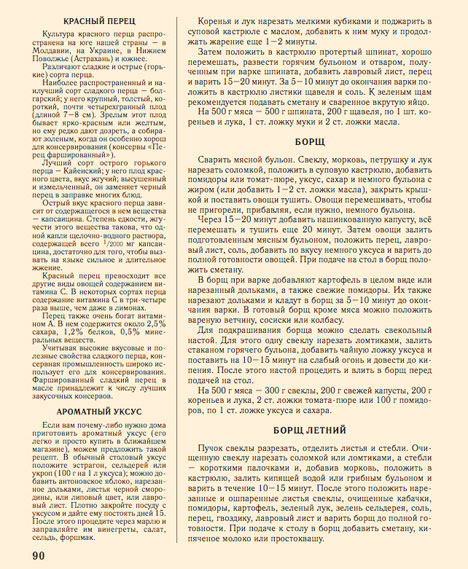 Click to enlarge the page from the Book of Healthy and Tasty Food
Ingredients:
500 g meat
300 g beets
200 g fresh cabbage, shredded
200 g onions
2 tbsp tomato paste or 100 g tomatoes
1 tbsp vinegar
1 tbsp sugar
Boil the meat to make some broth.
Cut the beets, carrots, and onion into strips and add them to a soup pot along with some parsley.
Add tomatoes, vinegar, sugar and a little broth and a little fat (1-2 tbsp oil).
Close the lid and let the vegetables cook.
After 15-20 minutes, add the cabbage. Stir and let simmer another 15-20 minutes.
Add the broth to the vegetables along with some pepper, salt and vinegar to taste.
Serve with sour cream.
It's possible to add potatoes, fresh tomatoes or sausage to the borsch. Cut these additions into cubes and add to the soup 5-10 minutes before serving.
Beet infusion can also be added. To make this, slice one beet; add the slices to a pot with a cup of broth; add a teaspoon of vinegar and cook on low for 10-15 minutes. Strain, then add to the borsch.
All rights reserved by Rossiyskaya Gazeta.