"Tselkov is destined to be acknowledged as the greatest Russian artist of his era," art critic Simon Hewitt said in the Huffington Post last year. Born near Moscow in 1934, the provocative artist Oleg Tselkov is 80 years old this year and having his first solo show in London, 17 October-28 November, for more than two decades. He is best known for his paintings of brightly coloured, deformed faces that seem to float in a disembodied space.
Pulsating with colour
Even from across the street, the black walls of the Alon Zakaim gallery in Mayfair pulsate with colour: day-glow apricots, shifting from yellow through coral to tangerine; lime green arms with an aquamarine face in the centre; fuchsia and indigo, violet, azure and cerise. The painting in the window Portrait with Mask (2002) uses an unusually pale pink and chartreuse. A characteristically expressionless man in a bowler hat is holding an equally blank mask.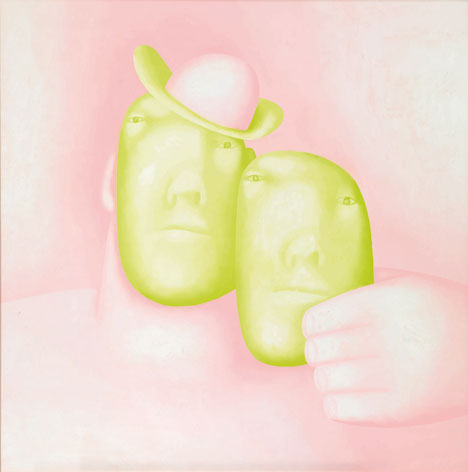 'Portrait with Mask' by Oleg Tselkov, Source: Courtesy of the author
Tselkov, with his animated face, bright orange zip-up cardigan and flat cap, contrasts brilliantly with the painting behind him. "To ask me how I choose these colours, why this one and not that one, is like asking me why I am not taller or shorter, thinner or fatter," he told RBTH. "All I can say is that it is simply inside me." His red and blue composition With Shovel (2000) is clearly inspired by Malevich's Scyther, but otherwise Tselkov acknowledges very few influences, except perhaps the bold shapes and colours of folk art.
These psychedelic rainbows are deliberately at odds with the paintings' ominous subtext. Knives and guns shine in the coloured mist; lurid faces are like warped and subverted icons, intensely human, but also abstracted. "My colours are not harmonious. I use colour as a force," Tselkov says. The American playwright Arthur Miller said in 1979: "Tselkov combines an almost brutally violent use of colour with a surreal misplacement of natural shapes to form freshly original pictures of sometimes satiric, sometimes tragic power."
Tselkov at 80
In his eventful life, Tselkov has been expelled from art schools, from the artists' union and – in 1977 – from the Soviet Union itself. He has lived in Paris, travelled internationally, and counted among his friends Miller and the poets Anna Akhmatova and Joseph Brodsky. But he is not keen to reminisce or to over-intellectualise his own life and work. The obsessive need to paint has dominated Tselkov's life to the exclusion of almost everything else.
"I first became seriously interested in art when I was fifteen years old," he says, "and now I am 80 and for those 65 years, every single day I have been an artist, without stopping, always busy." He would rather be painting than socialising. Tselkov's elegant wife, Tonya, a former actress, dressed in black with a gold brooch and gloves, is by his side at the launch party, raising her champagne glass to visitors while he does his best to hide from them.
"My father is quite reclusive," says Olga, Tselkov's radiant and gregarious daughter. "He just wants to paint. He doesn't like all the publicity." Tselkov laughs and shrugs when asked if this is true. "If there are a lot of journalists around, then only an insane person could love them," he explains. Does he like London? "London hasn't done anything to me," he says smiling, "but I don't wake up, sweating, saying 'what a great city!'"
He's equally indifferent about Paris, where he has now lived for nearly forty years. "Even with a woman, you can spend forty years with her and not love her," he says. And, no, he doesn't miss Russia, where he recently returned for an exhibition. His memories of the Soviet era are "unpleasant".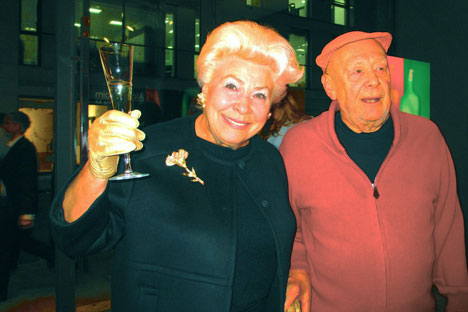 Oleg Tselkov with his wife Tonya. Source: Courtesy of Oleg Tselkov
Expelled from one art institute in Minsk and another in Leningrad because he wouldn't paint in the officially sanctioned Socialist Realist style, Tselkov opted for the relative aesthetic freedom of the Leningrad Theatre Institute, where he graduated in 1958. Two years later, he painted Portrait, a picture with two faces, calling it "my first significant work." Over the subsequent decades his Moscow studio attracted a stream of visitors, including Miller, Brodsky and Akhmatova. "In my view, Oleg Tselkov is the most remarkable Russian artist of the post-war period," Brodsky once said.
Dark and sinister
In his crowd pictures, Tselkov tries to convey the horrors of the past and the loss of individuality. "If you look at the history of humanity, it is not the history of the individual, but the history of the masses, and it is all soaked in blood, hate and deception," he says. Hewitt rated Tselkov's blood red 1970 Last Supper alongside Picasso's Guernica as "the most powerful group image of the 20th century", writing: "It should be bought for the nation and hung in Tate Modern."
In 2002 fellow-artist Eric Bulatov described Tselkov's work as emanating "from the dark and sinister things lurking at the bottom of any man's soul".
Gallery owner Alon Zakaim was drawn to Tselkov's work because it was so visually striking, "but I understand that there is a darker element, which is challenging for some people," he says. "I deal in impressionists and beautiful paintings, but when I look at contemporary art I want to be challenged."
Oleg Tselkov: Alter Ego is on show at Alon Zakaim Fine Art, 5-7 Dover St, London from 17 October-28 November 2014. Open Monday-Friday 9am-6pm, weekends by appointment only.
Read more about the Year of Russian Culture in the UK on The Kompass, RBTH special section
All rights reserved by Rossiyskaya Gazeta.