A group of pro-Kadyrov activists in the main city square in Grozny for the 10th anniversary celebration of Constitution Day, March 2013. © Davide Monteleone for the Carmignac Gestion Photojournalism Award
What does post-war Chechnya look like to the eyes of a Western photographer? 'Spasibo' an exhibition of photos by Davide Monteleone at the Saatchi Gallery, London until 3 November.
In December 1994 Russian forces entered the rebel republic in order "to enforce Constitutional order" in a region attempting to break away from Moscow, thus marking the official start of the Russian-Chechen war. The ensuing conflict lasted for two years, resulting in humanitarian catastrophe, destruction and thousands of losses on both sides. Russian forces retreated in defeat in September 1996 only to return to the Caucasus three years later to fight a second war against Chechen separatists. In the ten years that followed much of Chechnya was bombed by artillery, turning vast areas of the rebel republic particularly its capital Grozny, to ash. In the same year, Chechen terrorists committed several terrorist attacks in Moscow and Russia that left hundreds of victims.
Which country, Chechnya or Russia, emerged victorious from the conflict? To answer that question, Davide Monteleone, an acclaimed Italian documentary photographer, travelled to the republic to investigate the current state of affairs in Grozny. "The answer is undeniably Russia. But if you look at it from a different angle, the answer is perhaps not so clear-cut", Monteleone says. Ambiguity becomes a central point in this series where the image of a young girl in a wedding dress is displayed next to the portrait of an old woman holding up a flag of the rebel Chechen Republic of Ichkeria along with the image of the late leader, Dzhokhar Dudayev, killed in a Russian rocket attack.
Combative people
"The Chechens are a combative people, difficult to conquer, easier to buy", Monteleone quotes a letter written by general Yermolov to Tsar Nicolas I during the Caucasus campaign.
The photographer's study on identity gradually becomes the story of compromise that all Chechens appear to have accepted from the authorities in return for peace and economic stability. Towering new buildings are symbols of the city's recovery and regeneration following the destruction wrought at the beginning of the millennium, yet all the oil belongs to Russia, jobs are almost non-existent and industry is stagnant. "Young people go round the whole republic in search for jobs", a Chechen-born friend now living in Belgium tells Monteleone. "Obviously everyone keeps quite, but some very valuable and fundamental part of Chechen identity seems to have been lost forever."
Hollow thanks
"The title 'Spasibo', which translates as 'thank you', is in fact used sarcastically", Monteleone explains. "The first thing you see when you arrive on the main square in Grozny is a big sign saying "Ramzan, thank you for Grozny" (Ramzan Kadyrov is the current president of the Chechen Republic). Eventually, it's pretty clear that he put up the poster himself. It's a pretty weird situation. Why should the Chechens be grateful for two decades of war and the complete reconstruction of their capital?"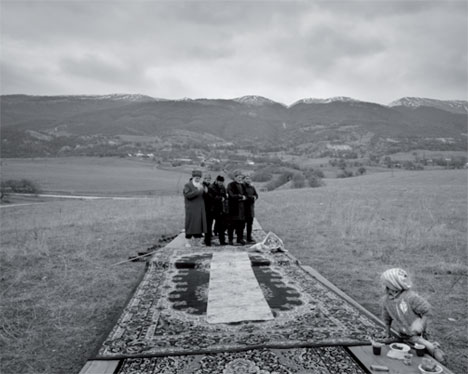 Most Chechens are Sunni Muslims and the majority of them belong to the mystical Sufi tradition. In the late 2000s, two new trends have emerged in Chechnya. Pictured: 'Shatoy'© Davide Monteleone for the Carmignac Gestion Photojournalism Award
Although at times grim, the exhibition is a collection of beautifully shot black and white chiaroscuro images unrestricted by genre or subject matter. Photos show Grozny and its newly built skyscrapers; breath-taking views of the Caucasian mountains; staged shots of a young Chechen woman and man; domestic interiors; and portraits of veterans injured in the war. It is a carrousel of imagery that comprises the artist's impression of modern-day Chechnya and its controversies.
Monteleone on his photography
Aliya Sayakhova met the photographer at the opening of 'Spasibo'.
Russia Beyond the Headlines: Davide, aside all the socio-political problems, did you find beauty in Chechnya?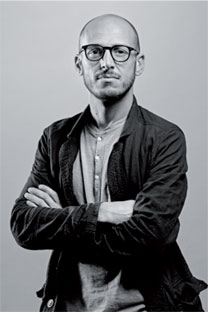 Davide Monteleone: Source: Courtesy of Lorenzo Poli
Davide Monteleone: I definitely did, it's an interesting country. It's a beautiful country in terms of landscapes, mountains, but also in terms of people. There are lots of really nice people, even though in Russia itself people are afraid of Chechens.
Also, I think that the idea of boundary between documentary photography and fine art photography does not really exist anymore. And the fact that this photojournalistic series found place in the Saatchi Gallery is evidence of that!
RBTH: How did you come up with the final choice of thirty photos to go on display? Are you trying to provide an objective overview of modern-day Chechnya?
D.M.: Documentary photography is not true, it's not reality, it is the photographer's interpretation. In this job and generally, I always try to give a neutral point of view and then you have to find details in the pictures. It's a sort of journey where you go into a picture like through a gate and then you find a story.
Photography is not evidence, doesn't testify to something specific but is a way of posing a question.
RBTH: Do you have an objective for what you hope this exhibition would achieve? Is it more of an aesthetic exercise for you?
D.M.: It's definitely not just an aesthetic exercise, but it's not an objective view either. I have an opinion, I know what are the problems in Chechnya, but it is never black and white, it's grey, and that is where my work is.
Nowadays you have the possibility to get information everywhere, you have the Internet; Facebook. If you are interested in Chechnya, you can go and look for information. The goal of my work is to make people curious about the subject, and then they can go on their own and search for information, search for stories behind my pictures.
Davide Monteleone won the fourth Carmignac Gestion Photojournalism Award for his project in Chechnya. He spent four months based in Grozny, producing work based on his winning proposal.
All rights reserved by Rossiyskaya Gazeta.