Ralph Fiennes would like to screen Chekhov's The Cherry Orchard and The Seagull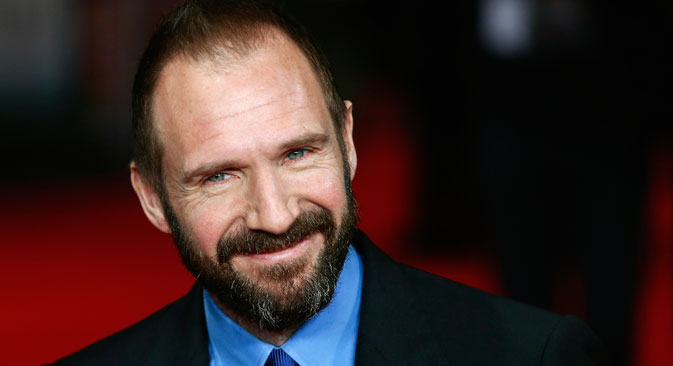 Fiennes came to Moscow to open The New British Film Festival. Source: Reuters
The actor presented his second work as director in Moscow: the film 'The Invisible Woman', based on the biography of Charles Dickens.
The English actor dreams of adapting Chekhov's plays The Cherry Orchard and The Seagull to the screen, transporting their characters to today's reality. The star of films such as The English Patient, Schindler's List and the adventure films of Harry Potter spoke about his wish at the press conference before the opening of the New British Film Festival in Moscow.
"In the English theater we really esteem Chekhov, there is something eternally human in him," said the actor. "I always thought that his works could be adapted to the screen. It would be interesting to study not the play itself, but the play as a trampoline, as a point of departure for the contemporary view of life."
The actor also has a great deal of respect for Russian literature. "Your literature has always moved me," Fiennes admitted. "I dreamt of playing Prince Myshkin, but I am probably too old for the role and I'll have to look for another character."
As far as cinema is concerned, Fiennes particularly enjoys the films of Andrey Zvyagintsev, Pavel Lungin and the early works of Alexander Sokurov. "Recently I saw Gorko! It really made me laugh," added Fiennes.
In Moscow the actor presented his second work as director: The Invisible Woman, based on the biography of Charles Dickens, in which he played the leading role. The film will be shown in the New British Film Festival.
"I didn't know much about Dickens," the actor admitted. "We have a cult of Dickens everywhere in Britain, that is why I wasn't very interested." However, when he read the screenplay about the writer's personal life, he thought is was fascinating. Fiennes noted that his main objective was to show Dickens' intimate relations, basing them on real events in the writer's life. "The film's principal motif is to feel what happens when we must conclude relations with a person who is leaving our life," said Fiennes.
Fiennes also stated that he equally enjoys directing films and starring in them. However, in his words, he will try not to star in the films that he directs in the future.
The list of films participating in the festival, which will take place in the Gorizont movie theater until November 9, can be found on www.ukfilms.ru
First published in Russian in TASS news agency.
All rights reserved by Rossiyskaya Gazeta.