Cupcakes creating an 'emotional bond' with Russian consumers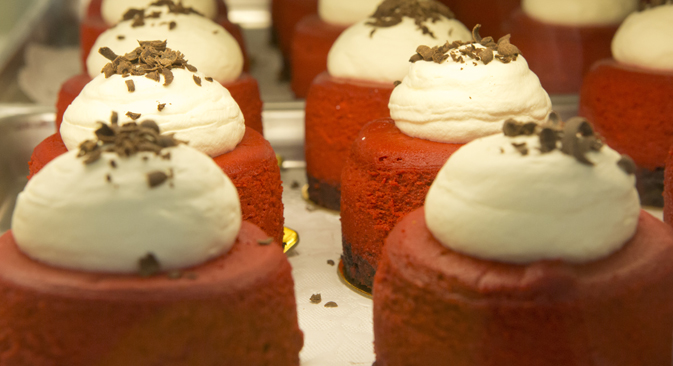 Magnolia Bakery gained fame for its cupcakes - and also by its appearances in Sex and the City and The Devil Wears Prada, both beloved by Russian audiences.Source: Press photo
With the opening of a Magnolia Bakery, Moscow residents have a new place to indulge their love of American sweets.
Although cupcakes were first mentioned in an American cookbook in 1796, they truly came into their own in the 1990s. The first Magnolia Bakery, whose cupcakes may have caused the feeding frenzy around the small, portable desserts, opened in New York City in 1996, and was popularized through on-screen appearances in TV shows like Sex in the City and movies such as The Devil Wears Prada. "You can spend all the time in the world at the gym and die for healthy food, but if you're left alone with a cupcake… That will be your little secret," said Magnolia's owner and CEO Steve Abrams in an interview with Russian magazine Afisha. "Why do people like cupcakes? I don't know. They're small and cute. People have different tastes, and there can be as many cupcakes as there are tastes. They remind you of the childhood, of grandma's and mama's cooking, of something nostalgic. Cupcakes create an emotional bond."
Magnolia, which has outlets as far afield as Beirut, Dubai and Tokyo, recently added Moscow to the list of cities it has conquered. Despite the difficult political and economic situation in Russia, Abrams is sure that the new store will as successful as the company's other international branches.
"We're a happy brand, not worried about the politics," said Abrams in an interview with Bloomberg. "We think Russia in general can be a bigger play for us."
Abrams is planning to open at least five cafes in Moscow in the following years, predicting sales to be above the average. The first shop is located at Kuznetsky Most, in the center of the Russian capital near the Kremlin.
Magnolia is not the first cupcake shop in Moscow, however. That honor goes to the Upside Down Cake Company (UDC), created in 2010 by American chef Isaac Correa. The editors of Moscow's online lifestyle magazine The Village don't think that UDC has much to fear from Magnolia, however. According to The Village, UDC has done alot to adapt to the tastes and preferences of the Russian market by making its products less sweet and using more natural ingredients, whereas Magnolia plans to stick to the same standard flavorings and products it offers at its other outlets.
Magnolia is more likely to compete with the restaurants in the Friends Forever chain, which also offer traditional American-style sweets. Pavel Kosterenko, co-founder of Friends Forever Co, says they serve cupcakes at all of their establishments, which include a cafe called simply I Love Cake.
«When we opened our first project, Friends Forever, six years ago, the cupcake was the main character on our menu. For us it's not just a dessert in a cafe, but a lovely present as well. It's a very beautiful and tasty dessert. Many of our guests already know what a cupcake is, so they come to us boldly. We make various flavors, but I think caramel is the most popular,» Kostrenko said.
Cupcakes may be replacing cheesecake as the most popular of American desserts in Russia. One benefit of cupcakes is that they are easy to make at home, and Kostarenko says that the pastry counters in his restaurants may soon face competion from home cooks. «The new generation is already training at home, making cupcakes, cakes and pies. So I believe there'll be a lot of experienced hands in our country soon.» Kostarenko said, adding that from a profitablity standpoint, it doesn't matter to him whether his customers buy more cupcakes than cheesecake. "We never compared a cupcake to a cheesecake, we never even thought what sold better. The goal is to make them and put them in the display case.»
All rights reserved by Rossiyskaya Gazeta.