Joint Russia-India filmmaking on the cards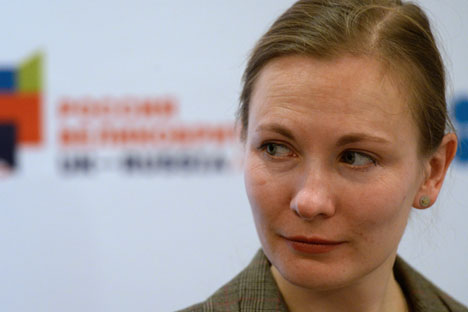 Elena Milovzorova: "Several generations of Russians grew up watching Indian films." Source: Vladimir Vyatkin / RIA Novosti
After participating in a session of the Russia-India Working Group on Culture and Tourism, Russia's Deputy Minister of Culture Elena Milovzorova tells RIR that film directors of the two countries would return to producing films together.
At one time, Awaara by Raj Kapoor was the third highest box office earner among foreign films in the USSR. That brings me to my first question: are there talks about joint film projects?
Yes, there are. The Indian side expressed interest in joint film production, and asked to show contemporary Russian cinema here. Besides, they were not only talking about the already existing festival of fiction films, but also about documentaries. It's unusual and, in my opinion, demonstrates the interest of Indians in modern history of Russia.
In 2015, Russia will host the Festival of Indian culture, and we will surely dedicate one of the events to cinema.
What is the official position of the Ministry of Culture on the joint filmmaking? Are you ready to support this initiative?
I find it interesting. Several generations of Russians grew up watching Indian films. Contemporary Indian movies are also noteworthy. Indian films are kind, and kind films are small in number. In particular, today's wave of nostalgia guarantees interest to such projects.
Repeating myself, USSR was showing Hindi films, and India was showing Soviet films. Should Russians expect the comeback of Indian cinema?
Yes, definitely. We will talk about it. Cinema matters are within the purview of the Minister of Culture personally. After the working group meeting, we asked the Indian colleagues to make a list of ideas that I could bring up for discussion at the Ministry in Moscow.
The regular meeting of the Working Group on Culture and Tourism has come to an end. Could you name the most interesting ideas that were mentioned on it from both sides?
Actually, there already are close cultural ties between Russia and India. India hosts annual festivals of Russian culture, Russia hosts annual Indian Culture festivals and other events of this kind.
One of the most interesting and useful suggestions expressed was to establish cooperation in theatrical field. The capital of India annually hosts a Theatre Festival. I think it would be interesting to organize a show visit of one of Russian drama theatres. But it should not be about performing alone, but also about workshops, meetings with students and young actors.
This year, the Obraztsov Puppet Theatre is going on a tour to India scheduled as part of the Festival of Russian Culture in India. The actors will bring their iconic show The Extraordinary Concert. As for me, I find it one of the best performances of all times. Before the end of the year Novosibirsk Opera and Ballet Theatre will also come on their first tour to India.
It's also important to launch the museum projects. This year, the Kremlin Museum held an amazing exhibition dedicated to Indian jewellery. I hope from next year we will start supporting the exhibitions.
One of the major cultural projects between Russia and India, if, as colossal as it is, it can still be called a project, is to preserve the heritage of the Roerich. Did you discuss this issue, and what is your personal attitude to this family's creative heritage?
This question hasn't been discussed independently. But we are continually holding events related to Roerich. We have a Museum of the Orient, which has a fine collection of Roerich paintings, and the Indian side suggested that we organize a related exhibition.
As for me, I consider Nicholas Roerich one of the iconic figures of his time and one of the major creators of the era.
I think that the Indian paintings of the 20th century — the works of M. F. Husain, Jamini Roy and the three Tagores — are also no less worthy and deserve to be shown to Russian art lovers. Have such exhibitions been included in the agenda?
Indeed, there hasn't been any big exhibition after 2010. That's why the National Gallery of Modern Art in New Delhi proposed to organize reciprocal art exhibitions. We are going to consider this proposal before the Festival of Indian Culture in Russia in 2015, which I have already mentioned.
This is not your first time in India. What do you think about Indian fashion?
I love Indian clothes. I was in India three times, and during my first trip to India, I bought a sari, which I then wore on my birthday.
All rights reserved by Rossiyskaya Gazeta.