Hermitage receives $2 million birthday present from American collector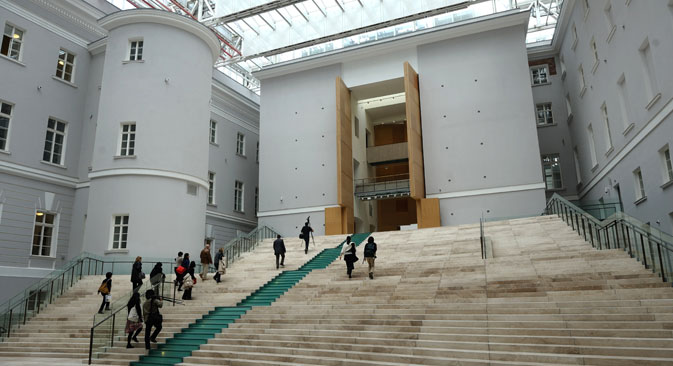 Collection of modern art will be exhibited at museum from Dec. 2. Source: TASS
American art collector Helen Drutt English has given the State Hermitage Museum a collection of modern art to mark its 250th anniversary. The work will be put on show on Dec. 2 and will be the first American exhibit featuring applied art to grace the halls of a Russian museum in recent years.
American art historian, gallery owner, and art collector Helen Drutt English has given St. Petersburg's State Hermitage Museum a collection of modern art worth roughly $2 million in honor of its 250th anniversary.
Drutt English presented her gift to the museum, one of the world's most illustrious and the largest in Russia, at a ceremony in New York on Nov. 9 celebrating the anniversary.
Pavel Rodzianko, president of the Hermitage Museum Foundation, told the RIA Novosti news agency that the collection contains 74 works of art, including ceramic pieces, chairs, brooches, and wall patterns. The artists are predominantly American but also include Europeans who permanently displayed their work in the United States.
"Almost everything in the collection is unique. For example, in 2000, two artists in West Virginia decided to make a brooch dedicated to the 2000 Russia-U.S. summit. It depicts an American eagle clasping the wing of a Russian eagle," Rodzianko said.
According to Rodzianko, the collection is currently on its way to St. Petersburg and will make its debut in the Hermitage on Dec. 2. This will be the first exhibit of American art to include examples of applied art in Russia in the last few years, Rodzianko said.
A special guest at the celebratory evening was Hermitage director Mikhail Piotrovsky, who spoke about the current state of Russian-American cultural relations: "The situation is worse today than it was in the cold war era," he told RIA Novosti. "There have been no museum exchanges between Russia and the U.S. in two years, and this is directly connected with current political relations."
Piotrovsky explained that Russia cannot take works of art to the U.S. because Washington cannot guarantee at an executive level that they will be returned.
The Hermitage chief referred to a court ruling on the Schneerson Library (a collection of rare Jewish texts whose ownership is claimed by both Moscow and Washington) that was not in Russia's favor; in theory, works of art could be seized because of this lawsuit.
"Court rulings can vary, but almost all over the world the executive authority guarantees that items on show will be returned on time, regardless of how judicial proceedings are going. America doesn't have this yet," Piotrovsky said.
"We're doing our best to fix what politicians (both ours and the Americans) are doing," he continued. According to Piotrovsky, "this wonderful collection of American applied art was selected and given to us with love, and it's an example of what friends can do."
When asked by RIA Novosti whether Russia and the United States can build ties with the help of culture, Piotrovsky said, "Culture can't help anything. Culture is the most important thing. Everything that happens in economics and politics is nonsense in comparison with culture."
"Our business is to protect culture. If there isn't culture, nothing can be helped. Culture is a bridge, and that bridge must be burned last," Piotrovsky said.
The artists whose work features in the gift collection, as well as the benefactor herself (Helen Drutt English), were honorary guests at the celebratory event.
"Relations between Russia and the U.S. – two countries divided by an ocean – can develop with the help of consistent dialogue. By experiencing mutual curiosity and respect towards each other's achievements in art and culture, our people can continue to work together in the political, social, and cultural spheres," said Drutt English.
Combined report based on material published by RIA Novosti (link 1, link2).
All rights reserved by Rossiyskaya Gazeta.