Quest games gaining popularity in Russia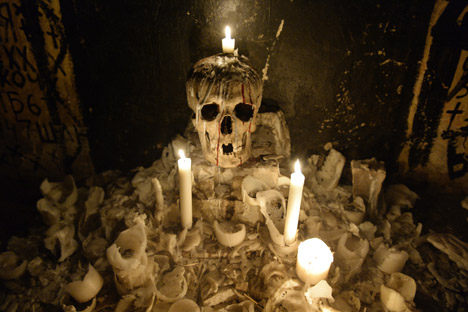 One of the interiors used in a Claustrophobia game. Source: Michael Sinitsyn
Urban quest games based on escaping from rooms or buildings are popular in many Russian cities. RIR's Dmitry Romendik tried out a version of one of the most popular of these games, Claustrophobia, and spoke to its creator.
There are four of us, standing in a semi-basement premises decorated as a medieval castle, in the center of Moscow. First we are given a briefing: "Do not break the objects in the room, do not disassemble the wall sockets, do not tear the wires. If you need a tip, there is an intercom on the wall. You have exactly an hour to get outside." We are then locked inside the premises.
Feverishly, we start trying to solve the puzzle - looking for secret clues, making calculations, step by step moving towards the solution, the key to the front door. The game we are playing is Claustrophobia, one of the new 'escape games' that has taken Moscow by storm over the last year or so.
One of the interiors used in a Claustrophobia game. Source: Michael Sinitsyn
People had been telling me about Claustrophobia and similar escape games for months, and finally, one day I decided to try playing. But the game is now so popular that it turned out to be quite a challenge finding a free slot. You need a team of four people and you need to wait until there is an opening in the schedule - and although there are many quest games like this available in Moscow, weekend and evening slots are booked weeks in advance.
A new format
"I came up with this format two summers ago and saw that similar escape rooms already exist in Hungary," says Claustrophobia's co-founder and general director Bogdan Kravtsov. "I went to Budapest, played the Hungarian game and realized that my idea is much more interesting. On December 21, 2013 we launched the quest game."
A couple of days later, Russian designer Artemy Lebedev, whose blog is read by tens of thousands of people, wrote about Claustrophobia's first two quest games, 'Hospital' and 'Apartment': "Wonderful entertainment for four, yet it would be interesting to try it for two. It's a pity there are only two rooms and you can go through them only once (it would be interesting to do it a second time). I want to have a building with 50 apartments, so that I can play new quest games once a week. It could be an entirely new entertainment industry."
One of the interiors used in a Claustrophobia game. Source: Michael Sinitsyn
Claustrophobia spreading throughout Russia
In Moscow alone there are already 20 different Claustrophobia quest games in operation, and they are popping up in other Russian cities: St. Petersburg, Kazan, Nizhny Novgorod. "We have a franchising system: People buy licenses, we teach them how to create new quest games and we bear the advertising costs," explains Kravtsov.He points out that a key difference between Claustrophobia and its competitors is that his games concentrate on involving people in reality, constructing involving narratives and scenarios for players that are more akin to roleplaying – if the game deals with a submarine, for example, then the objective for players is to 'reach the surface' before the oxygen runs out.Claustrophobia immediately saw many competitors. Bogdan says that there are about 30 of them (and these are only companies; the number of rooms is substantially greater). And in many towns these competitors are more popular than Claustrophobia. In Kazan, for example, the Exit the Room outfit is the talk of the town.
"In May we opened the first room and experienced an incredible boom," says Anna Russ, a scriptwriter and game consultant for Exit the Room. "All the best-known Kazan bloggers tried [our] 'The Man Who Didn't Exist' quest and willingly promoted it. It's a psychological thriller. You follow the tracks of a man who never existed and then you experience a catharsis."
According to Russ, the Exit the Room organizers allocate about a year to each game in Kazan, which has a population of just under 2 million. "When we create a new room, we start thinking of the new script that will be realized there in a year," she says.
In the enormous city of Moscow, on the other hand, the flux of players seems endless. "There are more people who want to play than the rooms we are capable of creating," says Bogdan Kravtsov.
Exporting the Russian game
Foreigners have also demonstrated an interest in Claustrophobia, says Kravtsov. "Usually these are people who've come to Moscow, played the game and decided to establish the quest games in their own countries," he explains.
"There are 70 games being developed now and many of them are abroad: in Amsterdam, London, Berlin, Vienna, New York, Miami, Istanbul. Soon our quest games will be opened in Armenia, Ukraine, Belarus, Kazakhstan, and 15 other Russian cities.
"Kravtsov says that each week he receives almost 500 letters from all over the world inquiring about franchising rights. Traditional entertainment no longer suffices. People are searching for new forms of active relaxation. And the quest game has become one of the most popular.
All rights reserved by Rossiyskaya Gazeta.