From Fabergé to avant-garde: Russian Art Week hits London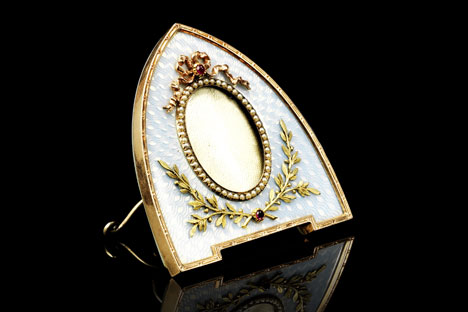 The current political tensions between Russia and the West may have put a strain on the UK-Russia Year of Culture, but you wouldn't know it from the amount of events scheduled to open in Russian Art Week.
Source: Courtesy of Sotheby's, Bonhams, Elena Shchukina
Throughout this year there has been a sharp increase in the number of exhibitions devoted entirely to Russian art. Tate Modern recently held a landmark exhibition dedicated to the Russian modernist Kazimir Malevich and the Science Museum is in the final stages of organising a major show focused on Russian space. This autumn London will once again see a vast array of Russian culture in galleries, theatres and concert halls. The week takes place from 21st – 28th November, with sales of Russian art at the major auction houses alongside a varied cultural programme.
Above and beyond
This will be the fifth Russian Art Week in the capital, which has grown year on year in both the number of events and results from the sales. Back in November 2012, when Russian Art Week was launched, the sales total reached £44.4million. Earlier this year in June 2014 Russian Art Week reached a staggering total of £64million with Russian avant-garde and classical painting fetching records sums.
The Russian art market has so far defied expectations and has not been too affected by financial sanctions imposed on rich Russians and their businesses. The Sotheby's June sale saw several Russian paintings sell for over a million pounds in the first few minutes of their evening sale, as collectors competed to acquire museum quality works with excellent provenance. Yet with the Russian ruble hitting new lows, the art world is waiting to see whether more world records will be broken at the auction houses next month.
Highlights this autumn presented at auction continue to be of exceptional quality including Fabergé, nineteenth century landscapes, seascapes and contemporary art. Bonhams are presenting another work by Nicholas Roerich, Ecstasy from 1918, whilst further down Bond Street Sotheby's are offering a Kustodiev painting for £1.2-1.8 million in their important evening sale. MacDougall's lead with a portrait by Boris Grigoriev whilst Christie's headline lot is another portrait by Yuri Annenkov with a high estimate of £2.5-4.5 million. Russian galleriest Maxim Boxer will again be returning to London after his successful first themed auction of contemporary Russian art. This time his exhibition will be focused around the theme of metaphysics with a live auction at Erarta Galleries in Mayfair.
From contemporary design to ancient icons
In addition to the auctions, a lively programme of cultural events will take place across London. Visual arts will be emphasized, with over fifteen exhibitions, ranging from fine Imperial objects, to contemporary Russian art. The headline exhibitions are at Gallery Elena Shchukina's two contemporary spaces. 'Lessons in Geometry' explores Leonid Borisov's geometric painting, sculpture, collage and photography. This is the first UK solo exhibition of the Leningrad born artist. At Gallery Elena Shchukina's Knightsbridge space, 'Born in the USSR' takes us into the world of contemporary Russian designers. All born in the early 1980s, the show's fourteen designers put a contemporary twist on traditional Russian design.
Ancient orthodox icons will be available to view at Jan Morsink Ikonen with their exhibition 'Russian Icons: Spirit and Beauty', whilst Mayfair Gallery will be showing 'Masterpieces of Imperial Russia'. Travelling further on in Russian history GRAD: Gallery for Russian Arts and Design will present Russian artistic portrayals of the Great War. Russian Art Week this year coincides with the Victoria & Albert Museum's new exhibition 'Russian Avant-Garde Theatre: War, Revolution and Design'. The show takes a look at the turbulent period in Russian history between 1913-33 through stage design. The exhibition features film footage, and revolutionary set and costume designs. Over at Somerset House, the Courtauld Gallery will also be showing their Jack of Diamonds exhibition, dedicated to the influential avant-garde group. Other exhibitions include Pavel Brat at Erarta Galleries, Galyna Moskvitina at Hay Hill Gallery, and Dashi Namdokov at Halcyon Gallery.
Something for everyone
For theatre lovers Chekhov's The Cherry Orchard will be showing at The Young Vic, and Silent Planet, set in the Soviet Union during the Cold War, will be showing at Finborough Theatre. A range of talks, hosted by Russian Art and Culture, will be taking place throughout the week on themes such as contemporary Russian art, translating Russian literature at Waterstone's Picadilly, and curating Russian art in London at the V&A. The renowned pianist Alexei Volodin will also be making an appearance at Queen Elizabeth Hall during the week. With such a varied programme on offer, Russian culture looks once again set to dominate the arts scene this autumn.
Theodora Clarke is the editor of Russian Art and Culture and director of Russian Art Week in London
To download your free copy of the Russian Art Week guide visit www.russianartweek.co.uk
All rights reserved by Rossiyskaya Gazeta.