Russian special envoy praises UK-Russia Year of Culture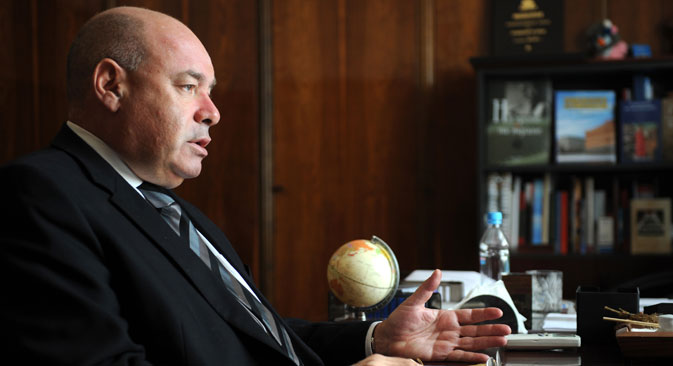 The Russian president's special envoy for international cultural cooperation, Mikhail Shvydkoi. Source: RIA Novosti / Grogoriy Sisoev
Cultural dialogue to continue after the year comes to an end, Mikhail Shvydkoi says.
The Russian president's special envoy for international cultural cooperation, Mikhail Shvydkoi, has praised the results of the UK-Russia Year of Culture, which is drawing to a close.
On Monday, in an interview with TASS at a London conference dedicated to Russian-British cooperation, called Future Culture, Shvydkoi said that "despite all the complications," the two countries were continuing to work together in the cultural sphere.
"A lot has definitely changed since the official opening [of the UK-Russia Year of Culture]," the presidential envoy admitted.
"What especially catches the eye is the fact that political support for the year from the British side has literally petered out in recent months," he noted. "This conference is another example of that – not a single representative of the British Council is here, nor are there any officials froSm the UK's Foreign Office."
"Nonetheless, we can take credit for the fact that we managed to fulfill almost the entire programme for the year," he said, adding that cultural dialogue with London "will certainly continue." The UK and Russia had already made definite plans for several years ahead, and "not just with the participation of the capital, but also the regions." Events include an exhibition devoted to the 100th anniversary of the October Revolution scheduled for the Royal Academy of Arts in 2017, as well as a planned tour of Russia by the English National Opera.
The key focus of the Future Culture conference was the role that digital technology plays in developing museums, libraries, and other cultural institutions. Presentations and discussions at the conference centred on how digital multimedia technology can make cultural values more accessible to the greater public, as well as increase the number of people who visit museums.
Participants in the Future Culture forum included representatives of Russian museums, head of the Victoria and Albert Museum, Martin Roth, Director of e-Strategy and Information Systems at the British Library Richard Boulderstone, Creative Director of the Calvert 22 Foundation Ekow Eshun, and head of the London-based Baltic Centre for Contemporary Art, Godfrey Worsdale. The event was organised by the V&A and the Calvert 22 Foundation.
First published in Russian in TASS.
Read more about all things Russian in the UK on our special section The Kompass
All rights reserved by Rossiyskaya Gazeta.