Sarah Brightman: No time for anything earthly when I'm in space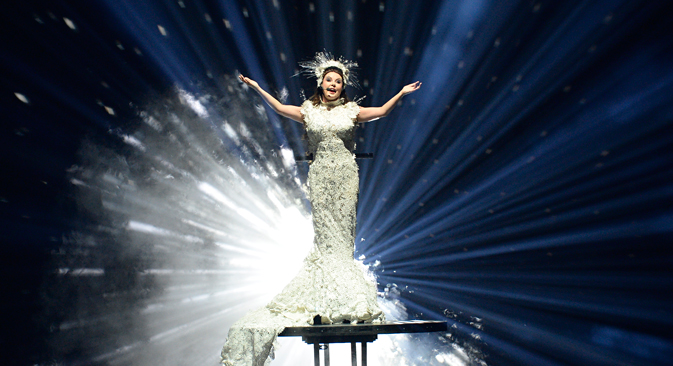 During the concert in Moscow. Source: Mikhail Sinitsyn / RG
Sarah Brightman is currently in Russia as part of a world tour, but besides music, the singer has beenthinking about her upcoming flight on the Soyuz spacecraft as a cosmic tourist to the International Space Station. Even in her interview with the Rossiyskaya Gazeta newspaper, she constantly switched between music and space.
Renowned British classical crossover singer Sarah Brightman is in Russia for the second time this year. In February she presented her latest album, Dreamchaser. Now, as part of her world tour, she has returned to Russia with a vivid and dramatic show mixing songs that transmit the enchanting rhythms of the Universe with world hits (such as Paul McCartney's Venus and Mars and Rimsky-Korsakov's Song of India) and a fantastic light show, all against the backdrop of a starry sky.
RossiyskayaGazeta: Dreamchaser was not your typical album. It doesn't have any beautiful operatic voice types and the symphonic orchestra was replaced by a synthesizer. It seems that this album is an attempt to penetrate the mystery of the universe. Or have you decided to fly to space to better understand yourself and, possibly, to then change your life and your art?
Sarah Brightman: I had always wanted to record an album where there would be lots of space, air and the magical, alluring atmosphere of the universe; one that would use innovative electronic timbres and the ideas of composers who specialize in cosmic music.
I had been pursuing this for a long time. I had long been interested in the life of the universe and finally I recorded the Dreamchaser album, which has lots of cosmic sound.
What do I expect from the upcoming flight? We all have a need to explore. I, for example, love traveling to unknown countries and getting to know new things. And I'm convinced that the universe is filled with the unknown and that by studying it, we can find out the future of our own evolution… I don't know if on this flight I'll be able to touch one of the mysteries of space! Sure, I'd really like to. Well, at least this flight will be important for me as an artist. I hope it will inspire me to further creativity and future albums…
R.G.: This is your second trip to Russia this year, which is not typical forstars. Do you intend to get better acquainted with the county that is launching you into space?
S.B.: I always enjoy performing in Russia. And now it's particularly important to sing here, considering what I've planned. Have I taken any books or scientific research about space along on the tour? Of course.
I'm a person who always plans and prepares in advance. So I read lots of useful books and watch filmsin my free time.
R.G.: In January you will start preparing for the flight to the International Space Station. Which bad habits have you had to drop because of the flight?
S.B.: I really don't have any bad ones. However, I may find out when I arrive in Star City and start preparing for space travel (smiling). By the way, I have already met the pilot of the future crew. He's much younger than me (laughing) and is very experienced, one of the best! He's already been to the ISS.
R.G.: What music would you like to take with you on the trip?
S.B.: I don't think it would be wise to take any music aboard. Because I'll have to always be concentrated, attentive and be in contact with the other astronauts. What awaits me is a really fascinating and fun trip, and I won't have time for anything earthly!
First published in Russian in Rossiyskaya Gazeta.
All rights reserved by Rossiyskaya Gazeta.