Magnus Carlsen defends world chess crown in Sochi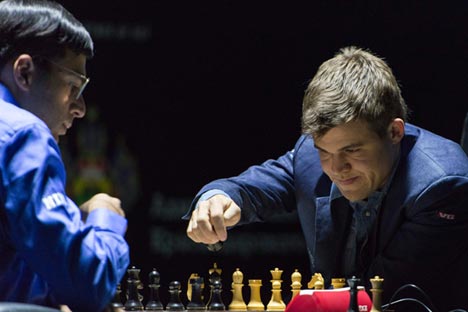 Carlsen won his second world championship in a row. Source: Rossiyskaya Gazeta
India's Viswanathan Anand had good chances in Game 11, but faltered in a complicated queenless middlegame.
The Norwegian wunderkind, Magnus Carlsen, has defended his World Chess Championship title after defeating Viswanathan Anand of India in 11th game of their match in the Russian Black Sea resort of Sochi.
Sunday's win gave Carlsen, 23, an unassailable lead in the match of 6 1/2 to 4 1/2, rendering the planned 12th and final game unnecessary.
The Norwegian has beaten Anand, 44, for the chess crown for the second year in a row, with his first success coming in Chennai, India in November 2013, by the score of 6 1/2 to 3 1/2.
Carlsen and Anand agreed to a draw in game 10 of the match in Sochi on Friday before going into Sunday's battle.
Leading Anand 5 1/2 points to 4 1/2, Carlsen knew he had to make Sunday's game count, or face a nerve-wracking final game with the black pieces.
Anand, rated 6th in the world, had good chances in Game 11, but faltered in a complicated queenless middlegame. A risky exchange sacrifice of rook for bishop was brutally refuted by Carlsen, who soon forced a technically winning endgame. "I evaluated the position as equal (till that time). I can't say why I went for the sacrifice," Anand said at a press conference, where he was greeted with a standing ovation. "It was a bad gamble and I was punished."
"Perhaps, I didn't play the best, say from Move 18 to 23," Carlsen said. "All of a sudden, this move (Anand's 26th), created a lot of counter-play. I am very happy with the way I pulled myself together. After he gave up the exchange (rook for bishop), I played quite forcefully. He didn't have many chances," said Carlsen.
The champion added, "I didn't particularly want to come back for the 12th game with black (pieces). It was a bit more complicated than our previous games in which I had been white."
Praising the Indian challenger, Carlsen said, "For sure, he (Anand) did better than he did last time. He really pushed me till the end."
Anand beat seven of the world's top grandmasters in the Candidates Tournament in Khanty-Mansiysk, Russia in March, to qualify for the World Championship match in Sochi. When asked by a reporter if he was going to retire from the game, Anand said no.
The Chess World Championship is the third major sporting event that took place in Sochi this year as the city successfully hosted the Winter Olympics in February and Russia's maiden Formula 1 Grand Prix in October.
First published by RT.com.
All rights reserved by Rossiyskaya Gazeta.