Record results for Russian art in London despite market fluctuations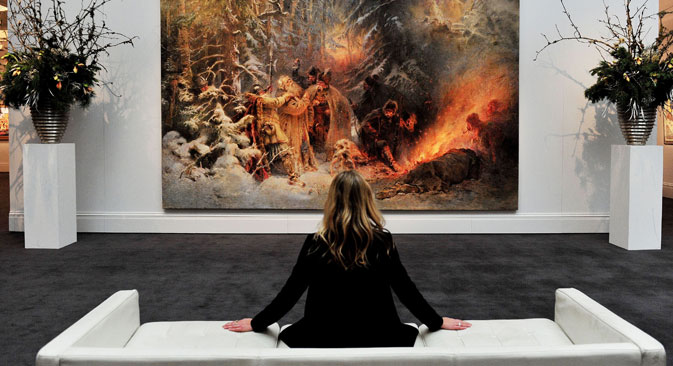 Sotheby's employee views 'Ivan Susanin' by Konstantin Makovsky, a part of Sotheby's Russian Art Week exhibition and sale. Source: TASS
A new record has been set for the most expensive painting ever sold in a Russian art sale.
A painting of the beautiful Russian émigré Maria Zetlin sold on Monday at Christie's in London for more than £9 million. Valentin Serov's pensive portrait shows Zetlin standing before a wintry view, dressed in black and holding back a curtain with one hand, her gaze drawn by something beyond the picture's frame.
Undisputed masterpiece
Before the sale, Alexis Tiesenhausen, Head of the Russian Art Department at Christie's, called the work, which was painted in 1910 in Biarritz, "without doubt, the most exquisite Serov that I have handled during my career at Christie's." Many art historians see Serov as the greatest Russian portrait-painter of his time and this picture represents the artist at the height of his powers, a year before his early death. "The devastating elegance and poise of the sitter, captured in Serov's unique silvery tones, epitomises the mastery of Russia's preeminent portraitist," says Tiesenhausen.
Tiesenhausen told RBTH after the sale: "We are thrilled that the undisputed masterpiece, Valentin Serov's Portrait of Maria Zetlin, sold for the extraordinary sum of £9.2 million, smashing the auction record for the artist and setting a new world record for the most expensive painting ever sold in a Russian art sale." The painting was sold after intense bidding between four collectors and eventually went to an anonymous telephone bidder.
The amount fetched was almost four times the top estimate and represents a great result for the Ramat Gan museums in Israel, who were selling the portrait in order to fund improvements for the remaining collection. Moshe Abramowitz, Ramat Gan's Vice Mayor and Artistic Director told Christie's: "The proceeds of the sale will be used to upgrade the presentation of the collection, enlarge the exhibition space, and benefit the cultural and artistic future of the city…"
Unlike the Serov, which has never been sold in an auction before, a painting by Yuri Annenkov, which sold for £4 million, has regularly passed through Christie's. This was the third time that this avant-garde 1922 portrait of Alexander Tikhonov has set a world record for the artist.
Global capital
London is now the global capital of the Russian art market and the twice-yearly art week routinely breaks world records, but figures have still not fully bounced back since the 2008 recession and individual sales can be disappointing. Over at Sotheby's, things were not so rosy this season. A colourful Crimean scene by Boris Kustodiev fetched £1.2 million, but the sale total was relatively low. Traditionally Sotheby's has dominated the Russian art market with around 40% of sales, but this month it dipped to nearly than half that.
Russian Art and Culture's Simon Hewitt has just produced a comprehensive report on the complicated state of London's Russian art market, detailing the fluctuations of the last seven years. The report makes clear that one exceptional painting can produce unusual results for individual auction houses, as it has this season for Christie's or for Bonham's in Summer 2013.
The latest MacDougall's Russian sale raised £7.7 million; co-director and art expert Dr Catherine MacDougall observed that the auction house's clients have money, but they were: "not in a great mood to buy given the political and economic situation."
Fishing boats and dragon fruit kebabs
Among those paintings that fetched more than a million pounds at MacDougall's was a forest landscape by the enduringly popular 19th-century artist, Ivan Shishkin. His famous painting of three bears climbing on a fallen tree has adorned countless Russian chocolate boxes. The typical Pine Forest for sale this week has a muddy path leading into tall trees topped by a cloudy blue sky. The other blockbuster to beat the million-pound-mark was a 1920s fishing scene by Nicholas Roerich, with boats silhouetted on a purple sea beneath a vermillion sunset.
Auctioneer Charles Ross, a regular on BBC antiques' shows, is known for his jokey asides. "Male nude with drape," he announces, before commenting: "not sure the drape is in the right place." MacDougall's is celebrating a hugely successful ten years in business this season and their characteristically friendly atmosphere spilled out onto the street from the glowing doorway on Charles II Street. Guests nibbled at the avocado wraps or melon-and-dragon fruit kebabs. The crowd was a sea of fur coats and killer heels, silk scarves and leather jackets.
London-based actor, Henry Gilbert, who was at MacDougall's and has attended the last three auctions there, told RBTH: "This is definitely the busiest I've seen it in terms of bodies in the room. Obviously, a lot of the actual bidding is by telephone, but there's always a buzz here. They create an excellent atmosphere."
Over at Bonham's, the mood was more sedate. From a moonlit seascape by Ivan Aivazovsky to a bronze bust of Tolstoy, there were lots to suit all tastes, but many of them went unsold. Bonham's may not agree with Tiesenhausen's cheerful pronouncement: "We are now seeing Russian masterpieces achieving the prices they deserve on the international stage." Simon Hewitt cautions in his report that "predictions in the current political and economic climate are hazardous", but concludes that there have been "recent grounds for optimism" and that, despite its ups and downs, London's Russian Art Week is now firmly established as "a cultural event of major international importance."
Click to enlarge. Source: Russian Art Week report
All rights reserved by Rossiyskaya Gazeta.