The home movies of the last of the Romanov emperors, shot before revolution changed Russia forever, are housed alongside footage recording the Gulag prison camps of the 1930s, the wartime siege of Leningrad, scenes from Gagarin's epic space flight, Bolshoi Ballet performances and rarely seen images of the Chernobyl nuclear disaster, and thousands of other priceless film footage cared for by the Russian State Archive.
Housed in a guarded nondescript industrial building on the outskirts of Moscow, the Archive is an immense treasure trove of film and video documenting the history and culture of the country from the time of the tsars to the break-up of the Soviet Union. Scarcely any of this vast quantity of more than two million items, including 138,000 documentaries, has ever been seen in the West, but that's about to change thanks to the dynamism and determination of one man: Anthony Gould.
Skilled negotiator
Mr. Gould, effervescent boss of RussiaTeleRadio Worldwide (RTRW), is a people person, a throwback to a time when business relied more on personal relations than email communication. Having started at the bottom as a 16-year-old trainee with Kodak, rising to become its head of operations in Central and Eastern Europe (CEE), including Russia, Mr. Gould, 72, is a skilled networker who has a fund of stories from the great and good including film directors as diverse as Stanley Kubrick and Michael Winner, all of whom used his company's product. Indeed, his time spent behind the Iron Curtain might have the makings of a film itself, as he claims he was asked to spy in by five different countries and rubbed shoulders with political elite of the region's countries.
"When you meet a leader or president in his dressing-gown," he laughs, "you have a totally different relationship than if you are unfortunate enough to meet him surrounded by his apparatchiks."
International rights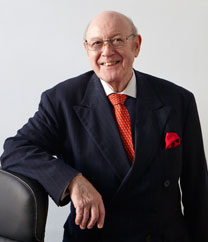 All the rare documentaries will be released thanks to Anthony Gould. Source: Robin Mellor
Kodak supplied the Kremlin's medical clinic with X-ray film and blood analysis equipment, which led to Mr. Gould meeting every Soviet leader from Brezhnev to Gorbachev. Brezhnev's grandson even visited him in England. It's these close connections along with a multitude of others forged over almost 40 years of commercial activity in the region, allied to a deep understanding of the Russian business psyche, that have helped RTRW secure the international distribution rights to the archive.
After leaving Kodak in 1994, Mr. Gould set about helping western companies such as Tesco and Zara set up shop in the former Communist countries of CEE, but his mind kept returning to the possibilities of this enormous archive, which he'd first come across when invited to install a film laboratory within the complex.
"I thought, 'I've got to find a way to get this material out there,'" he recalls. "Knowing all the right people as I did, I thought this shouldn't be too difficult. Well, eight years and £600,000 of legal fees later, I signed the contract in June 2010."
Dealing with the complex bureaucracy in Russia surrounding the archive was a challenge, but so too was raising the necessary finance in the UK. Initially, Mr. Gould was looking for £14 million which, before the economic downturn of 2008, two leading banks were willing to loan. When both banks pulled out, he was forced to scale down his plans, which had originally included a separate construction adjacent to the archive. His new business model required a more modest £3 million, which, through a combination of high net worth individuals and small investors, he has largely raised.
Brilliant ballets
Source: Vimeo
The deal he struck involved paying a small annual fee plus an agreement to use archive material at a rate per minute. He's already embarked on his first commercial venture, buying the rights to 11 ballets performed by the Bolshoi and Kirov (now Mariinsky) companies, which have been re-mastered for international distribution. Sky Arts bought the first five of these, and in August 2013 broadcast the first, a 1976 performance of Swan Lake featuring the Bolshoi's legendary dancer Maya Plisetskaya. Sky is currently showing them in their Unseen Bolshoi series. These ballets are also being released as five DVDs and a five-disc box set, The Russian ballet Collection: Volume I.
"We have to walk before we can run," Mr. Gould acknowledges, although the commercial value of ballet is considerable. "It's not just TV. I have cinemas in this country and across the world eager to buy these films. They are absolutely unique."
The untapped potential of the archive is vast. Mindful of the ever-present threat of piracy, Mr. Gould takes me into his office and shows me a taster menu of the archive's riches in short clips. It's simply mouthwatering.
Romanovs at play
There's pre-Revolutionary footage of Tsar Nicholas II and family playing tennis on a wooden court and a swimming expedition which shows the young, Tsarevich, Alexei, unable to participate because of his haemophilia and looking upset on the sidelines.
"It looks like home movie footage," says Mr. Gould. "There are hardly any scratches on the film. It's been shown perhaps once or twice and then stored away."
There's footage of Gulag prison camps from the 1930s, the wartime siege of Leningrad and Hitler's Berlin bunker. "The Imperial War Museum has got a lot from the Second World War," he explains. "But it hasn't got a fraction of the amazing Soviet Archive."
Film of unknown extinct creatures such as a bison-like animal, rarely seen footage of the Chernobyl disaster and Russia's space programme, can be found alongside numerous operas, plays, children's animation and drama, all of it carefully indexed with handwritten annotations. There's already intense interest from leading historians and filmmakers around the world, about which Mr. Gould must remain, uncharacteristically, tight-lipped.
He believes many of the 47 full-time Russian archivists, most of whom have worked there all their lives, know where all the treasures lie. When this material surfaces, the effect will not be unlike the discovery of an ancient sarcophagus. Fresh light is about to be shed on aspects of a rich, intriguing culture previously hidden for decades from most of the world.
To buy the Russian Ballet Collection: Volume I, please visit www.russianballetcollection.comor for more information on RTR Worldwide and the Russian State Archive, go to www.rtrworldwide.com

All rights reserved by Rossiyskaya Gazeta.