Moscow may get monument to Tamil poet Tiruvalluvar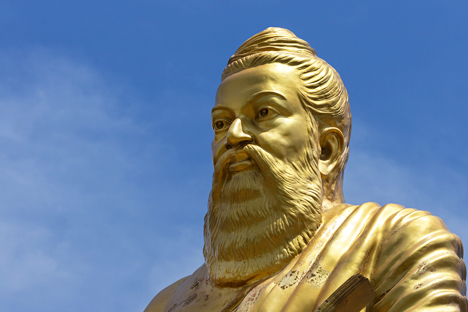 Statue of Tiruvalluvar in Vellore, Tamil Nadu. Source: Shutterstock
The southern Indian city of Chennai may get a monument to Alexander Pushkin, according to an Indian media.
The Russian capital may get a monument to celebrated Indian poet and philosopher Tiruvalluvar, the Hindu reported on its website. "Tiruvalluvar is a great and celebrated poet. His contribution to the Tamil literature is well known," Sergey Kotov, Russia's consul general in Chennai told the paper. "We have received a request from an organisation to install his statue in Moscow. We are eager to establish his statue."
The report added that Chennai may get a statue of Alexander Pushkin. Russia would be pleased to have the statue in the southern Indian city, Kotov told the paper. The Russian diplomat added that the modalities of installing the statue, its location and the agency to be involved in it were being worked out. Russia has long maintained strong cultural relations with the southern India and has a cultural centre in Chennai as well as Thiruvanathapuram.
Moscow also features more monuments to Indian cultural and political figures than any other city outside India. The Russian capital has a monument to Rabindranath Tagore, Mahatma Gandhi, Jawaharlal Nehru and Indira Gandhi.
The Russian capital's Lyublino district hosts the Russian Tamil Sangam, an organisation that looks to foster and promote the ancient language and its literature, values, traditions, culture and art.
Tiruvalluvar: A great legacy
Thiruvalluvar is best known for Thirukkural, a work on ethics. The Tamil poet and philosopher lived sometime between the 3rd and 1st century BC. His place of birth is believed to be either Chennai or Kanyakumari, where there is a famous statue in his honour.
Thirukkural is considered a 'common creed', providing a guide for human morals and betterment in life. The text has been translated into several languages including Russian. Its translation into Latin by Constanzo Beschi in the 18th century, helped make it known to European intellectuals.
The book, which consists of 1330 couplets, is one of the most and important and celebrated works in the history of Tamil literature.
In 2015, the poet's birth anniversary will be celebrated across India.
Tamil, which is one of India's ancient languages, is widely spoken in Sri Lanka, Malaysia, Singapore, as well as in India. Films in the language were widely available in the USSR.
All rights reserved by Rossiyskaya Gazeta.