The show must go on: Russian figure skaters turn to TV to keep career alive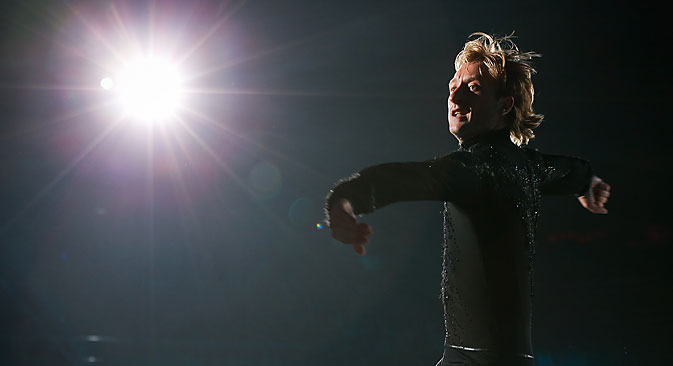 Evgeni Plushenko. Source: Getty Images/Fotobank
A few weeks ago, Russian figure skating star Evgeni Plushenko announced the premiere of a grandiose ice show called Ice King. RBTH reports on the Russian figure skating stars who opt to prolong their careers by participating in commercial shows.
At the end of September, Russian figure skater Evgeni Plushenko, who, despite struggling with back problems, hopes to participate in the 2018 Olympic Games for the fifth time in Pyeongchang, South Korea, announced that he is preparing a new ice show called Ice King, based on Hans Christian Andersen's fairytale The Snow Queen.
Plushenko says that the show is unlike anything anybody in Russia, or even in the whole world, has ever seen. Ice King will be an elaborate production on which no expense is spared, with a team of 220 working on the show. Plushenko has invited fellow professionals Irina Slutskaya, Johnny Weir, Brian Joubert, and Tomáš Verner to participate in the project.
Plushenko will use the help of 'magic' to perform - for the first time in history - a jump on ice with eight turns, a stunt that has captured the imagination of Plushenko's fan base. So far, further details have not been disclosed, but Plushenko will most likely be using special safety equipment that figure skaters use to learn jumping and landing techniques.
Ice King is not Plushenko's first ice project. However, the figure skater's previous endeavor resulted in a serious scandal. After Plushenko's withdrawal from the Sochi Olympics due to injury, banners advertising his tour The Show of Champions and Friends stayed up in Russia, Romania, Latvia, and Lithuania for a long time, despite the fact that the star could not perform.
Plushenko's first post-operation appearance, in which he performed alongside Japan's Olympic champion Yuzuru Hanyu was awaited with anticipation. His first post-surgery triple axel, performed at a show in China, became the subject of lengthy discussion on the internet. Plushenko broke his skate blade in China, which he promptly announced over Twitter. The skater's fans immediately commented with, "You are so strong and powerful that you break steel."
Ice impresario
Alexei Yagudin. Source: Alexey Filippov/TASS
Perhaps one of the most sophisticated figures in Russia when it comes to ice shows is Ilia Averbukh, who won a silver medal at the 2002 Olympic Games with Irina Lobacheva. Averbukh is the director and producer of some of the most spectacular TV shows in Russia: Stars on Ice, Ice Age, Fire and Ice, and Bolero. He also directed the musical City Lights – the very musical that promoted the Sochi Winter Olympics at the Summer Olympic Games in London. For the first time, guests could watch Russian champions Tatiana Navka and Roman Kostomarov, Tatiana Totmianina and Maxim Marinin, and Alexei Yagudin.
Although Averbukh does not take his shows abroad, he believes Russian and foreign projects have a lot to learn from each other.
"I place a lot of emphasis on quality and try to match our colleagues in Europe," says Averbukh, who points out that his shows include top figure skaters, including world champions, Olympic medalists, and champions in ice skating acrobatics. "We are definitely the best skaters, but it's important to know how to present a show and create a bright cover: lighting, pyrotechnics, special effects, decorations, and costumes."
Bolshoi on Ice
Averbukh's dream is an ice theater. For almost 30 years (2016 will mark the show's big anniversary), former European champion Igor Bobrin's Ice Theater of Miniatures has been touring successfully. Bobrin is famous in the figure skating world as the king of free skating and the performer of the "Cowboy", "Paganini", and "Invisible Partner" dance programs.
The Ice Theater of Miniatures has toured in Japan, Italy, France, Venezuela, and the United States (Florida). The project was a big hit in South Korea, where the show has been dubbed the "Bolshoi on Ice." This summer, the theater performed Cinderella, Swan Lake, and Mary Poppins in Busan, Daegu, and Seoul.
"I think that for us, theater is a way of life, something we cannot live without," says Natalia Bestemianova, who performs as a solo dancer for the theater. "Of course, it is also a way to make a living, but the effort we put into our work – psychological and physical – is worth a lot more. We dedicate our whole lives to the theater."
All rights reserved by Rossiyskaya Gazeta.