Russian dancers enchant in Mohiniyattam festival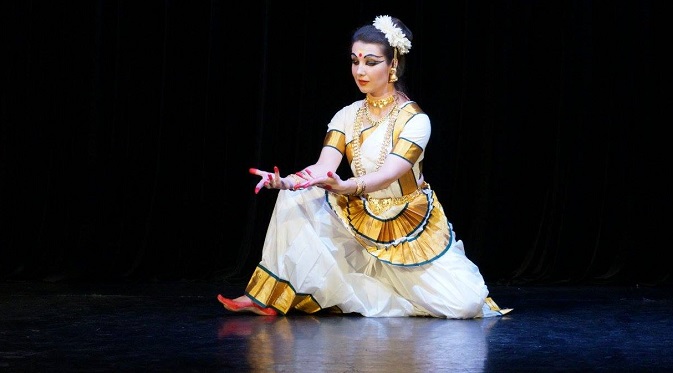 Alexandra Vodopyonova. Source: Priyanka Gera
Alexandra Vodopyonova and Olga Stoliarova, who performed at the Mohiniyattam Collective dance festival in New Delhi, have become life-long devotees of the Indian classical dance form that is known for embodying grace and beauty.
The annual dance festival, the Mohiniyattam Collective, held in New Delhi, featured Russian dancers Alexandra Vodopyonova and Olga Stoliarova. While it was Alexandra's first performance in India, Olga has been performing in the country for a decade. This festival was conceived and presented by the Centre for Mohiniyattam (CFM) to highlight the global outreach of the dance form and also to celebrate the dedication of its international exponents. The venerated danseuse, Padamshri Bharati Shivaji, who is the Founder-Director of CFM, was all praise for dancers. "They practice with utmost sincerity and devotion. Their passion is remarkable. We thought of this festival as a tribute to their dedication. This is a token of our appreciation for them."
People across the globe have been drawn to India for its cultural and spiritual heritage. In the case of India and Russia, there has been a profound affinity since the Soviet times which was reflected in several events designed to promote cultural exchanges. The Artistic-Director of CFM, Vijayalakshmi, reminiscences about the Festival of India that was held in 1987 in Russia, "My mother Bharati Shivaji, who is also my Guru, performed at the inauguration ceremony of the festival. It could be the starting point for the propagation of Mohiniyattam in Russia. We performed across the country and were received with warmth and acclaim." Indeed it was a television broadcast of Shivaji's performance that made Olga fall in love with this exquisite dance form.
The Enchantress Enchanted
Mohiniyattam literally means the 'dance of the enchantress' i.e. the mythical Mohini. Olga vividly recalls the magic she felt when she first saw this dance form. "I liked Indian classical dances ever since I was a child. At first I tried to learn on my own, but it was very difficult. I had to leave my studies and everything else and shift to Moscow to find a teacher," says Olga who hails from Novosibirsk in Siberia. "My first teacher was late Galina Dasgupta. Under her guidance I started performing Indian classical as well as folk dances in Moscow. Then I got a scholarship to further my training in dance in India and I decided that I will learn only from my ideal — Guru Shivaji." Olga was one of the recipients of the annual international scholarships by the Indian Council for Cultural Relations (ICCR).
Olga Stoliarova. Source: Priyanka Gera
It has been 12 years since Olga shifted to New Delhi. She speaks Hindi fluently, does volunteer service in a gurudwara, and has taken up an Indian name: Priya. She trains with Shivaji two to three times in a week and also travels with their collective to perform across the globe. One of their landmark performances is Vijayalakshmi's Mohiniyattam production based on Tchaikovsky's Swan Lake. "In 2005 we prepared a mega Mohiniyattam presentation based entirely on Tchaikovsky's music. A large scale production like this, involving thirty dancers, has never been attempted in the realm of Indian classical dances. The response was overwhelming. We've presented it in some of the prime venues across the globe to much critical acclaim," says Vijayalakshmi. CFM will celebrate the 50th show of the Swan Lake production in April next year.
They've also had the honour of presenting the production at the Bolshoi Theater. "It was a wonderful experience to perform the Swan Lake in Russia. The audience were amazed. Some of them remarked that it felt as if Tchaikovsky had Mohiniyattam in mind when he composed it. The expressions that are the mainstay of Mohiniyattam make it a very unique presentation. It adds a whole new dimension of 'abhinaya,' meaningenactment, and sets it apart from the original ballet," Olga explains.
Her pursuit came one complete circle when they performed Swan Lake in her hometown Novosibirsk. When asked if she would like to return to Russia to further promote Mohiniyattam, Olga replies, "It has grace, beauty and purity. I think people in Russia, India and everywhere need beauty and purity. I would also like to share it with others. But for now I want to train with my guru for as long as I can."
Into the Shining Sun
Olga always maintained a single point focus on Mohiniyattam. Alexandra had to meander through the globe to discover the dance form. She describes her first experience of the dance as 'facing the shining sun.' "I started learning dance when I was five years old. I finished a degree in ballet from Moscow. Then, I developed an interest in the Irish dance. I went to Dublin and learnt Irish dance for eight years," says Alexandra, who studied at the Russian Academy of Theatre Arts. "I didn't know anything about India when I first visited. I spent some time in Kerala and then I finally found my true calling. It is as if I didn't choose Mohiniyattam, instead the dance chose me."
Alexandra has been training under the tutelage of Vijayalakshmi since three years. "I've my family and business in Moscow so I can visit just once every year. It's not at all easy to keep up with such a busy schedule. My family thinks that I visit India for a holiday, but it is anything but that. When I am here my sole aim is to train with my guru every day." While in Moscow she trains with Angelina Haque, an avid Russian Mohiniyattam exponent.
Alexandra also teaches at the Jawaharlal Nehru Cultural Centre in Moscow. "It is an exotic dance form for us. It is characterised by fluid body movements. The languorous rise and fall of body, with an emphasis on torso, demands a lot of flexibility and rigorous practice," she explains the essence of the dance form.
It's this very feminine and graceful essence of this classical dance from Kerala that Alexendra and Olga portray, dressed in pristine white sari with golden brocade border, adorning traditional jewellery and fresh jasmine flowers arranged around a hair bun on the left side of the head. They have truly surpassed cultural and geographical boundaries to embrace the enchanting dance form of Mohiniyattam.
All rights reserved by Rossiyskaya Gazeta.