This traditional Russian baked item was almost always store-bought, and for good reason – making them requires using nearly every pan in the kitchen.
Growing up, we didn't have a huge selection of sweet pastries. There were bagels, marzipan, sugar puffs and a couple more, all available at any kiosks that sold baked goods. But there was one type of pastry that rose above all the others, largely thanks to its name – hats off to the Soviet marketing team – romovaya baba, or "rum mama."
Both parts of the name were intriguing. The rum obviously sounded wonderfully naughty and exotic – all I knew about it was that pirates drank it while singing "yo ho ho," and that I would never be allowed it. "Baba" just seemed a bit odd, but sounded good, and all together it places "rombaba" in a special place in pastry world, as unreachable to a '90s kid as the Spice Girls.
As time went by and I grew up, I tried rombaba and from what I can remember quite liked it – it was something I'd have at a cafeteria every now and again. I never saw anyone make it. My mother and grandmother certainly never did, so for me it has always been a store-bought sweet. My grandmother confirmed my memories.
"I never baked it and I don't know anyone who did. In fact, we didn't bake much at home at all – imagine baking in a kitchen shared between 5-7 families! We only had a small table in it, and it wasn't nearly enough to prepare the dough. That's why many people fried their pirozhki instead of baking them. It was only under Khrushchev that people started getting their own apartments, which allowed for more baking."
She also remembered that "rombabas were everywhere – in every cafeteria and bread shop. I don't suppose they used real rum in it, as it wasn't something anyone ever had at home. For alcohol there was vodka and Georgian wine – Stalin loved his kindzmarauli, and Soviet champagne for special occasions."
I really can't imagine making rombaba in a communal flat kitchen. You end up using just about every bowl& utensil in the kitchen and the clean-up is worthy of a "subbotnik" – a communal neighborhood spring cleaning.
Although I made half a recipe, it was a huge portion, so I asked my husband to take some into the office with him – thank God for offices where people will eat just about anything, otherwise I wouldn't know what to do with baking leftovers. He was given a mission to find out what people thought of the rombabas I made: if they were like what they remembered.
They weren't quite like what I remember, and I don't think it's just the rum messing with my memory. The results: 4 of the 5 participants said it wasn't like they remembered, but the other one said it was exactly as she recalled. Further research showed that she was the only one who had ever tried homemade rombabas.
That's it, granny…by now I know all about you and your "no one else baked it at home." I've heard a few granny tales by now! And as for the last 50 years you've had your own kitchen, there truly is no excuse.
I may not mess about with the lay of the land any more, however. I'll buy my rombabas from the shop and pour a Bacardi to go with it. Rum has very much made it to Russian parties and homes by now and has replaced the semi-sweet "kindzmarauli," Stalin's preferred Georgian tipple. These days, "The Leader" would have to stay sober.
Rombaba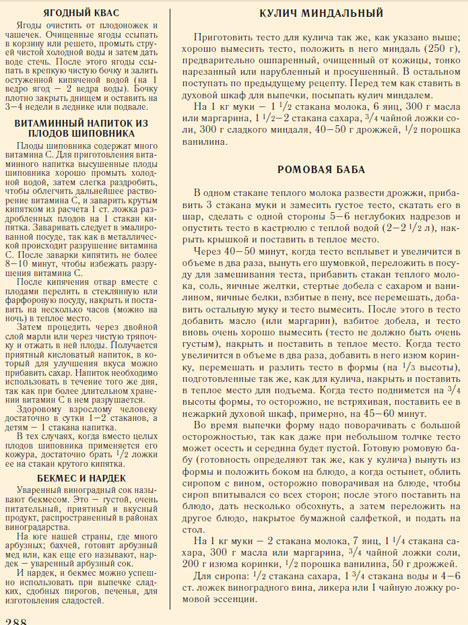 The recipe from the Soviet Cook Book, page 288. Click to enlarge the image
Dissolve yeast in 1 cup or warm milk. Add three cups of flour and knead into a stiff dough. Roll into a ball. Make 5 or 6 shallow cuts in the ball and place the dough into a pan filled with 2-2 ½ liters warm water. Cover with a lid and set in a warm place for 40-50 minutes.
Ingredients:
For the cakes:
1 kg flour; 2 cups milk;
7 eggs; 1 ¼ cups sugar;
300 grams butter; ¾ tsp salt;
200 grams raisins; ½ tsp vanilla;
50 grams yeast.
For the sauce
½ cup sugar; 1 ¾ cups water;
4-6 spoonfuls of rum, wine or other liquor.
When the dough increases in volume by 50%, remove it from the water with a slotted spoon. Separate the eggs. Add egg yolks to sugar and mix until there is no white showing. Whip egg whites into a froth. Add to the dough ball the second cup of warm milk, salt, vanilla and egg yolks mixed with sugar. Mix well.
Add the remaining flour and knead the dough. After that, add the butter to the dough and knead very well. The dough should not be too thick. Again cover and put in a warm place. When the dough again increases in volume by 50 percent, add the raisins, stir and pour the batter into the prepared mold.
Cover and put in a warm place to rise. When the dough has risen to 3/4 the height of the molds, then gently, not shaking, put it in a cool oven, approximately 45-60 minutes.
During baking, the mold must be rotated with great caution, as even a slight push can cause the dough to fall. When the rombabas are ready, (readiness is determined in the same manner as in cakes). Remove from the mold and put on a dish. When cool, pour the syrup over them, carefully turning on a platter so they are soaked in the syrup soaked from all sides. Then, put them on a separate dish to dry. Put on another dish, covered with a paper towel, to serve.
All rights reserved by Rossiyskaya Gazeta.