New NYCB director discusses his Russian roots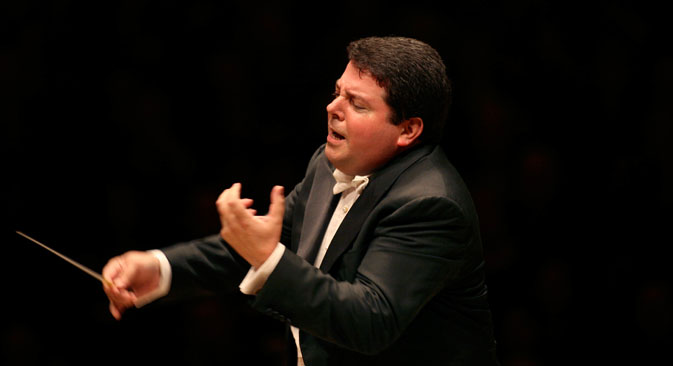 Andrew Litton. Source: Steve J. Sherman
Andrew Litton's connections to Russia include his paternal grandparents, his piano teacher, and Mstislav Rostropovich, whom Litton called his "second father."
Andrew Litton, who was appointed musical director of the New York City Ballet (NYCB) on Dec. 16, traces his love of ballet back to a performance of the NYCB's Nutcracker that he saw as a child. His connections to Russia, however, go back much farther.
The New York City Ballet was founded in 1948 by choreographer George Balanchine and Lincoln Kirstein.
 Balanchine, a graduate of the Imperial Ballet School in St. Petersburg, (now The Vaganova Academy of Russian Ballet) is known for his work with Serge Diaghilev and the Ballets Russes in Paris. He emigrated to the United States in 1933 and is considered one of the fathers of American ballet.
Balanchine merged the standards and technique from his education at the Imperial Ballet School with other schools of movement that he adopted during his tenure as a guest choreographer on Broadway and in Hollywood to create his signature "neoclassical style."
Litton's grandmother was born in Baku, and his grandfather in Moscow, although they met and married in Berlin, then emigrated to the United States in 1939.
The very first concert Litton attended was a performance of the Yale Russian Chorus in 1962 in Geneva. "In later years, my parents took me to that group's concerts on several occasions, and that without a doubt instilled a special love of Russian music in me," he said.
Litton received both his bachelor's and master's degrees in piano and conducting from the Juilliard School, where he deepened his connections to Russia. "My piano teacher at the Juilliard School was the famous pianist of Russian origin Nadia Reisenberg," Litton said. "In the 1970s, when I was a student, I played the piano with legendary dancers Rudolf Nureyev and Natalia Makarova."
Yevgeny Svetlanov, the creative director and chief conductor of the State Academic Symphony Orchestra of the Soviet Union, met Litton and his father on a train, and invited Litton to perform in Moscow. In January 1980, at the height of the Cold War, 20-year-old Litton accompanied Svetlanov's orchestra at the Tchaikovsky Concert Hall in George Gershwin's famous composition "Rhapsody in Blue."
Immediately after his graduation from Juilliard in 1982, Litton became an aide to Mstislav Rostropovich, who was at the time the musical director and conductor of the National Symphony Orchestra in Washington. Litton said he listened to the great musician's advice not only at work, but also in life, calling Rostropovich his "second father."
Conductors of Litton's caliber rarely decide to direct the orchestra of a ballet troupe, but Litton said the New York City Ballet orchestra's repertoire is on a par with that of the world's leading symphony orchestras. In fact, the NYCB orchestra introduced Litton to several pieces that later became an integral part of his repertoire, including the Piano Concerto in G Major by Maurice Ravel.
The NYCB has several offerings to attract lovers of Russian music this winter. Until Jan. 3, NYCB is performing Tchaikovsky's "The Nutcracker" with Balanchine's choreography. From Jan. 21-Feb. 1, the company is presenting the program "Hear the Dance: Russia" which includes dance performances to music by Sergei Rachmaninoff, Igor Stravinsky, Peter Tchaikovsky and Alexander Glazunov.
Additionally, in the first part of the "All Balanchine program: Classic Combination," (Jan. 20 – Feb. 12) there are two ballets by Russian composers - Serenade by Tchaikovsky and Agon by Stravinsky.
"Over the last several seasons, 15 Stravinsky ballets, 12 Tchaikovsky ballets, and three Bernstein ballets have been staged here [at the NYCB]. These are three of my favorite composers, and they are only the tip of the iceberg. The opportunity to work with the greatest dancers and choreographers in the world, at the same time as leading an orchestra of such versatility, is a thrill," Litton said.
"It is a great honor for me to become the musical director of a ballet troupe that was co-founded by the great Russian choreographer George Balanchine," he said.
While Litton's appointment was announced in December, he will begin the position only at the beginning of the new season in September 2015
Robert Daniels, the NYCB's managing director for communications and special projects said that it was too early to tell if the NYCB's 2015-2016 season would include more Russian composers.
"That said, the works that George Balanchine created to music by Stravinsky and Tschaikovsky, two of [Litton's] favorite composers, are a very important part of NYCB's repertory, and are always well represented each season," Daniels said.
NYC Ballet's 2014-15 Season. Source: YouTube / NewYorkcityballet
First published in Russian in TASS.
All rights reserved by Rossiyskaya Gazeta.