2014's key events in the Russian literary world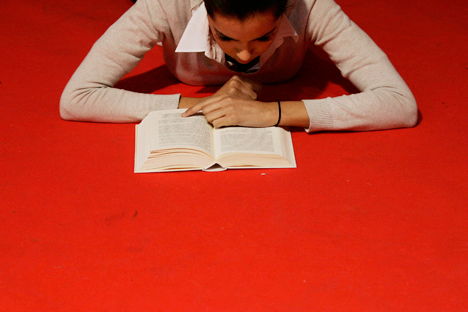 The Russian authorities have dubbed 2015 the Year of Literature. Source: Reuters
Today's Russian writers are Pushkin and Tolstoy's worthy successors. This year showed that contemporary literature is thriving and that, despite the Internet's growing global popularity, book publishing is here to stay.
The Big Book and Russian Booker prizes


With the end of 2014 came the most eagerly anticipated events in the Russian publishing industry – the awarding of Russia's premier literary prizes. In November, "The Cloister," already considered the "book of the year," received the Big Book Prize. Its author, Zakhar Prilepin, one of Russia's most renowned contemporary writers, took home the prize money of 3 million rubles ($52,000). "The Cloister" tells the story of the Solovki prison camp, which required an enormous amount of archive research to ensure factual accuracy.
Russia's second key literary prize – the Russian Booker Prize – awarded 1.5 million rubles ($26,000) to Vladimir Sharov for his book "Return to Egypt." The biblical motifs and historical events in the book recall Russia's past.


Book fairs in Russia and prizes around the world


The traditional book fairs were held on a new scale this year. One of the most sensational events was the Non-Fiction International Book Fair for High-Quality Fiction and Non-Fiction. Almost 300 Russian publishers attended the event, where leaders in the Russian book market announced their plans for the coming year and top writers presented their latest work.
This autumn featured the Moscow International Book Fair. In addition, the Mikhail Prokhorov Foundation took publishers, writers and journalists to the heart of Siberia for the Krasnoyarsk Book Culture Fair.
However, Russian literature was not confined to Russia in 2014. London, Frankfurt, and New York hosted Read Russia programs at their own book fairs, awarded prizes to the best translators of Russian literature, and discussed issues in translating and publishing translated books.
Lermontov's 200th birthday
This year marked the 200th birthday of legendary author Mikhail Lermontov, a classic Russian writer with Scottish roots. Lermontov was a brilliant representative of Russian romanticism. Critics often refer to him as the second Russian poet after Pushkin, although the comparison is not quite appropriate. Despite dying at the tender age of 26, Lermontov managed to write hundreds of beautiful poems such as "The Novice" and "Demon," as well as a landmark novel for the 19th-century Russian intelligentsia: "A Hero of Our Time."
Digital Tolstoy and new translations of "Anna Karenina"
Not a year goes by without honoring that giant of the Russian language, Tolstoy. In 2014, the entire world was able to tune in to an online reading of "Anna Karenina," which the Yasnaya Polyana Estate Museum produced in collaboration with Google.
In addition, 90 volumes of Tolstoy's works were digitized and collected into a single archive called "All Tolstoy in One Click." Volunteers from a variety of countries spent about a year and a half digitizing the great writer's work.
Two new English versions of "Anna Karenina" were also published this year – one by American Marian Schwartz and another by the British Rosamund Bartlett. Read both and decide which you like better.


Gorby publishes his memoirs
Non-fiction literature is growing in popularity. This year, Mikhail Gorbachev published his memoirs, called "After the Kremlin." The former Soviet leader shares his memories of the period after leaving the presidency and attempts to dispel several myths surrounding perestroika.

Gorbachev recalls his meetings with the key political figures of the time and provides evidence of his informal relations with some of them. For example, he writes about Margaret Thatcher: "When I wished Thatcher a happy 80th birthday, she suddenly asked, 'Mikhail, don't you want to run the country again? I would like to.'"
In an interview with the Russian press, the former Soviet leader said he is revisiting the perestroika era to view it from an outsider's perspective. He said he would defend his own views and recalled that when perestroika began "everyone great and small advocated it."


2015 – the Year of Literature
The Russian authorities have dubbed 2015 the Year of Literature, which means it will be just as interesting for the key players in Russian literature as 2014. A whole host of events aimed at popularizing reading and Russian literature will take place both inside and outside Russia.
All rights reserved by Rossiyskaya Gazeta.