Best of 2014: Most popular RBTH articles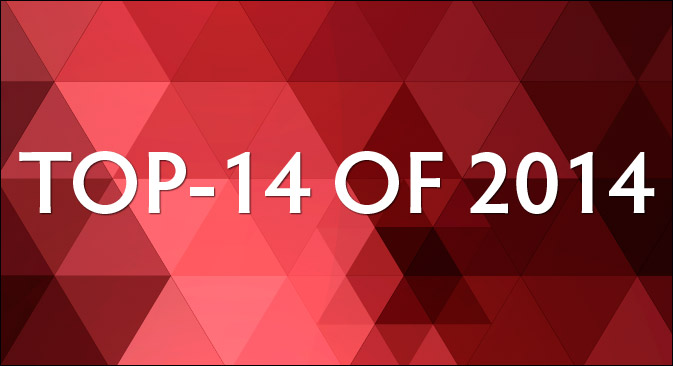 For 2014, we have selected the 14 articles that, according to our metrics, you read the most this year. When we examined the data, we were fascinated to see the range of topics and formats encompassed by the most popular stories of the year. Below are the stories that you, our readers, read the most in 2014.
1) This year, the Crimean peninsula saw many changes resulting from its accession to the Russian Federation. Our readers were fascinated by the story that military dolphins that formerly belonged to the Ukrainian armed forces had been controversially appropriated by Russia. Readers may have been surprised to find out that dolphins have been an important part of the naval forces since as far back as Soviet times.
Source: RIA Novosti
2) More than a century after his death, Russian writer Leo Tolstoy has never been more popular, so it is no surprise that every year our most-read list includes a story about the literary giant. This year, we attempted to tell his life, work and philosophy in 15 photographs.
Source: Archive photo
3) The strange news story about the world's most powerful shamans getting together at a gathering in the Siberian region of Tuva this summer went viral. Seeing that our readers showed such an interest in the topic, we decided to interview one of the participants in the festival to find out what the life of a modern-day shaman is like.
Source: RIA Novosti
4) Given the rising international tensions over Ukraine, the BRICS member states (Brazil, Russia, India, China, South Africa) decided to set up an alternative to the International Monetary Fund, which is due to start operating next year. Watch this space together with us.
Source: Shutterstock
5) In April, RBTH took a look back into history to recall how and why the Russian Empire sold Alaska to the United States for just $7.2 million.
Source: Alamy / Legion Media
6) A Russian Baltic Fleet military exercise near Kaliningrad this summer saw the introduction of the Platform-M combat robot. Let's recall why these heavily armed WALL-Es were so popular among our readers.
Source: RIA Novosti
7) Painting Easter eggs is a tradition in Russia that goes back many centuries, and to mark Easter in 2014 we presented our readers with an illustrated guide showing them just how to do it. "How to paint Easter eggs" was our most popular infographic of the year.
Source: RIA Novosti
8) For the second year in a row, Russian President Vladimir Putin topped the annual rating of the most powerful people in the world, according to U.S. publication Forbes Magazine, which posted the announcement on its official website. U.S. President Barack Obama and Chinese President Xi Jinping came second and third, respectively.
Source: Kremlin.ru
9) Important political and international stories happily sit side by side with "lighter" pieces at RBTH. This year, besides politics and other heavy topics, our readers were all too happy to read stories about love and about the support Russian writers' wives gave their husbands in everything.
Source: Getty Images / Fotobank
10) Russian words like vodka and Kalashnikov are known all over the world. But how many other commonly-used words come from the Russian language? RBTH gave its readers a guide to 10 of the best-known Russian words.
Source: Niyaz Karim
11) We all love secrets, so there is no surprise that our story that the secret Armata tank could be deployed to the Arctic received so many clicks. This secret is definitely out.
Source: RIA Novosti
12) Every year we tell our readers a little bit more about what the New Year celebrations mean to Russians. This time round, we gave you a guide to the top 10 requirements for a stereotypical Russian New Year.
Source: Lori / Legion Media
13) When large, bizarre holes appeared in the tundra of northern Siberia, we reported the story with pictures from the scene and different theories as to the origins of the craters. Later more photos from the site were published and scientists began to closely investigate the mysterious craters.
Source: TASS
14) In August, RBTH published an exclusive interview with Russian Foreign Minister Sergei Lavrov, in which he spoke about Western sanctions against Russia, the Ukrainian crisis and the downing of flight MH17.
Source: Photoshot / Vostock photo
All rights reserved by Rossiyskaya Gazeta.