Russia's most successful sporting veterans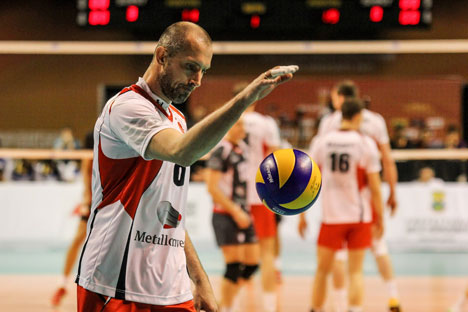 39-year-old Olympic champion Sergei Tetyukhin. Source: Imago Sport / Legion Media
RIR presents a guide to Russian sport's most decorated veterans.
Sergei Tetyukhin, volleyball, 39 years old
After 44-year-old Vadim Khamutskikh recently retired and became coach, the role of "grandfather of Russian volleyball" passed to 39-year-old Olympic champion, opposite hitter Sergei Tetyukhin. It is true, though, that after Russia's gold medal performance at the 2012 Olympic Games in London, Tetyukhin announced that he would no longer play for the national team. However, at a club level he is still outstanding. In March 2014 Tetyukhin's team Belogorye won yet another Champions League title. And Tetyukhin, in addition to his fourth career super trophy, was nominated most valuable player of the tournament, the most prestigious in the country.
Balzhinima Tsyrempilov, archery, 39 years old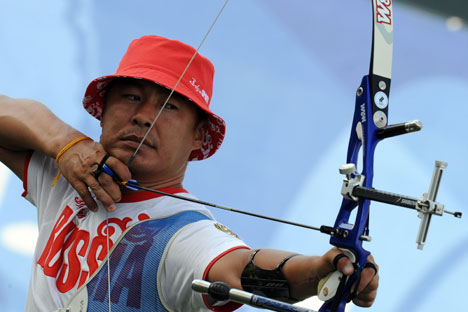 Balzhinima Tsyrempilov. Source: Photoshot/Vostock Photo
When he was selected for the Russian national archery team, Balzhinima Tsyrempilov was considered a wunderkind: Very few archers had managed to join the national squad at the age of 18. It took just six years for Balzhinima (from his 1993 debut) to receive his first major prize (first place at the 1999 European Golden Arrows Grand Prix). His career includes four Olympics, a victory at the World Cup, four gold medals at the European Championships, three silver medals in international competitions (two in closed arenas) and a series of minor prizes. The last prize was in May 2013, when he won a leg of the European Grand Prix in Vagharshapat, Armenia. There is still a chance that we will see him compete in the Rio Olympics in 2016.
Valery Redkozubov, alpine skiing, 42 years old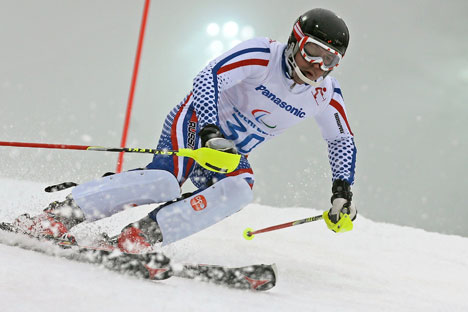 Valery Redkozubov. Source: Photoshot/Vostock Photo
Eleven years ago, two-time Sochi Paralympics champion Valery Redkozubov was working in a mine and lost an eye in an accident that also left his other eye practically blind. Two years later, after intensive treatment, Redkozubov decided to return to alpine skiing, a sport he practiced in his childhood. "It was unbearable to stay at home," he recalls. "It would have been the end of life probably. I needed to move around…" The decision paid off: In 2007 Redkozubov became a Russian champion twice over. And in January 2014 he became the hero of the World Cup, winning three out of four gold medals in the visually impaired category.
At the 2014 Sochi Winter Olympics the veteran skiier, who had the honor of being the Russian Paralympic national team's standard-bearer in the opening ceremony, won, along with his guide Yevgeny Geroyev, the gold medal in the slalom and combined events, as well as the bronze in the giant slalom.
Pavel Frantz, bandy, 46 years old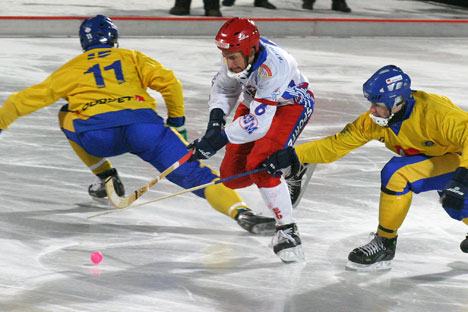 Pavel Frantz. Source: Maxim Shipenkov / TASS
There are few 'long-lived' players in Russian bandy (a variation on ice hockey featuring the use of a ball instead of a puck, among other differences). Yet Dinamo Kazan defenseman Pavel Frantz has achieved the unthinkable and surpassed the achievements of Soviet bandy legend Nikolai Durakov, the 20th century's best player. Durakov played until he was 42. Six-time world champion Frantz is now 46 - and he is still not ready to hang up his skates.
Sergei Alifirenko, pistol shooting, 55 years old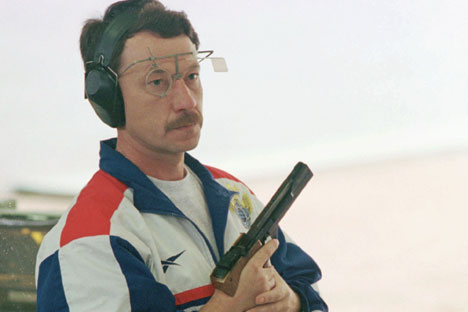 Sergei Alifirenko. Source: Canon/TASS
However, all the aforementioned achievements pale before the longevity of the Olympic shooting champion Sergei Alifirenko. The 55-year-old athlete, who won a gold medal at the 2000 Games (shooting a rapid-fire pistol at a distance of 25 meters), has again been included in the Russian national team.
Of course, Alifirenko is finding it harder to win medals these days. However, he won gold in a national competition as recently as 2012, so it is still too early to say that it is time to retire from the sport. What is interesting is that two of the shooter's three sons have followed in his footsteps. At the 2012 national championships Alifirenko's younger son Alexander stood on the podium alongside his famous father. Dad came in first place, son third.
All rights reserved by Rossiyskaya Gazeta.