Ambitious project explores Russian history, music, poetry and theatre.
Dash Arts' four-year Post Soviet Series is a characteristically ambitious project. A series of creative commissions will span the countries of the former Soviet Union and encompass art, music, dance and theatre. Dash Arts was born in London in 2005 and its founders travel the globe, bringing together artists of all disciplines, and creating "artistic experiences that change the way we see the world".
Josephine Burton, one of the creators and directors of Dash, told RBTH: "What is unique about our work is the way we immerse ourselves and talk to people and travel and dig deep into the culture before we create anything." Some parts of this project will not be finished until 2016, but the excitement of the research and development process, which began two years ago, is clear.
Epic journeys
Dash Arts has commissioned scores of successful productions including an Indian A Midsummer Night's Dream and an international, circus-based Peter Pan. For this series, artistic co-director Tim Supple is devising and directing, a play called 1917, in collaboration with Moscow-based dramatist Maxim Kurochkin. Supple told RBTH: "1917 will be an epic work of theatre that seeks universal meaning in the modern myth of the Soviet and post-Soviet century." The drama aims to explore a hundred years of history from the revolution to the present day.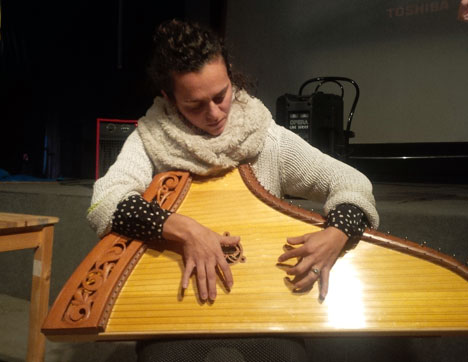 Josephine on Gusli, ancient Russian musical instrument. Source: Press Photo
At the centre of the play, which has been commissioned by London's National Theatre amongst other international co-commissioners, is "the cycle of radical hope, change, disillusionment and bitter conflict." The plan is to create a spectacular work of contemporary theatre based on "literary, historical and anecdotal sources." Research for this project has already taken Supple to Moscow and St. Petersburg, Yekaterinburg, Perm and Novosibirsk, as well as Baku, Almaty, Tblisi, Minsk and many other cities across the region.
The ghosts of history haunting the present are everywhere you look, Supple wrote in a blog about his Russian trip earlier this year, "from Red Square … to the sparkling glamour and intense hedonism of today's shops, clubs and bars." He told RBTH: "The most rewarding element of my travels so far has undoubtedly been the endless personal warmth and good humour I meet along the way and the miracles of joy and survival that pepper the collective memories of a century of endurance."
Futurist inspiration
The poetry of the "brilliant, maverick, avant-garde" Russian futurist Velimir Khlebnikov inspires the visual art that Burton is commissioning; her approach typically unites different media and takes place in multiple venues. "I came to Khlebnikov through music," says Burton. "I heard some of his poems set to music by Vladimir Martynov in late 2012 and was utterly intrigued by the richness and audible insanity of his work."
Burton was drawn to Khlebnikov's ideas, "to his utopianism, nomadism, interest in cross-disciplinary practices and obsession with language." Like other futurists, many of Khlebnikov's ideas sprang from the promise of the revolution. The commissions aim to "respond to these ideas through the prism of our contemporary world."
Burton is also working with a 'Post-Soviet Orchestra', "an ensemble of classically-trained musicians who have branched out into rock and folk music, jazz and electronica." Their final concert will explore a "shared conservatory background … from Kiev to St. Petersburg and Tashkent".
What the Dickens?
"Twistov" is an immersive, London-based theatrical event, taking its inspiration from Charles Dickens. Characters will recount true tales of immigration from Eastern Europe as they walk through graffiti-covered lanes near Shoreditch. Each encounter, from a distressed performer in black tie to a jilted bride outside a church, is unexpected and disturbing. Lines from Oliver Twist mingle with stories from contemporary Londoners. The final production promises extraordinary, multifaceted journeys through Dickensian London.
The dynamic Teatro Vivo is devising this promenade performance in partnership with Dash Arts. Created by Sophie Austin, this innovative theatre company combines classic texts and unusual venues. You can find them exploring fairy tales in Deptford or The Odyssey in Lewisham. "As a director you are a naturally a voyeur, and a hunter of stories," Austin told RBTH. "All I've had to do is ask questions and the stories come pouring out."
Dacha dancing
Next summer Dash Arts will be hosting a series of concerts in London and an installation-cum-show called Dacha, a "rural Russian idyll and ever-changing immersive performance space", at the popular Latitude Festival in Suffolk. Dacha will gallop from decadent, pre-revolutionary Russia on Friday, through Saturday's "Socialist dream" and Sunday's Post Soviet 1990s. They promise dressing up and drama, with tea from a samovar and late-night dancing.
Dash Arts is also commissioning a major new work of contemporary dance, produced in partnership with Ballet Moskva. And while all these works are in progress, regular "Dash Cafes" will include book launches, film screenings, readings and debates. This year's cafes featured an evening on Soviet humour, a cosmonauts' party, a celebration of Joseph Brodsky and a Siberian canteen.
The directors say Dash Arts' Post Soviet series aims to, "counter simplification and generalisation, and broaden understanding of the wealth of history and diversity in the region." They are searching for, "a deep understanding of this great region that has had such a profound and complex influence on the world we inhabit today."
The article was updated on Jan. 7.
All rights reserved by Rossiyskaya Gazeta.