Classic literature gets a facelift in Russian bookstores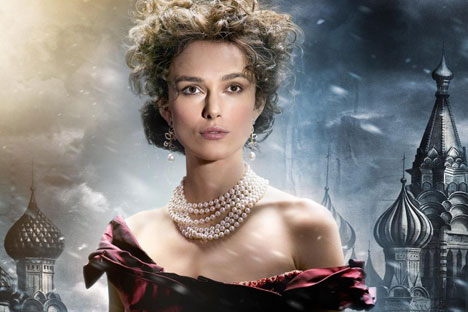 While an edition of "Anna Karenina" featuring Keira Knightly proved popular, Leonardo DiCaprio's "Great Gatsby" ranked lower than other editions. Source: Kinopoisk.ru
Russia's market for printed books remains strong, but sales of classic literature are struggling. In response, publishers are experimenting with new cover designs in the hope of attracting buyers.
While the popularity of e-books is growing in Russia, their sales still account for less than 1 percent of the total book market. However, even in this seemingly robust market for printed books, sales of classic literature are declining. The most popular books in Russia last year included "Fifty Shades of Grey" and a collection of the lives of Orthodox saints. The only classic on the bestseller list was F. Scott Fitzgerald's "The Great Gatsby," which had just been made into a popular film.
Do judge a book by its cover
Publishing houses specializing in classic literature have been quite slow to react to the market slowdown, preferring to continue a conservative approach to the look and feel of their products.
Russia's three biggest publishers, AST, Eksmo and Azbuka, all publish a classic literature series and have tended to prefer hardback editions illustrated with a portrait of the author or a picture from the era in which the book was written.
Azbuka has been the first to change this approach, publishing a series of classic works with paperback covers that have made their books cheaper and more accessible. It has also created a new campaign to tie classic books to film adaptations, which has the tagline "Watch the film – read the book!" An edition of Leo Tolstoy's "Anna Karenina" featuring the actress Keira Knightly – who starred in the title role – on the front cover saw a marked increase in sales. Following the 2013 release of Carlo Carlei's "Romeo and Juliet," the edition with images from the film on the cover sold more than double its traditional counterpart.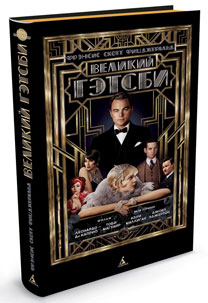 The Great Gatsby by Azbuka.
Source: Ozon.ru
Publishers have also begun considering other ways to maximize the positive impact of film recognition on the part of readers. "Stores have started displaying these books in V.I.P. areas, so there's a high chance that a customer who has seen the film will come across them," said Yekaterina Alexeeva, director of Eksmo's Classical Literature and Poetry Section.
Tying book sales to film adaptations has its limitations, however, since not every classic will be made or remade into a feature film. Also, the tactic doesn't always work. According to trade publication ProBooks.ru, there were four different editions of "The Great Gatsby" in the list of Russia's Top 50 fiction books by sales for 2013. The most popular edition among readers was Azbuka's traditional version with William Orpen's 1912 painting "Café Royal" on the cover (19th place). This edition was followed by Eksmo's version with a colorful image of Jay Gatsby from Jack Clayton's 1974 forgotten screen adaptation (23rd place). The edition featuring Leonardo DiCaprio as Jay Gatsby came in 31st.
Using manga to sell Pushkin
Publishers who are looking for ways to promote more consistent sales have had to become even more creative to attract readers, especially younger ones. Eksmo's series of classics for schoolchildren is the most ambitious in Russian publishing today. Its editions of Shakespeare's "Romeo and Juliet," Pushkin's "The Captain's Daughter" and Alexander Grin's "Scarlet Sails" feature covers designed in the style of Japanese manga comics.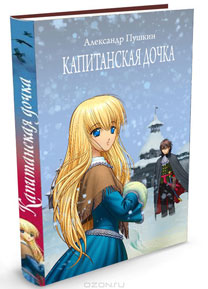 Pushkin's "The Captain's Daughter."
Source: Ozon.ru
"We knew from the very beginning that our readership is small," said Tatyana Suvorova, director of Eksmo's Young Adult Section, "and that the buyer in this case is not the parents or grandparents. Such a design would not attract them. We wanted to attract teenagers' attention and use the design to show them that classics are still relevant." According to an Eksmo representative, sales from this series were the same as those from a series with standard covers. That is in itself a success, as this target readership is smaller and has less purchasing power.
Despite reader reviews showing that young people bought the books with the manga-style covers, Eksmo recently decided to discontinue the series. This is perhaps because publishers are focusing their efforts on attracting and retaining older, more conservative readers, who are more likely to buy printed books.
A study last year by Digital Parenting Russia found that while half of Russian kids between seven and 15 read books on e-readers, only one in five kids who read on an electronic device has actually purchased an e-book. According to Russian state publishing agency Rospechat, the pirate book market in Russia has more than 100,000 titles on offer, while only 60,000 titles are available legally. Combating a problem on that scale will need much more than innovative cover design.
Russian Picture Dictionary: Library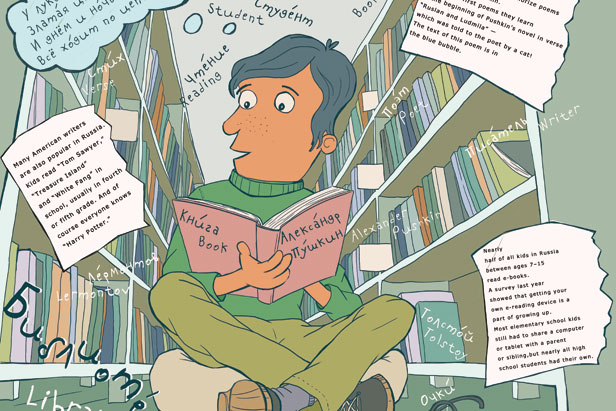 All rights reserved by Rossiyskaya Gazeta.