Made in Russia: Six successful Russian fashion startups in 2014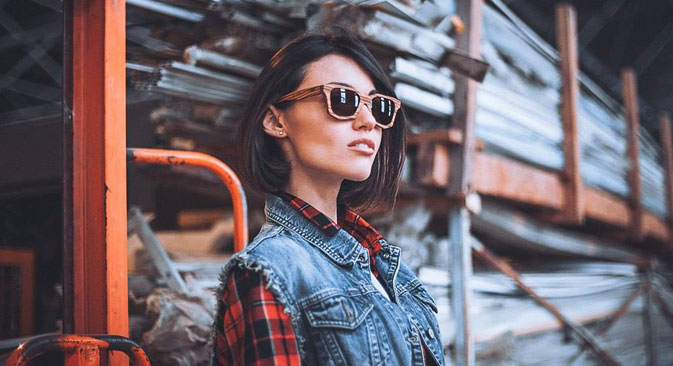 RBTH has selected six new Made in Russia brands, from avant-garde producers to democratically-priced casual designers to accessories. They made themselves known in 2014 and offer an affordable alternative to foreign goods in a time of crisis.
Source: Press Photo
The Karina Kino brand was created in 2014 by Muscovite designer and artist-illustrator Karina Kinosyan. For her it is essential to work in Russia and for Russia (her small collections are sewn in Kirov and Kazan) and use natural fabrics, ecologically certified dyes and new technologies.
She likes to create limited edition, yet accessible items. Her collections often sell out quickly at Moscow pop up retail sales, but Kinosyan is not thinking of expanding her company and is not striving for mass commercial success.
Having an internet store is enough for her and opening a showroom is not in her plans, since that would mean increasing the cost of her items by 100 percent. The designer pursues at least two other interests: Kinosyan is also a beginner student of icon painting and a sister of mercy by the name of Angelina. It will be interesting to see how this mix will reflect on Kinosyan's creativity in the future.
Woodsun
Woodsun is a Russian company specializing in sunglasses and wooden frames. Its founders, Ivan Drapkov and Andrei Goryachev, graduated from the department of artistic wood processing at the Abramtsevo Art Industrial College. True professionals when it comes to wood, they established a workshop in Abramtsevo in 2012 where they design and produce limited quantities of woodwork.
Source: Press Phto
Their unique design has received wide recognition, which has helped them step out from under the "hipster" label. And after "It Girl" and model Elena Perminova posted a photo of herself wearing their Ping Pong glasses on her Instagram page, fashion bloggers all over the world began searching for them.
This St. Petersburg designer created her own brand, Natali Leskova, in 2011. She drew inspiration from an internship at the Domus Academy in Milan. This young designer has placed her bets on quality, comfort and minimalism. She loves to create images of her native city, which are printed on wet silk and then tailored into skirts, dresses and sweatshirts. They have become her calling card.
Source: Press Photo
It is not the most original idea, however, it works, as St. Petersburg has never been replicated on objects of mass consumption like Paris or New York have been. Therefore, a skirt with the image of the St. Isaac's Cathedral or Griboedov Canal appears fresh and unique. In 2014 her works drew attention and gained popularity all over Russia, thanks in part to Instagram and the designer's internet store.
Engineer Garin
In the future the year 2014 could be seen as the prime of Moscow accessory designer Sergei Malykhin, the mastermind behind the famous Engineer Garin brand. Earlier he had been famous on the Moscow scene as the creator of unique bow ties, but in 2014 he expanded his craft to the tailoring of various headwear.
Source: Press Photo
In fall 2014, with allusions to the Soviet past, Sergei presented his version of the woman's hat, "Moskvichka," and conquered the capital's fashionistas as a result. This is a skilled reworked variation of the "Pirozhok" design made of vintage military cloth, artificial astrakhan fabric and bright wool with vinyl inserts. Another one of his hits is a woolen newsboy cap, which is popular among both men and women.
12 AM by Irina Chernyak
The launch of the 12AM brand by Irina Chernyak and the presentation of her debut collection were held in New York in spring 2014. The designer had been a successful fashion editor in Russia for 17 years, had lived in the U.S. and had a clear idea of what fashionable travelers wanted. Her clothes are for sophisticated city dwellers and they are designed to be comfortable for any occasion.
Source: Press Photo
The 12AM brand's main products are boiler suits, spacious sweatshirts, fur coats, tops and convertible dresses. And unusual additions, including asymmetrically positioned decorative elements such as ruffles, stars and sequins, make the clothes stand out.
Tigran Avetisyan
St. Petersburg men's fashion designer Tigran Avetisyan has been praised by world fashion publications for the last several years. But it was only in 2014 that his brand became successful in Russia and his clothes began appearing in Moscow's KM20 concept store. Avetisyan's experience includes studies at London's Central Saint Martins art school, a graduation collection sponsored by LVMH, an internship at Lanvin and shows in New York.
Source: Press Photo
His works are sold in concept stores all over the world. Although his clothes are sewn in a small workshop at Elektrozavod in Moscow, there is little about his ideas that are Russian. Avetisyan himself thinks his brand will not be successful in Russia and has instead hedged his bets on Asia. He understands that his is not a mass product, but clothes "for guys who want to stand out and step out of the frames of traditional fashion." And he believes that there are many of them in places like Japan.
All rights reserved by Rossiyskaya Gazeta.