Sergei Bodrov: People love to pass the blame onto others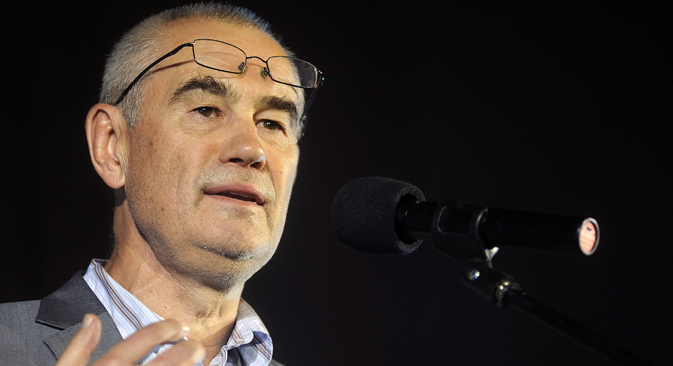 Filmmaker Sergei Bodrov. Source: ITAR-TASS / Vladimir Astapkovich
Russian director Sergei Bodrov's film Seventh Son, a Hollywood fantasy based on the novels by Joseph Delaney and starring Jeff Bridges and Julianne Moore, is scheduled for a U.S. premiere on Feb. 6. In an exclusive interview, Bodrov told RBTH about his experience working with American actors and budgets and explained his motives for taking on the project.
RBTH: How did it all start? Was it your idea to film Seventh Son, or was it an initiative of the producers at Universal?
Sergei Bodrov: It all started with my motion picture Mongol, which came out in 2007. It was very well accepted and released with positive reviews, it was nominated for an Oscar, and almost everyone relevant to the film business in America watched it.
At that time, I met with producers from the company Legendary; we were introduced by the director Zack Snyder. We started to work with them on an interesting project: Afghanistan. It was Zack's idea, and I liked it, but Legendary wasn't interested in the project. But a month later, they called and offered me Godzilla. At that time the project was in the embryonic stages. There was no script, only a young Korean screenwriter with an application that didn't convince any of us… But then Seventh Son came up. It had been on the shelf for a long time; there was a time when Tim Burton had wanted to do it.
Seventh Son - Interntional Trailer. Source: YouTube / Universal Pictures
RBTH: Weren't you scared when they offered it to you? After all, the material was unusual, and other directors had rejected it.
S.B.: I wasn't scared. The movie needed to be filmed based on a children's fairytale. The author is Joseph Delaney, an Englishman and schoolteacher who is now retired. His books are quite good, and one of them was even translated into Russian. I agreed to it almost immediately.
RBTH: What about the plot appealed to you?
S.B.: I was very interested in the topic of witch hunts. It's a very modern topic. The Inquisition may be long gone, but the hunt continues to this day. We love to look for witches and accuse them of all sorts of sins because we always believe that we're right. I'm not accusing anyone in particular; I'm applying it to the whole world. The majority of people everywhere think they're always right. That was exactly the topic that touched me and that I attempted to develop.
RBTH: So you didn't have full freedom of action?
Sergei Bodrov is a Russian film director, screenwriter, and producer. In 1997 his film Prisoner of the Mountains (based on a short story by Bodrov) was nominated for a Golden Globe Award and Oscar in the Best Foreign Language Film category.
In 2007 his film Mongol was also nominated for an Oscar. Bodrov's grandmother was an ethnic Buryat, which influenced his decision to film Mongol, which focused on the early years of Genghis Khan. Bodrov currently lives in Los Angeles.
His son, actor Sergei Bodrov, Jr. became famous for his roles in the films Brother and Brother 2, but was killed in an avalanche in the North Caucasus while shooting the film The Messenger in 2002.
S.B.: I did have freedom; for example, in choosing my team. They offered to let me compile my own list of people I wanted to work with.
Well, the producers did start clamping down on me at the last stage, as is always the case – when I had already filmed and edited the movie. "Maybe we could make it simpler here; it's not clear to the audience…" It was impossible to make the film my own 100 percent. I had to make some compromises.
RBTH: Was the decision to invite Jeff Bridges and Julianne Moore to play the main roles a compromise?
S.B.: That was my choice. Everything with Jeff was clear from the start; there was no better actor for that role. I went out to meet him. He's not a simple person, and he doesn't like that genre – films with special effects. He acted in two blockbusters –Tron and Ironman – and didn't like it. He watched my earlier films and asked a good question: "Why are you doing this?" I told him it was my idea, about witch hunting, how we love to pass the blame onto others. He thought about it… and agreed to it.
I have loved Julianne Moore for a long time and wanted to work with her. We met and she quickly agreed to it. I hope she eventually gets an Oscar for one of her roles.
RBTH: Do you have any plans to film in Russia?
S.B.: [Kazakh director and screenwriter] Timur Bekmambetov and [Russian actor] Yevgeny Mironov offered me a very good project: a film about the cosmonaut Alexei Leonov's spacewalk, about what it was really like.
A lot of people lied about it and covered it up. It's excellent material. But just when we were discussing it, the crisis happened in Russia and the ruble fell…
The film isn't cheap, although by international standards it's not expensive. We'll see. The forecasts are dreary, and I'm reluctant to wait two years.
RBTH: Are you going to film a sequel to Mongol?
S.B.: Yes, and I'm already working on it with my Chinese colleagues. I regularly go to China. The screenplay has already been written; it's about the last year of Genghis Khan's life. His last wife, his last battle, the fate of the empire. It's a little like King Lear.
All rights reserved by Rossiyskaya Gazeta.