British rock royalty goes deep into Russia in search of ethnic sounds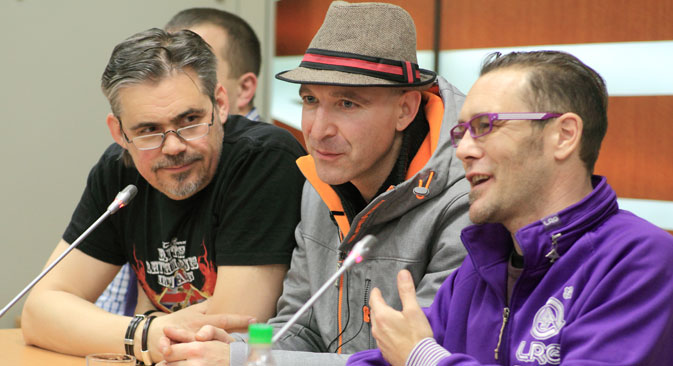 Next stop of British rockers will be the quaint old Volga riverside city of Saratov. Source: Nikolai Gagarin / RG
Two British musicians are deep into Russia's heartlands to delve into the musical roots of folk bands, singing grannies and local lore. Their findings will be revealed next month on science, history and culture channel Discovery's Internet site.
Part of a new media project of Discovery magazine, Will Johns, nephew of world famous rock guitarist Eric Clapton, and Malcolm Bruce, son of Jack Bruce, who along with Ginger Baker founded iconoclastic 1960s British rock group, Cream, have travelled to the ethnic Finno-Ugric village of Podlesnaya Tavla in Mordovia. The musicians, who play in a group called Sons of Cream, visit artists from the Erzya people - who speak a language related to Finnish and Hungarian, and are famed for their wood-carved toys.
Mordovia is better known worldwide for its Stalin-era prison colonies and as the second home of French actor and tax exile Gerard Depardieu, who took Russian citizenship in 2013 when President Vladimir Putin personally handed him his new passport in the region.
But for the intrepid pair it is only their first point of departure, reports Rossyiskaya Gazeta.
"Our project is organised together with Discovery magazine," coordinator Vladimir Sevrinovsky says. "We bring famous western musicians to Russia and its regions, where they can learn about customs and traditions and meet local folk artists. The results of each trip will then be published on Discovery's Internet site. "We want to show that folklore is not about museums, but something live, beautiful and contemporary," Sevrinovsky says, adding that the project includes a new multimedia approach to entertainment, combining photos, videos and music.
"We didn't expect that our visit to Mordovia would leave such lasting, brilliant impressions," Malcolm Bruce told RIA Novosti.
"It was amazing - we jumped through fire, burned an effigy of winter, and sang with local babushkas (grandmothers). We learned how to carve toys straight from a tree trunk," Johns added. "Film we shot in Mordovia will form the basis of our future video clips".
The adventures of the two British rockers can be seen on the Discovery site next month. Their next stop will be the quaint old Volga riverside city of Saratov.
Based on materials from Rossyiskaya Gazeta, RIA Novosti
All rights reserved by Rossiyskaya Gazeta.