Ballet based on 'Tender is the Night' opens in St. Petersburg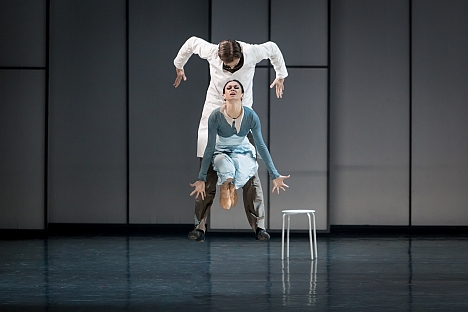 The Eifman Ballet will bring the work to the U.S. on its upcoming tour.
St. Petersburg's Eifman Ballet has premiered a new work based on F. Scott Fitzgerald's novel "Tender Is the Night" set to music by George Gershwin, Franz Schubert and Alban Berg. The ballet will be part of the company's U.S. tour later this spring.
Eifman, who has defined his style as "psychological ballet," is known for choosing unconventional themes for his works. He has created ballet based on Tolstoy novels, the poems of Pushkin, plays by Shakespeare and Molière and Rodin's sculptures.
In an interview with Russian daily Rossiyskaya Gazeta, Eifman said the current project came out of his desire to stage a ballet about Sigmund Freud.
"I am fond of psychoanalysis, and for a long time dreamed of putting on a performance showing how psychoanalysts are able to get into the inner world of people. But in Freud's life there was no external intrigue," Eifman said. "Having abandoned this idea, I nevertheless continued to look for material that would give me the chance to address a psychoanalytical subject. So I came to the novel 'Tender Is the Night.'"
The book, first published in 1934, tells the story of a young psychoanalyst and his wife, who is also his patient, and their doomed relationship. The action takes place in the south of France in the 1920s.
Eifman emphasizes the rise and fall of the character's fortunes in his ballet, which he has entitled "Up & Down."
Boris Eifman's Up & Down official trailer. Source: Youtube
"Among a wide range of topics touched upon in this novel, I chose three main ones – preserving God's gift; realizing oneself, one's mission and one's purpose; and jazz," Eifman said in an interview with news agency Ria Novosti.
"Yes, the 1920s is the time of jazz, impetuous fun, the pleasure of life, optimism. This is what our reality lacks," Eifman added. "Despite the tragic line of the novel, the ups and downs of its heroes, I wanted to make a statement that life is beautiful. It's in this that we find the beauty of sublime works such as 'Tender is the Night,' in which the authors, naturally, touch upon thorny social issues, but always in tandem with a zest for life."
In April, the Eifman Ballet will being a U.S. tour planned to last two months. The troupe will perform "Up & Down" and "Rodin" in Minneapolis, Boston, Chicago, New York, Washington D. C., Costa Mesa and Los Angeles. Fans can visit the company's website for the latest schedule of performances.
Boris Eifman was born in the Altai Territory in Siberia in 1946 and graduated from the Leningrad Conservatory. In 1977 he founded the Leningrad Ballet Ensemble, which later became known as the St. Petersburg Eifman Ballet.
For over three decades, the choreographer has staged works in his distinctive bold, emotion-driven style. Eifman's unorthodox selections of themes and music for his ballets along with the body movements of his dancers has earned him the reputation of "a choreographic dissident."
In 2013, Eifman opened the Boris Eifman Dance Academy, which currently has a student body of 90 young dancers from across Russia. The Eifman Ballet currently does not have a permanent stage, but the Boris Eifman Dance Palace is currently under construction.
This article is based on reporting from RIA Novosti and Rossiyskaya Gazeta.
All rights reserved by Rossiyskaya Gazeta.