I love pastry for breakfast. Croissants, danishes, banana bread…and today – vatrushki. They have cottage cheese in them, so technically I shouldn't even feel bad about indulging in them in the morning.
Vatrushka is a yeast dough-based pasty that can have cottage cheese, jam or even meat as a filling. The difference between it and a pirozhok is that it's open, and looks like a pirozhok "sunny side up." I only learned last night from the Book that vatrushki can have different fillings. I thought it had to be cottage cheese – that's what you'll find if you look for it in a shop or a bread kiosk.
Reading the recipe for vatruski was quite educational: I also learned a lot about yeast-based dough: what goes on inside it, for instance. Yeast makes the sugars in the flour dissolve into carbon dioxide and ethanol, and then carbon dioxide makes dough go up and get porous. Then you need to knead it to let some air in, and leave to let carbon dioxide raise it again.
This was fascinating, although I would have loved to have some practical information in the recipe as well – like at what temperature to bake vatrushki. It just says "hot oven!" This reminded me of learning foreign languages at school: we students would know all the theory about the grammar and vocabulary, but would barely be able to put a sentence together. I guess to be taken seriously in Russia, or the Soviet Union, it's most important to get your theory straight. The practical aspects will be figured out in a communal kitchen anyway!
One thing is for sure – I'm getting more educated. Although Soviet cooking is no way "liberating," as the Book said it would be, I am getting used to the amount of time I'm spending in the kitchen. Now, three hours making yeast dough seems like nothing to me. Maybe that is the true liberation – changing your perspective, taking the time to put the music on louder and pour a bit more of that extra cooking oil also known as red wine
Over at my grandmother's place the other day, while tucking into pancakes, white bread and then pastry for dessert, I heard another story about the time of the evacuation during World War II:
"White flour was a luxury. My mother, as a wife of a soldier, was given rye flour – she had to walk a few kilometers to the nearby village to get it. She would then make flat bread on the iron stove, fired with wood. Kids and adults would go stealing the wood from a state-owned train. They would wait until dark, and mom said she was sure that the soldiers, whose job was to look after the wood, would deliberately walk away when they saw the people approaching and this way would allow them to steal."
Granny still makes those flat loaves of rye bread (we call them lepeshki), and I'll have them when I'm trying to be good and eat less white flour.
Not today though, today is proper vatrushki indulgence day, and the next few will be as well – although I halved the recipe, it still made 12! I know I should have married a good Russian, cottage-cheese loving man, someone who could help me through a pile of vatrushki…
Yeast Dough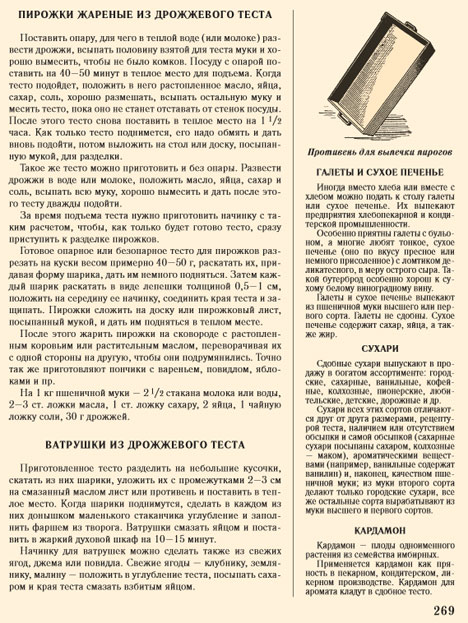 The recipe from the Soviet Cook Book, page 269. Click to enlarge the image
Yeast dough, also known as sour dough, is used for baking a variety of products: pies, cakes, muffins, cheesecakes, donuts and so on.
Yeast, kneaded into dough, causes the sweeteners in the flour to ferment, causing them to decompose into carbon dioxide and alcohol. Carbon dioxide produced in the dough in the form of bubbles causes the dough to rise.
To prepare the dough, add 20 g to 50 g of yeast per kilogram of flour. The higher amount is necessary in a muffin dough. The inclusion of oil, eggs and sugar requires a greater amount of yeast. The yeast should be fresh and soft, with a pleasant odor of alcohol.
Dilute the yeast with warm water or warm milk before kneading into the dough . The most favorable temperature for the growth of yeast is 25-30 ° Celsius. Using cold water or cold milk slows down the yeast and therefore impedes normal fermentation and recovery. In turn, water or milk that is too hot can completely stop the yeast from growing.
After kneading the dough, put it in a dish and cover with a clean towel or cloth. Set in a warm place until it rises. Then punch the dough down and knead it again. When the dough is punched, the carbon dioxide is removed and air is introduced into the dough. This enhances the fermentation, providing better loosening and lifting of the dough.
The flour for the dough must be sifted before being mixed into the dough to remove lumps and to introduce air.
Ingredients:
1 kg flour; 30-40g yeast; 2-4 tablespoons shortening; 2-3 eggs; 2 cups of water or milk; 1 Tbsp sugar; 1 tsp salt
Different kinds of shortening can be used in the dough: butter, margarine, lard or vegetable oil.
Take care in the amount of flour included in the dough compared to the liquid. If the flour is reduced or increased, the amount of added liquid must also be increased or decreased. Accurately weigh and measure the ingredients for the dough.
Roll dough into small pieces and lay them at intervals of 2-3 cm on a greased baking sheet or and put in a warm place to rise. After the balls rise, make a small groove in each of them a using the bottom of a small glass.
Fill with portion of cottage cheese. Brush the edges of the dough with beaten egg. Put in a hot oven and bake for 10-15 minutes.
The vatrushki can also be filled with fresh berries sprinkled with sugar or jam.
All rights reserved by Rossiyskaya Gazeta.