The last big sales in London in November reflected the deepening crisis in Russia. Major auction houses failed to sell between 40 and 60pc of lots offered. Although a new record was set when Valentin Serov's Portrait of Maria Zetlin sold for £9.2 million, well above its £1.5-2.5 million estimate, even that could not hide the lacklustre atmosphere.
Economic cycles seem to leave some Russian collectors untroubled, among them wealthy former computer businessman Alexander Ivanov, a regular presence at London's biannual Russian Art Week. Ivanov spends a couple of million pounds per visit and buys just about anything: Old Masters, European jewellery, Pre-Columbian gold, Russian icons. However his true love is Fabergé. Ivanov is a founder of the Fabergé museum in Baden-Baden, the German spa town. Opened in 2009, it is home to Ivanov's ever-growing collection of rabbits, decanters, gold flowers, clocks, and other notable pieces by the Russian Imperial goldsmith.
Ivanov's most important purchase to date was in 2007 when he paid £9m at Christie's for a 1902 Fabergé egg made as an engagement gift for Baron Edouard de Rothschild, a scion of the French banking dynasty. The gold-and-pink enamel egg and clock with a diamond-set cockerel that pops up on the hour was completely unknown until it resurfaced at auction a few years ago. A highlight of Ivanov's collection until recently, the fabulous ornament is now on show in the Throne Room of the State Hermitage Museum in Saint Petersburg, having been formally presented December 8 by Russian President Vladimir Putin to mark the Hermitage's 250th birthday.
Ivanov bought the egg at Christie's in 2007, though no public announcement of his donation has been made. As the collector told Moskovsky Komsomolets, it was always obvious that such a masterpiece as Rothschild's egg must end up in Russia. He won't acknowledge his own role, remarking: "I don't need PR."
Ivanov talked with RBTH during a recent shopping spree in London.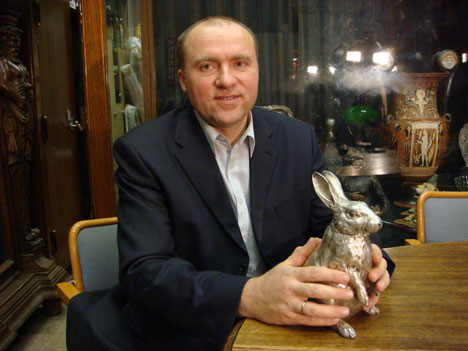 Alexander Ivanov. Source: Image courtesy the Faberge Museum (Baden-Baden, Germany)
Russia Beyond the Headlines: When it comes to Fabergé, you buy across all categories, regardless of price and medium. Do you intend to create a comprehensive collection?
Alexander Ivanov: As you know, I buy for my museum. Apart from that, I buy a lot at European decorative arts sales. One can always find outstanding objects, from Germany in particular. That type of art I collect for my own pleasure. Recently I bought a diadem because it belonged to the Russian empress – something that no one realised. We paid only £60,000 for it, which is very cheap. You can just look at the photographs of the empress where she is wearing this exact diadem.
RBTH: Last year there was a sensation when Wartski announced the discovery of a third Fabergé egg, believed to have been given by Alexander III to Marie Feodorovna for Easter 1887. Have you seen this egg?
A.I.: I don't acknowledge this egg as genuine. There are scholarly catalogues where all the imperial eggs are described in detail, including the one in question. In my museum we have drawings of Imperial egg designs, which we have not yet put on display or published, and which obviously shed light on the Wartski egg story.
RBTH: What significant pieces have your recently acquired for your museum?
A.I.: We bought over 500 objects recently, including some outstanding pieces of Inca gold from America, plus Scythian, Sarmatian and, most significantly, Etruscan gold dated 12-10 BC. We also have collection of 500 Fabergé animals.
RBTH: How much a year do you spend?
A.I.: Around £20-30 million.
RBTH: Do you buy from across the world then, rather then just in London?
A.I.: Absolutely. The best pieces are always found at regional auctions in continental Europe and in France.
RBTH: Do you go to museums and galleries when visiting London?
A.I.: I always go to the National Gallery and its gallery where Carlo Crivelli is displayed as well the one that has Da Vinci. It's a pity Crivelli doesn't appear on the market very often. As for Da Vinci, they do occasionally - I just arranged to acquire a couple. But proving that it is an actual Da Vinci is incredibly difficult.
RBTH: How do you think Russian Art Market is going to evolve? Is Putin really "watching closely who is throwing money around in London," as one British journalist told me?
A.I.: Putin has too many other problems to deal with. It's a well-known fact that Russian bureaucrats spend colossal amounts of money at London auctions. But these people have no taste or education; they buy "primitive" art like Breughel, or some Russian art, lubok for example (Russian popular prints)which they bid sky high. Even the Serov is hardly a masterpiece. Everyone understands that, apart from a Russian bureaucrat who knows and understands nothing. The reason why there are fewer of these buyers now is because the FSB [Federal Security Service, a successor body to the Soviet-era KGB] is investigating a couple of smuggling cases involving antique dealers and high-level Russian officials. It is a new trend, and I am sure there will be more checks, hence all the dealers are getting a bit nervous.
All rights reserved by Rossiyskaya Gazeta.