In ancient Rus, traveling performers entertained the public at village fairs; in the 19th century, Russia developed a circus culture enjoyed by aristocrats, while the Soviet authorities turned the circus into a high art form. RBTH takes a look at the history of the circus in Russia and finds out where it stands today.
During the 20th century, the name of Russia became almost synonymous with that of the circus: Soviet trapeze artists, clowns and acrobats were renowned for their skill and artistry, and numerous circus acts toured the United States under the name "The Moscow Circus," bringing Russian circus to global prominence.
Yet the history of the enduring love affair between Russia and the circus goes back almost a thousand years, to the appearance in the 11th century of the skomorokh, a kind of wandering minstrel-cum-clown: They sang, danced, did conjuring tricks and performed comical scenes.
Later, skomorokhy were replaced by show booths erected during fairs and other public celebrations. It was there that some of the routines that later became standard fare at latter-day circuses were first performed: strong men lifting weights, acrobats swinging on a trapeze, gymnasts walking on their hands.
Stationary circuses began to appear in Russia only in the second half of the 19th century. In 1877, Italian horseman Gaetano Ciniselli, renowned across Europe for his daring performances, opened the country's first circus in a magnificent building in St. Petersburg.
Thus a form of street entertainment adapted to the tastes of the aristocracy: The new circus had a royal box, its ushers wore tails, and programs were printed on silk.
Soviet circus school: acrobats, tamers, clowns
Before the Bolshevik Revolution in 1917, all circuses in Russia were private, but afterwards they all became state-owned. On the one hand, it meant that the government took revenues generated by circus performances under its control; and on the other, that the circus was given a strong support and began to develop not just as part of the entertainment industry but as an art form.
More about circus!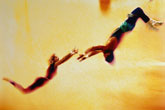 "Soviet circuses began to actively tour the world after the Second World War and things achieved by that school are still much admired abroad," says circus director and producer Maria Kalmykova. "In all that is related to acrobatics, stunts and engineering, the Russian school is still above the competition."
Kalmykova points out that foreign tours had an impact on Soviet circus too. For instance, originally clowns in Russia were more like stand-up comedians. Jokes were often based on wordplay, which was practically impossible to translate for a foreign audience. This led to clown performances leaning increasingly towards pantomime over the years.
However, inside the country the most popular clown was the "talking clown" Yury Nikulin. The image of a lovable simpleton that he created soon migrated to the best Soviet-era comedies. A successful cinema career did not prevent Nikulin from spending 50 years running the Moscow Circus on Tsvetnoi Boulevard, perhaps Russia's best-known circus, which now bears his name.
Modern Russian circus: foreign tours and joint projects
"Practically each of our performers can boast having already seen half the world, starting from Europe and all the way to Australia," says Maria Denisenkova-Garamova, a trapeze artist with the Nikulin Circus.
"Sometimes we get commissions for specific numbers, sometimes for whole programs. Several years ago we performed in France with a program called 'Davai!' and we had a terrific reception, with members of the audience jumping to their feet and cheering."
In 1993, Slava Polunin created his famous "Slava's Snowshow", a production made up of funny and touching clown acts in which the cast do not only perform on stage but also actively interact with the audience. The performers bombard spectators with fake snow, send gigantic balloons into the auditorium and walk on the backs of seats that viewers are sitting in, creating the wonderful atmosphere of unity that the Snowshow has become renowned for. Polunin's company has toured in dozens of countries of the world and has been presented with the prestigious Laurence Olivier Award in the UK.
Russian performers are in great demand by foreign circus companies. According to Yekaterina Byushgens, PR director for Cirque du Soleil Rus, some 20-25 percent of the 1,300-strong company of the world-famous Canadian circus are from former Soviet Union republics, including Russia.
Cirque du Soleil first began to cooperate with Russian performers in 1990, with the Nouvelle Experience show. The biggest success that a Russian artist had with Cirque du Soleil was Slava Polunin's sketch "Storm," created for the show Alegria in 1994.
Many Russian artists also perform in Las Vegas circus shows.
Russian circus directors are now busy working on creating an alternative circus that would combine several different art forms.
One exciting example of such a symbiosis of different genres is the Moscow-based Antique Circus, created by Yelena Poldi, which combines elements of circus, theater, dance and performance. Performing in city streets, its artists reintroduce viewers in Russia to the traditions of street circus, which is so popular in Europe.
In St. Petersburg, meanwhile, a social project called Upsala Circus, set up 15 years ago, brings together children from social risk groups, who are presented with a healthy alternative to a life in the streets and gradually develop into real artists and performers. Their shows combine acrobatics, juggling, modern dance and pantomime.
Upsala circus Flying kids festival. Source: Youtube
All rights reserved by Rossiyskaya Gazeta.