In Russia, it's never too cold to eat ice cream.
This piece is part of the Soviet Diet Cookbook, a blog about a modern Russian girl cooking Soviet food. To read more of the series, click here.
Looking for "special project" recipes for this week, I stumbled upon a recipe for ice cream, which was a pleasant surprise.
Ice cream is very popular in Russia – popular throughout the year, including the cold winters. I never thought about this fact until I read somewhere that foreigners are surprised at how Russians eat ice cream in winter. This was further confirmed by my grandmother, who told me that during the Soviet era, she heard people say foreigners believed "if Russians eat ice cream outdoors in winter, they surely are invincible." I think this stereotype should be filed next to the "Russians have deep mysterious souls" in the book of myths about Russians.
I was talking with my brother about the source of the deep love Russians have for ice cream when Granny came in and said it was because during Soviet times, there weren't a lot of sweets, but kids could always get ahold of ice cream – and they would buy it nearly every day after school.
Kids, naturally, care only about having enough coins to buy a treat and being able to hide the evidence from their parents – not about the weather – so ice cream was the perfect solution. Most Russians I know never grew out of this habit – either the buying of the ice cream or the hiding things from their parents.
Soviet ice cream pretty much has an iconic status these days – old people remember it with such fondness, that it always makes me think there's a lot more to their memories than just ice cream. One woman told me that when she had to make a serious decision, she would go out, get an ice cream and think the issue over while eating.
My generation, or at least my friends and I, must have only partial Russian souls, as we toast each other every spring with our first ice cream outdoors.
This year, I think we will do it in Gorky Park: today there is such a general feeling of nostalgia about some Soviet foods – ice cream high among them – that even super-trendy hipster-mecca Gorky Park sells Soviet-style ice cream now.
When I spoke to my grandmother further about ice cream in the Soviet Union, she said that before World War II, there were ice cream stalls where you could get a scoop of vanilla, chocolate or berry ice cream between two thin waffles. It wasn't until after the war that she remembered individually packaged ice creams.
These included such famous types as Eskimo (vanilla on a stick), stakanchik (waffle cup) and breket (waffle "sandwich"). They would be sold by women carrying huge bags of ice cream over their shoulders. "Wasn't that too heavy for the women?" I asked, in a rather non-feminist manner. "In the Soviet Union, everyone was equal," replied granny with ever-so-slightly-detectable irony in her voice.
Granny then spoke to one of her best friends, Aina, who told this far-from-sweet story about Soviet-era ice cream:
"My father, Vladimir Devingtal, was a dairy technician in Leningrad, and a very good one. In 1937, he developed a recipe for Eskimo and was about to launch it for production all over the U.S.S.R. with samples ready to go, when he was arrested, then killed a week later. Of course we don't really know why, but my mother said it was because someone wanted to launch the ice cream under a different name to get the glory for it, which they did."
I don't think Aina will be joining in the nostalgia about the "better ice cream" and "better times" that is quite popular today. And I thought of her family as I worked through the recipe in the Book. The recipe for coffee flavor ice cream, made of a can of "coffee with condensed milk," did make me a bit dreamy with memories, though – not that mine are Soviet.
Ice Cream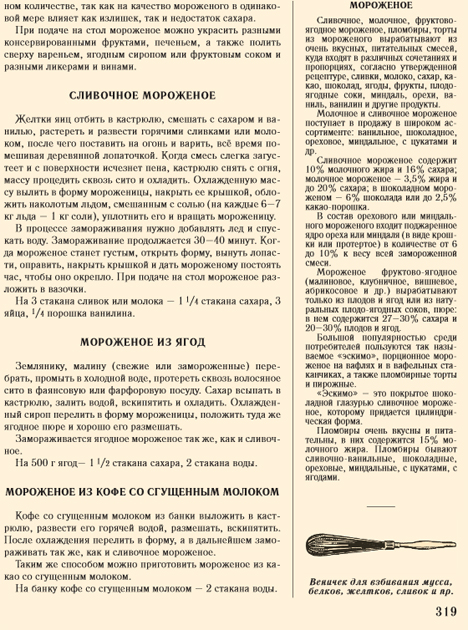 The recipe from the Soviet Cook Book, page 319. Click to enlarge the image
Ingredients:
3 cups cream or milk; 1 ¼ cups sugar;
3 eggs; ¼ tsp vanilla powder
Put the egg yolks in a saucepan. Mix with sugar and vanilla powder. Dilute with hot cream or milk. Put on the stove and cook while constantly stirring with a wooden spoon. When the mixture has thickened slightly and pulled away from the foam that has risen to the surface, remove pan from the heat, strain the mixture through a sieve and cool.
When cool, pour into an ice cream freezer and put the lid on. Put ice chips mixed with salt (1kg of salt for every 6-7 kg of ice) into the outer chamber of the freezer. Seal the freezer and turn the crank. During the freezing process, it will be necessary to drain the ice water and replace it.
The freezing process takes about 30-40 minutes. When the ice cream is hard, remove the frame and blade and let sit another hour to harden. Serve ice cream in slices in a bowl or cup.
This traditional Russian baked item was almost always store-bought, and for good reason – making them requires using nearly every pan in the kitchen.
All rights reserved by Rossiyskaya Gazeta.