Alumni mark 55th anniversary of Russian Peoples' Friendship University in New Delhi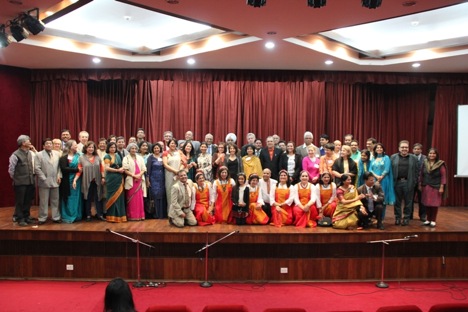 It was an occasion to mark the 55th anniversary of the Russian Peoples' Friendship University (RPFU). Source: RCSC
RPFU has managed to preserve an atmosphere of friendship between people from different countries and cultures.
It was a nostalgic assembly and get-together of the alumni of Russian/Soviet academic institutions at the Russian Centre of Science and Culture in New Delhi on February 28, 2015.
It was an occasion to mark the 55th anniversary of the Russian Peoples' Friendship University (RPFU).
Source: RCSC
Baishnab Parida, M. P. Rajya Sabha, appreciated the hard work, commitment and devoted activities of Russian/Soviet alumni.
Sergey Karmalito, Senior Counsellor of Embassy of the Russian Federation in India, expressed his contentment over the meaningful and creative activities of IAARAI and wished the organisation all success.
Fedor Rozovskiy (L). Source: RCSC
Fedor Rozovskiy congratulated the Russian/Soviet alumni for their excellent performance in their respective professions and wished them all success in their endeavour.
Prof. Sankar Basu, President of the Indian Association of Alumni of Russian/Soviet Academic Institutions (IAARAI), gratefully acknowledged the services of RCSC and the head of the Centre in providing all support, cooperation and encouragement to the organization.
Source: RCSC
IAARAI greeted veteran experts such as Dr. Sajjad, Rita Banik, Dr. Ninesh Pendarkar, Dr. Sabra Habib, Dr. Jaswinder Mand, for their outstanding service and contributions to the welfare of the down-trodden and suffering community in the society beyond the borders of their respective profession, on the occasion.
All rights reserved by Rossiyskaya Gazeta.