Guryevskaya kasha: Bourgeois treat for the masses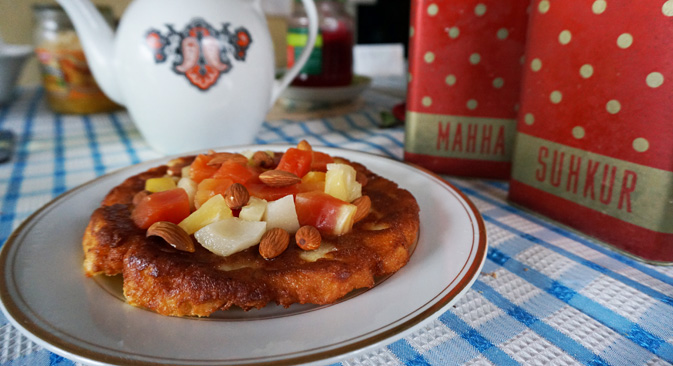 Guryevskaya kasha. Source: Anna Kharzeeva
The Soviets who compiled the Book of Healthy and Tasty Food didn't get rid of all the treats of the upper class.
This piece is part of the Soviet Diet Cookbook, a blog about a modern Russian girl cooking Soviet food. To read more of the series, click here.
My breakfast this week is guryevskaya kasha, which is very much a posh version of mannaya kasha. Guryevskaya is posh because it has more sugar, fruit and nuts - and of course a cool name. Much to my embarrassment, I only found out about the meal recently – and not from reading the Book, but from eating in my favorite fast food pancake shop. They have traditional Russian meals on the menu, and guryevskaya kasha was one of them.
My grandmother suggested making it for breakfast, and I was quite surprised to find it in the Book. It's a "bourgeois" meal, invented for Count Nikolay Guryev, as legend has it, in the early 19th century. Its ingredients suggest it would only have been accessible to the more privileged parts of society. It was allegedly served to Emperor Alexander III right before the train he was traveling in derailed and killed 23 people (the emperor survived).
This got me thinking: did the Soviets really get rid of all the "bourgeois" parts of life everywhere? Or did they decide to overlook some of its better-tasting elements? Olivier salad, beef stroganoff and vinaigrette came to mind first. They were all invented in a similar manner – by imported chefs and certainly not with the wider masses in mind. Not to mention caviar! How entirely anti-Soviet! No wonder the people in the village were shocked to see my great-grandmother prepare vinaigrette – it seems, some were certainly more equal than others, even if they were living under the same roof.
My grandmother's kitchen also has pre-Soviet components to it: for instance, "my" soup spoon is one that my great-great grandmother had made out of silver coins around the time of the revolution, and got her initials engraved in it. They fortunately (or unfortunately) went bankrupt just a few years before the revolution, having been very privileged until then.
Trying to understand the Soviet logic, I suspect there was some tension between "you and your disgusting bourgeois habits" and "look at how we've popularized what was previously only accessible to the minority."
Soviet champagne is a good example. It sounds like a contradiction in terms at first – the French word being just one reason. Yet an effort was made to spread the drink all over the country in an attempt to show that "we can do no worse" than the West and the pre-revolutionary times.
The Book says: "Comrade Stalin is dealing with the great matters of building socialism in our country… and he also doesn't miss out any details. Stakhanovtsy, engineers and other workers are making good money…and if they want to buy champagne, will they be able to get some? Champagne is a sign of financial wellbeing, prosperity."
So which is it – despising the bourgeois, or wanting what they have and making it accessible? Perhaps I should stop looking for logic and go get some vodka – the only item that has actually gone down in price recently. We might have to forget the taste of real (or even half decent) French champagne and train ourselves to drink the semi-sweet Soviet stuff – there seem to be no shortages of that. Or I could just pack the silver spoon and flee!
Guryevskaya kasha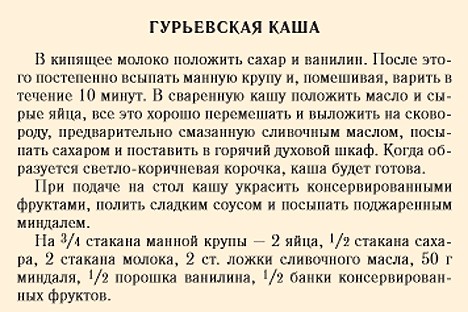 The recipe from the Soviet Cook Book, page 323. Click to enlarge the image
Bring milk to a boil. Add sugar and vanilla. Gradually add the semolina and stir, cooking about 10 minutes.
Ingredients:
¾ cup semolina; 2 cups milk; ½ cup sugar; 2 Tbsp butter; ½ tsp vanilla powder; 50 grams butter; ½ can of canned fruit
Into the cooked porridge, add the butter and raw eggs. Mix well. Put in a greased pan, sprinkle with sugar and bake in a hot oven.
The porridge is ready when a light crust is formed. To serve, pour the syrup from the canned fruit over the porridge, decorate it with canned fruit and sprinkle with toasted almonds.
All rights reserved by Rossiyskaya Gazeta.