Proposed Brodsky museum receives major donation from the U.S.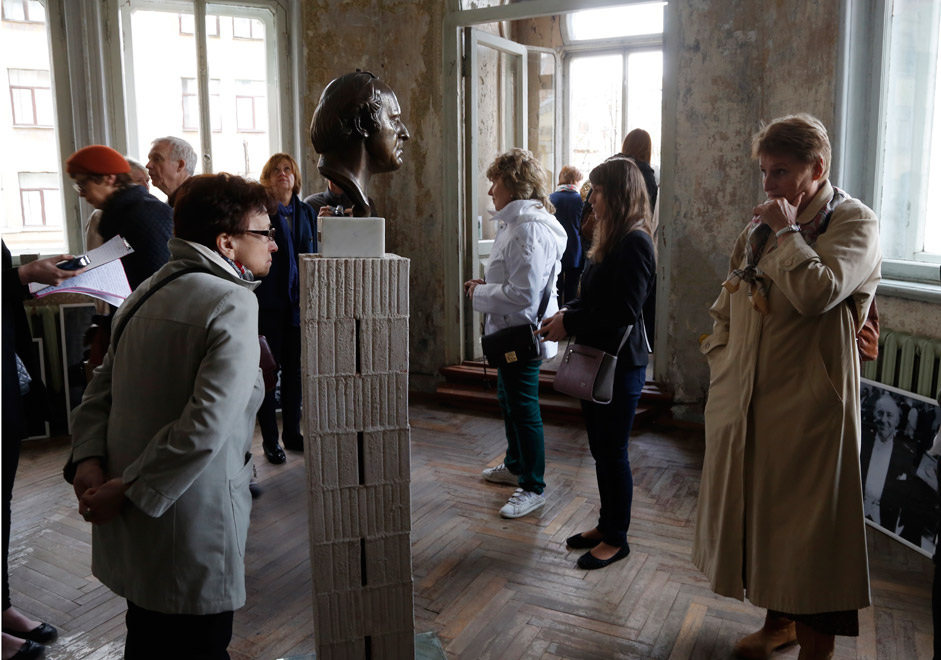 People visit the museum of Joseph Brodsky in St. Petersburg.
AP
The poet's widow has donated more than 720 items to the collection, which hopes to open to the public in May.
More than 720 items from poet Joseph Brodky's last home at 22 Pierrepont Street in Brooklyn have been given to the collection of the future Joseph Brodsky House Museum. The items, donated by Brodsky's widow, Mariya Sozzani-Brodskaya, have been sent to the Anna Akhmatova Museum in St. Petersburg, which is collecting the items for the Brodsky museum. Nina Popova. director of the Akhmatova museum, said that the goal is to open the museum on May 24, 2015, which would have been the poet's 75th birthday.
Friends of Brodsky began sending items owned by the poet to the Akhmatova museum in the early 2000s. The museum has already collected more than 2,500 pieces of Brodsky memorabilia. In 2003, the Joseph Brodsky Memorial Fellowship Fund donated many items from the poet's house in South Hadley, Massachusetts to the proposed museum, including a writing table, bureau, desk lamp, armchair, couch, posters from his trips to Italy, his library and a collection of postage stamps.
The future museum will be located in a room-and-a-half at 24 Liteiny Prospekt in St. Petersburg. The poet's family lived in the building, known as the Muruzi house, from 1955-1972.

The communal apartment at 24 Liteiny Prospekt is to be a house museum dedicated to Brodsky. Source: PhotoXpress
The building has a long history in the literary community. Writer and philosopher Dmitry Merezhovsky and his wife, poet Zinnaida Gippius, lived in the building from 1889-1913. A lending library located in the building held poetry evenings attended by Osip Mandelstam and Anna Akhmatova. The poetry readings continued even after the revolution.
St. Petersburg authorities plan to hold discussions and literary evenings in the Brodsky house museum.
Joseph Brodsky was born on May 24, 1940 in Leningrad (now St. Petersburg). He was "strongly advised" to leave the Soviet Union in 1972; the apartment on Liteiny was his last residence in St. Petersburg. He taught at a number of American universities, including the University of Michigan, Smith College and Columbia University. Brodsky taught at Mount Holyoke College in South Hadley, Massachusetts from 1974 until his death. He suffered a heart attack and died on Jan. 28, 1996 in his apartment in New York. He was 55.
Based on materials from TASS, RIA Novosti
All rights reserved by Rossiyskaya Gazeta.