Discovering Russian culture in Europe, March 12-24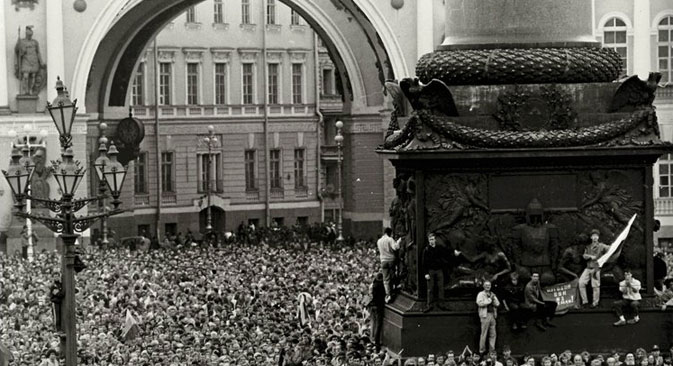 Gorbachev, August 1991. Source: British Library
RBTH for the UK is expanding its scope of coverage to all of English-speaking Europe! Find our what Russia-themed events are taking place near you over the next two weeks.
1) Journey of a book, all-European literary contest
Enthusiastic young people from Europe and Russia have joined together to create the "Journey of a Book" literary competition. The goal of the contest is to bring together stories from talented young writers across the continent into a single book that will then take a trip across Russia and Europe. The book's travels will be documented in a short film.
If you think you can paint a picture in words of your country, its culture and its people and want to share it with others, you can enter the contest, too. For more information click here.
2) Russian Museum opens in Malaga
The first foreign branch of the Russian Museum will open in March in the Spanish city of Malaga, according to Russian news agency TASS. The Russian Museum, founded in 1895 by Emperor Nicholas II and located in St Petersburg's Mikhailovsky Palace, is one of the world's biggest fine art museums. Its Spanish branch will be located in the city with the largest Russian community in Spain. The museum's first exhibition in its Spanish outpost, "Russian art of the Diaghilev era," will display 69 works by such artists as Leon Bakst, Mikhail Vrubel, Alexander Goglovin, Natalia Goncharova and Isaak Levithan. The opening date has not yet been announced.
The Russian Museum is also planning to arrange two exhibitions of avant-garde art –"From Chagall to Malevich" in Monaco, and "Malevich from the Russian Museum" in the Italian city of Bergamo.
3) What are Russians laughing at in Paris?
Le Grand Action cinema in Paris will hold a film festival devoted to 60 years of Russian comedy March 26-29, 2015. The program consists of Russian comedy films from 1950 to 2012. Three of them will be presented on screens across France.
4) TEFAF in Maastricht
From March 15-20, the Dutch city of Maastricht will host the annual European Fine Art Fair (TEFAF), the largest and most prestigious art fair in the world. More than 275 of the world's most prestigious dealers and leading galleries from 20 countries, including Russia, will attend. Visitors to the event will be able to "see and buy at a wide variety of Classical Modern and Contemporary Art, Photographs, as well as Jewellery, 20th Century Design and Works on Paper," according to the TEFAF official website.
5) Gorbachev and His Legacy in London
Ekaterina Rogatchevskaia, the leading East European Curator of the British Library, will take visitors on an exclusive tour of Russian memorabilia in the library's collection related to Mikhail Gorbachev. Gorbachev's dual program of perestroika and glasnost opened the door to major policy reforms and brought an end to the Cold War. This private viewing offers visitors a unique chance to see some rare artifacts from the era, including election campaign material of the early 1990s, "alternative" periodicals and newspapers of very small print runs, original documents and photographs of the perestroika period and the 1991 putsch.
All rights reserved by Rossiyskaya Gazeta.