Muscovites search for eggs, the agriculture ministry promotes peat, and women go to work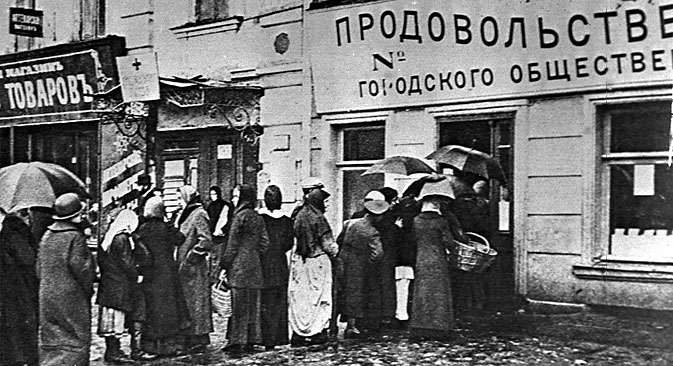 Moscow. 1915. The image shows a queue to a municipal food shop. Source: ITAR-TASS
RBTH turns the clock back a century and shines a light on the now-forgotten stories being reported on the inside pages of Russian newspapers in 1915 and the events and processes occupying the minds of the Russians of the age. Travel back in time with us week by week for a sense of what life was like in the twilight days of the Russian Empire.
Courses on peat production
The peat business in Russia, thank God, is developing. In this time we live in, with its high cost of firewood and charcoal, the widespread use of peat as a fuel is almost a vital issue. But peat is also used to fertilize the soil and as litter for cattle. Demand for this product from our vast swamps increases with every year.
To meet these necessities of life, the Ministry of Agriculture and Land Use has organized special courses at the peat department to train masters in the peat business. These courses will last only six months, from April 15 to October 15.
No fee is charged for attending the lectures and participating in practical classes. Persons who have attended the lectures, successfully completed the practical classes and passed a test will be issued a special certificate and awarded the title of master of the peat business.
Petrogradskiye Vedomosti, March 18, 1915
Egg famine
A most curious phenomenon was observed in Moscow yesterday. By two o'clock, eggs suddenly stopped being sold everywhere. Already in the morning, all the shops that sell eggs would sell only limited quantities. No more than half a dozen eggs could be sold to one person, and throughout the day the price increased. Early in the morning, eggs were still sold at 40-50 kopeks, but by one in the afternoon the price of eggs had reached in some areas 10 rubles and higher.
To the worried questions of the public, which besieged stores and shops, salespeople gave a stereotypical response: "there are no eggs and no one knows when there will be."
Supplies of eggs to Moscow stopped several days ago. This situation has put the majority of Muscovites in a rather difficult position. Many face the unpleasant prospect of not having red eggs on Easter.
Moskovsky Listok, March 19, 1915
Sale of wine to Jews
The head of the city has allowed the economic boards of Jewish prayer houses and synagogues to acquire from March 1 to March 24 – with the permission by bailiffs – wine for the needs of religious ceremonies. The sale of Peisachovka [raisin vodka used by Jews on Passover – RBTH] is not allowed.
Stolichnaya Moskva, March 16, 1915
Women and war
According to the estimates of official agencies, 500 women in Moscow have replaced their husbands as porters and up to 100 have replaced men as janitors, working with assistants. There are female night watchmen, mostly at warehouses and stables on the outskirts. Women are now applying for permission to work as cabbies instead of their husbands.
There have emerged women newsboys. More than 500 women work on trams. This includes women conductors, pointsmen, rail cleaners, couriers, messengers, and so on. The number of women tram employees must inevitably grow, as now more than 500 men have again been drafted, which is one-sixth of the total number of employees.
Moskovskiye Gubernskiye Vedomosti, March 21, 1915
Behind enemy lines
According to reports from Copenhagen, a deep psychological depression has been felt in Berlin during the holidays. There was no sound of laughter, jokes or boastful remarks about the Allies. Most surprising was the complete lack of street preachers speaking on military topics.
Most of the newspapers came out without editorials. Furthermore, there were no reviews of events or predictions about upcoming brilliant successes even in the chauvinist press. All the newspapers generally advised to hold firm and not to despair. Proclamations demanding bread and immediate peace are distributed everywhere by unknown persons.
Armeisky Vestnik, March 22, 1915
Read more press digests of the past in RBTH special section "Behind the Hedalines"!
All rights reserved by Rossiyskaya Gazeta.