When Xander Parish, 28, arrived in St Petersburg five years ago he became the first ever - and so far, only - British dancer to join the Mariinsky ballet company. Speaking to RBTH in the Mariinsky's magnificent palace hall, Xander is relaxed and confident about his future in Russia.
Russia Beyond the Headlines: Why St Petersburg and not Moscow?
Xander Parish: That's just how it worked out. I wasn't looking to move. I was at the Royal Ballet in London and Yuri Valerievich [Fateyev], the Mariinsky's director, came over as a guest-teacher. I was 21 and he proposed that I come and work with him in Russia. I thought about it 'No, no, no… I'm English; I don't speak Russian. I just can't.' But when he asked me again two years I felt I had nothing to lose and everything to gain, so took up his offer.
RBTH: How do Russian audiences differ from British?
X.P.: Russian audiences know more about ballet. British audiences are more corporate; ballet is big business there. In London male dancers are never given flowers on stage. Flowers are for ladies. I was amazed when I got flowers in Russia for the first time. I found it very funny. But it's a lovely nice gesture. Sometimes I get chocolate. But you know, performing is hard work and it's nice when an audience is attentive, enjoys your performance and applauds.
Source: Youtube / Antonio Lanzo
RBTH: How different are cultural perceptions?
X.P.: In Russia people understand culture and value it more. It is the most important thing that the country offers. I am impressed by the extent to which Russian cares for and promotes the arts. In Britain, government funding for the arts is constantly being cut. Winston Churchill once said that during the Second World War somebody asked whether he would cut arts spending to support the war effort. His response was - what are we fighting for? Supporting the arts is important and makes sense.
What are your favourite places in St Petersburg?
I love the Hermitage. The museum is incredible. I don't have much time to visit when I am working, but when I am free I love to go to the Hermitage and Palace Square. The city is so beautiful and its architecture incredible. Walk down any street and you are in awe. I like to walk around the city. Looking out from the top of Saint Isaac's Cathedral is a joy, as is visiting the Yusupov palace. We don't get to see such sights back home; our palaces are very different. As for nightlife, I don't go clubbing. Dancing all day is enough. I like to eat out; Teplo on Malya Morskaya is a regular haunt. And I drop to the British Consulate sometimes for official events. They have Christmas parties there - the Queen's birthday, Easter. I'm a member of the international Hope Church St Petersburg too.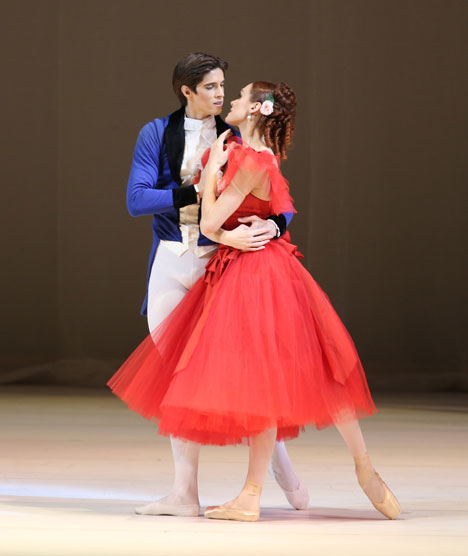 Xander Parish with Ulyana Lopatkina in 'Marguerite and Armand.' Source: Natalia Razina
Was it difficult to integrate into Russian society?
Of course, but now I'm used to people not smiling in public. I've started behaving that way too! When I first came here I found it strange. And you know, in England we don't have such weather. It's different. There was so much snow the first winter I was here. In Britain we think that two or three below freezing is cold. When I first arrived there was one day when the mercury dipped to 26 below. It was incredible. But I like the Russian winter. It makes me feel as if I am in the real Russia. British winters have so much sleet. Russian winters are magical. But today, with temperatures of plus one, it is just like London. Foggy.
Did you find it hard to get to know Russians?
It was a challenge. All my Russian friends are from the theatre. They are lovely people. And Russian women are so beautiful! They take more care of their appearance than in Britain. The language barrier was really difficult. Now I can speak Russian with them, but I'm not fluent. I know some phrases but the grammar is the harder!
In your last interview with RBTH you said that your point of view on many thing had changed.
I love Russia. I'd never been before I was invited to dance at the Mariinsky. I'd heard of vodka, bears and balalaikas. Basically I was clueless. I thought that Russians were a bit crazy. In the West, Russians tend to have a reputation for bad manners, impoliteness. Perhaps that is true in public, on the street, but in more intimate circles it is never the case. Russians are probably the kindest, most loyal and honourable people I've ever met. Once you've made friends with a Russian, it is for life. It's great! I have also tried the vodka. I was just at a vodka tasting here at the Four Seasons hotel.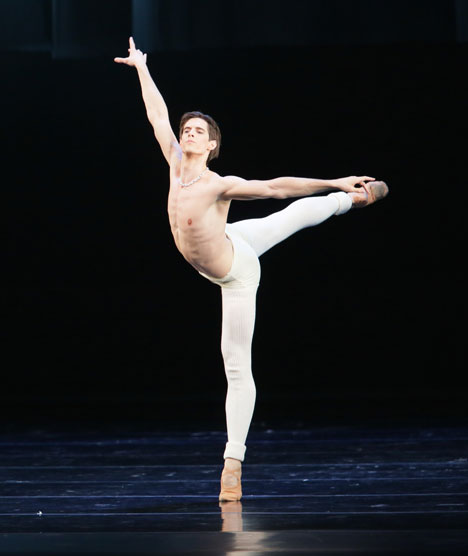 Xander Parish in 'Adagio Hammerklavier.' Source: Natalia Razina
Do you see your future here, in St Petersburg?
My only dream was to dance. And this dream became reality here. As a child, I had never even heard of Russian ballet. If you grow up playing for a small football club in a small community you are probably not even going to dream about one day playing for Manchester United or Arsenal. I was in Britain's best ballet company, the Royal ballet. And I never imagined ending up in the Mariinsky. I thought it was impossible. It never even entered my head. No one goes to Russia from Britain. Russians go to dance in the UK or America, but the other way round? It just does not make sense. When I was asked to come here I wondered what I could possibly offer Russian ballet, because Russian ballet is the best in the world. It is like a miracle, just incredible.
Have you visited other Russian cities?
I go to Moscow every year and have been to Krasnodar and Rostov. I have been to a tiny place called Vixa. It was 16 hours by train there, I danced, and then 16 hours back to St Petersburg! Koshmar! [Nightmare] But it was fun!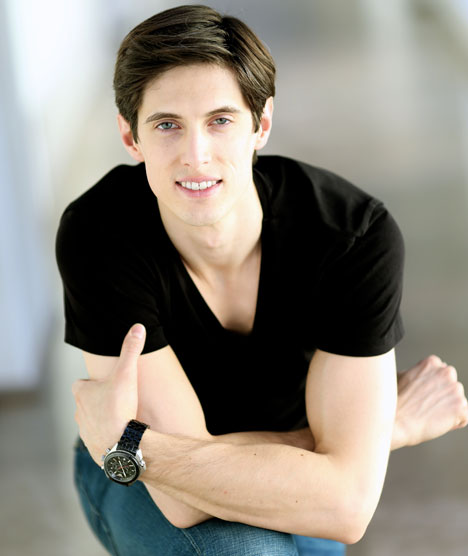 Xander Parish: 'I want to dance real Russian ballet'. Source: Svetlana Avvakum
What aspects of Russia do you think you will never understand?
Blue stamps. Blue stamps are put on every piece of paperwork - blue stamps and signatures. For example, if I want to hire a costume here in the theatre, I have to go to one lady, take a form, then pass this form to another lady, who decides which category of costume it is and writes it down. I then take it to the third lady who reads and stamps it. A fourth lady decides everything and finally I need to find someone else, whom I pay for the costume hire. Crazy.
What are you dream roles?
I want to dance real Russian ballet. Swan Lake, Romeo and Juliet, Giselle – these ballets are known worldwide, but in Russia you also have ballets only performed here - for example, The Fountain of Bakhchisarai. I'd never heard of it before I came here. But it's beautiful. And also the ballet called The Legend of Love.
What plans do you have for the future?
I want to use what I've learned during the last five years here in Russia and also to return to London and dance there.
In the Royal Ballet I didn't dance - I stood there with a spear! Yuri Valerievich rescued me: I wasn't promoted, I wasn't used. I had no prospects. Dancers don't have centuries - you've only 20 years to make a career. Five years as a spear-carrier was enough. Next week I go to London to dance in a gala concert and then will be back here. Then I go to Moscow and dance for the Golden Mask festival, before going to New York to perform. As each year passes here I feel more comfortable. I am happy now. This summer I have to pass a Russian language exam to get a new visa. It is a little scary. I'm not prepared yet, but am sure it will be fine.
All rights reserved by Rossiyskaya Gazeta.